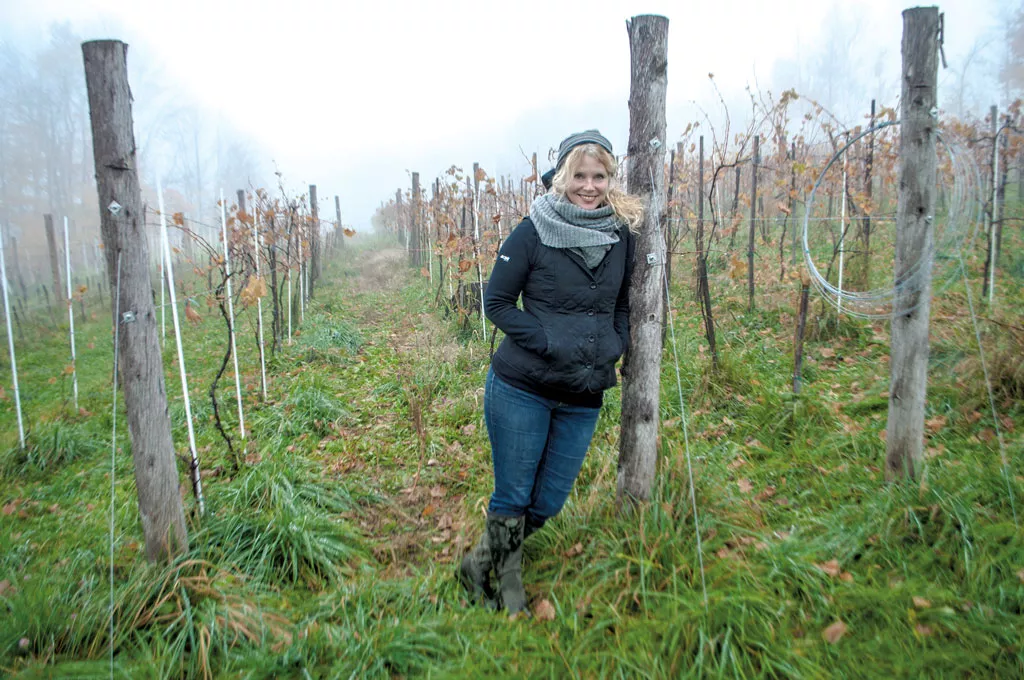 Deirdre Heekin in her Barnard vineyard
Winemaker Deirdre Heekin's small home vineyard is set into a moody hillside abutting a stoic hardwood tree line at the edge of storied Chateauguay in Barnard.
Those who have visited Heekin's farm and winery may recall lush vegetable landscapes, gardens blushing with roses and elegantly set tables summoning guests to a midsummer night's meal. Those who follow the farm on social media know that her employees crush grapes with their feet in their skivvies on cold autumn mornings. They've seen how, during harvest, her crew enjoys epic, winey lunches at the two Champlain Valley vineyards Heekin leases, which supply much of her annual pick.
Wine directors at the fine restaurants that purchase her wines — made in tiny batches and sold under the label "la garagista" — will tell you that Heekin makes the wine she wants to make, without the constraints that fetter other winemakers.
Early in her new book, An Unlikely Vineyard: The Education of a Farmer and Her Quest for Terroir, released this week by Burlington's Chelsea Green Publishing, Heekin recalls a mentor's words: "Tu devi essere controcorrente," or "You must be against the current."
Heekin's method flows against the conventional wisdom of modern winemaking, which deems grapes a touchy crop, prone to mold and mildew, and best cultivated in tightly controlled conditions. Instead, la garagista's "natural wines" are made without the aid of synthetic chemicals, fermented using just the sugars in the grapes and the wild yeasts growing in the vineyard.
Unafraid to relinquish some control to nature, makers of "natural wines" guide the grape from vineyard to bottle with a gentle, quiet hand. While no particular rules distinguish natural from conventional wine, the former is typically produced with minimal intervention in the winery.
Harvesting grapes in Vergennes
"Our job in the cantina is to provide a clean space for the fruit to ferment into wine," Heekin writes in the book. In this, natural wines are less the creative expression of the winemaker than they are the grapes' reflection of the circumstances in which they grew. "Wine becomes a looking glass into the year of a place and its people," Heekin writes. "Wine has a story to tell about a specific point in time."
Inside the winery, the sour scent of rotting fruit mingles with that of fresh construction, all cut lumber and concrete. La garagista is growing. "We were kind of bulging at the seams before," Heekin says as we wander the brand-new building's three floors.
Working in hats, scarves and raincoats against the slow October drizzle outside, Heekin and her small crew pour and press the 2014 harvest into buckets. They strain away skins and pulp, then pour it into droplet-shaped glass demijohns, where it will age in the cantina, as the winemaker calls her winery, for the foreseeable future.
Heekin siphons off a bit of Marquette (picked in mid-September), drops it into glasses and takes a sip. "Marquette always goes through this really tasty phase," she says, "right after it enters the demijohn. We might serve some of this as a nouveau." The infant wine is black-cherry red — bright, dry, and crisp and cool on the tongue. It tastes young, but very, very good.
"I think this is — is ... a nice year," the winemaker says finally.
The 2014 harvest came in dense, juicy clusters. Though Heekin says she and her crew pulled roughly the same weight last year, this year's haul was more juice and less stems.
That ripe, wet harvest reflects a good growing season, due in part to changes in the two vineyards that supply the bulk of her grapes. Heekin supplements her modest home-farm harvest with fruit from two properties in Vergennes and Addison. Until this year, she consulted at those vineyards and purchased their grapes. But for the 2014 vintage, she leased those plots and worked them herself. After a single season of careful cultivation, she harvested twice the amount of liquid she did last year from the same two plots, a change she credits to a dynamic, interpretive growing system. Next year, she hopes to continue the upswing.
Frontenac Gris in Vergennes
At her Barnard vineyard — modest compared with the ones near Lake Champlain — Heekin points to cold-weather cover crops that she'll till under come spring, and to companion plantings such as craggy onions, radicchio and potatoes. All are experiments to see which vegetables will flourish among the vines, and which will help the vines to flourish.
Heekin's agricultural approach draws from various schools of thought: biodynamics, organics, natural farming, permaculture, polyculture. She handles each plot according to its predilections and proclivities. "Th[e] assemblage of practices and the crafting of our own approach creates a new and singular way of farming," she writes in the book, "individual to us as the farmers and unique to our place." In short, she listens to the land, much as successful small farmers have done since the dawn of agriculture.
With 15 years of farming behind them, Heekin and her husband and partner, Caleb Barber (also the chef at osteria pane e salute, the Woodstock restaurant they co-own), still consider themselves relatively new to agriculture. An Unlikely Vineyard, Heekin's third book, is as much a tale of their slow ripening as farmers as it is a primer for making natural wine, in Vermont or elsewhere.
"Wine is made in the vineyard," Heekin says whenever she discusses grapes, winemaking or wine. She repeats this mantra throughout the book — and, I suspect, to herself quite often. Those words mean cultivating healthy soil and, in it, hearty, whole plants that produce even under stress. "So you've got a little mildew," Heekin says. "So you've got a little black rot. Your fruit can still be healthy. You manage for strong plants ... You take each year as it comes."
Though some years won't be good ones, a careful winemaker can still pull in a good yield. In the vineyard, the companion plantings, tinctures and teas, nettle sprays, and nematode releases all serve to fortify the plants against hardships and ensure a harvest every year. Meanwhile, Heekin and Barber's gardens, orchards, livestock and Woodstock restaurant keep food — literally and proverbially — on the farmers' plates.
Healthy vineyards also encourage healthy wild vineyard yeast that, during fermentation, will digest the fruit sugar into alcohol. Conventional production wineries tend to introduce robust, cultivated yeasts into their juice, which quickly and predictably ferment the fruit for a reliable outcome.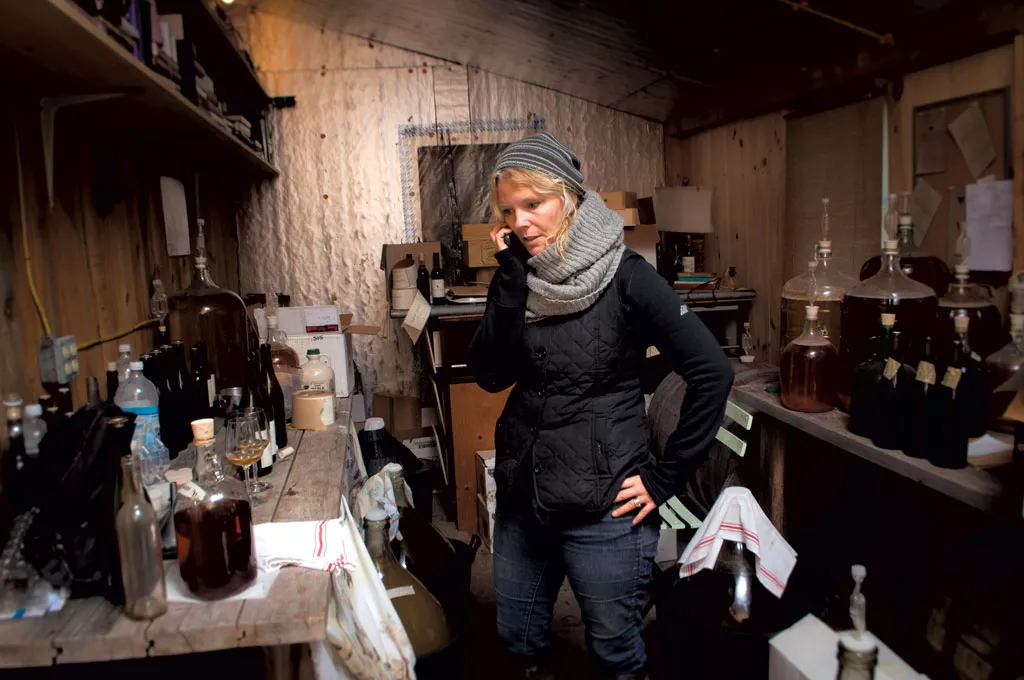 Natural yeasts are harder to control, less predictable and prone to creating wines that connoisseurs revel in describing as "funky" or "barnyardy" (in the positive sense, as with cheese). Yet those flavors can easily tip into "mousy" or "dirty" territory, depending on what happens as the wine ferments.
"A lot of [natural winemakers] get criticized for making dirty wine," Heekin says, caused by unhealthy or discombobulated yeast profiles. "But from the get-go, we've had really healthy yeast strains," she says with a jubilant smile. "I feel good about that!"
While la garagista reds are tinged with earthy, savory flavors, the wines are stone-cold clean, with crisp acid and strong fruit. Even in a lightly effervescent, pale-orange pet nat (short for "petillant naturel," a process where wine continues fermenting in the bottle), the funk is restrained to a delicate, back-of-the-mouth afterglow. Heekin's pet nat, which she's calling CdF for now pending a name change, sings of a warm, sunny day on a high wildflower meadow.
For oenophiles, much of a wine's allure is in its narrative — the history of the land, the grower, the region, the vines themselves. And as the osteria wine director, Heekin is used to talking about wines in story form.
"These are food wines," she says, pouring another taste in the cantina and pushing a cheese board toward me. The wine is a microvintage white from the home farm. It speaks in the brisk tones typical of cold-climate wines; a bit of warmth and oxygen should calm it into a snappy complement to a meal.
After 20 minutes of warming and air, the wine starts to soften. I dip my nose into the glass again, inhale deeply and take a sip. What was vaguely floral with a stiff, spirited minerality on first taste now drips with ripe, peachy fruit and the rich scent of roses. Its tartness, indicative of its northern heritage, has mellowed to a perky undertone.
"It's changing," Heekin says excitedly, nibbling a bit of cheese and pouring yet another wine. "Try it again."
INFO
An Unlikely Vineyard: The Education of a Farmer and Her Quest for Terroir by Deirdre Heekin, Chelsea Green Publishing, 384 pages. $35.
The original print version of this article was headlined "Reveling, Ripening"