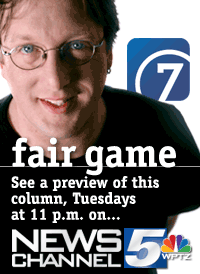 Writing about the state of journalism can get damned depressing. Don't get me wrong: I'm lucky to work for a kick-ass paper that's doing pretty well in this economy.
However, I really feel for my colleagues in the daily print media, especially the folks at the paper I most love to rib, the Burlington Free Press (where I once worked).
Why? I just read an article in the financial rag The Deal about why Gannett is on the verge of bankruptcy and may be unable to right itself.
Despite laying off roughly 1600 workers since last summer, and forcing the company's remaining 41,000 employees to take unpaid weeks off, the paper may still have to cut an additional 4500 jobs as soon as next month. No more furloughs are in the offing for those who remain on staff, according to Jim Hopkins at Gannett Blog, citing a source within the media company.
Locally, 22 people have been laid off at the Freeps since last August — six from the newsroom. Another five vacant positions were axed from the payroll. Publisher Brad Robertson isn't saying whether he's been given new orders to trim costs, or if that means more layoffs at 191 College Street. "I'm not in a good position to comment on these types of corporate finance matters," says Robertson. He was, however, very eager to discuss a "new product" the paper is launching on Sunday. The weekly "Green Mountain" section will have an environmental focus. Too bad environmental reporter Candace Page is about to go on a sabbatical.
The Free Press has fared better than some Gannett properties thanks to its historic role as a moneymaker — the paper raked in a reported 36 percent profit in 2007, or roughly $8 million. Still, that's not enough to save its Virginia-based parent company.
So, what happened?
In short, bad business decisions, according to an article by Richard Morgan, The Deal's assistant managing editor. Gannett took on too much debt and agreed to pay it back too quickly. The company hoped to use new revenues to pay down their obligation, but then the economy collapsed. Through it all, Gannett kept on paying generous dividends to shareholders. As its debt accumulated, the company began to make cuts — many of them painful. Morgan suggests that those who lent Gannett money — the bondholders — would now rather cut their losses and recoup what they can than give Gannett more time to repay existing debt, or let them borrow more.
As an unnamed "distressed-debt expert" tells Morgan, "They painted themselves into a corner. They have to raise more than $400 million between now and the middle of 2011 in a market where, frankly, many of their bondholders would rather they default."
To make matters worse, Gannett's stock status has been reduced to "junk" at a time when it's harder and harder to sell stock on the market due to the credit crisis — and some of Gannett's own debt was wrapped up in controversial credit default swaps. Those are notoriously difficult to unload these days.
What next?
"Financial sources contend it's too late," writes Morgan. "Gannett as we know it will be lucky to last through June 2011."
The cruel irony? "The most immediate challenge has little to do with the news business," notes Morgan in his penultimate paragraph. "Just as this story has little to do with the news business but features forces so opaque and arcane that Gannett's thinly staffed dailies will be hard-pressed to cover them."
Injury, meet insult.
Bernie the Insurgent — Vermont's junior Sen. Bernie Sanders continues to make his presence known in the U.S. Senate. Earlier this year, the Independent made national news when he told Treasury Secretary Tim Geithner, "If an organization is too big to fail, it is too big to exist."
Just not government, eh?
Last week's issue of Newsweek profiled Sanders and five other senators who are pushing back against some of Pres. Barack Obama's economic reforms. The article was provocatively titled, "The Insurgents: The Secret Battle to Save Capitalism."
Save it from what? Itself, or a "socialist" like Sanders?
The other five senators mentioned in the article — all Democrats — are Maria Cantwell of Washington, Carl Levin of Michigan, Byron Dorgan of North Dakota, Dianne Feinstein of California and Jim Webb of Virginia. The sextet apparently went to the White House to meet with Obama and members of his economic team.
Author Michael Hirsch credited Sanders and Cantwell with holding up the nomination of Gary Gensler, Obama's choice to run the Commodity Futures Trading Commission.
As Hirsch points out, Gensler was a Clinton treasury undersecretary who fought rules regulating credit default swaps. "Those are the financial instruments that later brought AIG — and much of the financial system — to the brink of meltdown," he wrote.
Feel the change.
What Will Dubie Do? — There's no shortage of Democratic interest in the lieutenant governor's seat, as "Fair Game" noted last month.
Over the weekend, two new names surfaced on the liberal Dem blog Green Mountain Daily: State Sen. Ed Flanagan (D-Chittenden) and former Vermont CARES chief Tim Palmer.
When "Fair Game" caught up with Flanagan, the three-term senator chuckled at the question. "Right now I'm just trying to absorb all these rumors, and find out who started them," said Flanagan. "I have no plan now to run for lieutenant governor."
So who started the GMD rumor? GMD bloggers?
Rep. Floyd Nease (D-Johnson), the House majority leader, has been openly exploring a bid for the lite-guv post. The 2008 challenger, former Rep. Tom Costello, and Chittenden County State's Attorney T.J. Donovan are also mulling runs. More contenders are likely. It's still early.
Palmer thanked "Fair Game" for letting him know about the GMD post. He hadn't seen it. Guess he's not a regular reader.
"Talking to folks about running only when they bring it up," Palmer dashed off in an email. "Too busy right now working with some Vermont nonprofits and small start-up companies determined to survive — and thrive — in this economy."
On the GOP side, incumbent Lt. Gov. Brian Dubie said he hasn't decided whether he'll run for reelection. Rumors that he's trying to find a replacement for himself in 2010 aren't entirely accurate, either.
Contacted by "Fair Game," the guv's copilot said being a leader means "always looking for people who could replace oneself. There are many in our party who bring outstanding leadership to their public service."
Dubie said it's too early for him to think about reelection. "The campaign season starts next year — not now. People are not interested in nonstop campaigning," he said. "When the time is right to announce my intentions, I will."
Two names have been mentioned as possible successors: Rep. Pat McDonald (R-Berlin) and Barre Mayor Tom Lauzon. Lauzon's name has also surfaced on GMD as a Dubie replacement.
"To be honest, it's not something I've thought a lot about," Lauzon told "Fair Game." He did admit that he's talked with Dubie, somewhat jokingly, about running for higher office some day.
Lauzon said despite the rumors and GMD blog posts, no one in the media has called — until now. Had to; couldn't find him on Twitter.
Salmon Run — Does planning way ahead count as nonstop campaigning? Auditor Thomas M. Salmon, fry of former Democratic governor Thomas P. Salmon, says he'll run for reelection in 2010. At the same time, though, he's considering a bid for the state's top post in 2012, he tells "Fair Game." It all depends on who wins next year.
Vermont Archaeology: Bitin' the Dust? — New rules in the works that would allow all-terrain vehicles on some state lands aren't the only ones raising eyebrows.
What's most curious is how these changes — which could dramatically alter public policy — are being taken up just weeks after the legislature adjourned. And, in both cases, legislative leaders were not alerted.
Like the old saying goes, "When the cat's away…"
This week, Vermont's Division of Historic Preservation launched a series of public meetings around the state to gather input on changes to rules governing the treatment of potential archaeological sites when a development is reviewed under Act 250, the state's land-use law. At issue is how potential archaeological sites would be picked for "investigation."
Among the concerned parties is John Crock, one of the state's leading archaeologists. Crock directs the University of Vermont's Consulting Archaeology Program, which contracts with developers to assess a site's archaeological resource.
Crock believes the proposed rule would restrict new archaeological digs largely to areas on sites currently listed on the State Register of Historic Places.
For example, the Douglas administration has deleted the phrase "or a potentially significant property or resource" when talking about what can trigger a review, leaving only "a project's potential for effect on a historic site," notes Crock. If a project is not on the state's historic registry, the local Act 250 commission can allow for a site to be investigated, but only in "exceptional circumstances."
This change could mean thousands of sites in Vermont stay buried or become decimated by new development.
Some critics of the changes fear the Douglas administration is throwing a bone to the development community, a group that has provided the governor with thousands of dollars in campaign cash over the years. In addition, two of his top officials — Commerce Secretary Kevin Dorn and Deputy Commissioner for Housing Tayt Brooks — once worked for the Home Builders and Remodelers Association of Northern Vermont.
Only a year ago, the Douglas administration applied Vermont's archaeological rules to halt composting operations in Burlington's Intervale — a move many believed had political overtones since one of the guv's Democratic challengers, Gaye Symington, worked for the Intervale Foundation.
Not all the proposed changes concerning dig sites are so controversial. In fact, Crock says the proposal also creates a more predictable system to pay for archaeological reviews — something he and developers have long hoped to put in place. Rather than have reviews funded on a project-by-project basis, the state will impose a project development fee of 25 cents per $1000 of construction costs.
The money will be placed into a special fund that regional Act 250 commissions would be allowed to dip into to pay for archaeological reviews of selected areas. In theory, the money would be used solely for this purpose, but, as we've seen during these tough budget times, no special fund is safe from bureaucrats looking for cash.
Economic Development Commissioner Betsy Bishop, whose office oversees the Division of Historic Preservation, said the proposed changes are not intended to weaken the state's existing rules, only to clarify their intent.
"Our intention is to merely make the process more predictable for developers and those in historic preservation," said Bishop. "We're not trying to change anything in the existing rules to limit the ability to locate new archaeological sites, but just clarify who has the ability to decide which ones are appropriate for review and who pays for those reviews."
The rules also makes clear that the power to pick sites for review is in the hands of the regional Act 250 commissions.
And who, pray tell, appoints them? The governor.
Got a news tip? Email Shay at shay@sevendaysvt.com
Click here to follow Shay on Twitter.