10 slides
Last Saturday morning, Yam Mishra rushed into Deepa Clothing Store in Burlington's Old North End. The Howard Center program manager was stopping by the store on his way to bring his children to Nepali language class at nearby St. Joseph School. He exchanged hurried words with owner Lal Maidali. Seconds later, Maidali handed his customer a light gray daura-suruwal, the traditional Nepali outfit worn by men.
Deepa sits at the intersection of Elmwood Avenue and North Street, adjoining Amity Asian Market. Both shops have been open for about a month. Maidali, 49, co-owns the food market with a friend, but Deepa, which is named for Maidali's teenage daughter, is solely his. A couple of ethnic food markets in Burlington and Winooski also sell clothes, but Deepa has the biggest selection by far.
"This will work," said Mishra when Maidali found him a matching colorful hat known as a Dhaka topi. Why the sudden need for proper attire? Mishra will be attending his naturalization ceremony later this month.
"After 25 years of being stateless, this is our golden opportunity to be a U.S. citizen," he explained. As far as Mishra knows, he said, no Bhutanese in Vermont have taken the Oath of Allegiance in the traditional Nepali costume. He wants to be the first to do so.
"Looks like everything is available here," Mishra noted approvingly. He promised he'd be back to try on the clothes after sending his children to class. Before leaving, Mishra gave Maidali a dollar bill. It's bad luck for the owner if the first customer of the day leaves without buying anything, Mishra explained.
Every single item in Deepa is imported from Nepal or India, Maidali said through an interpreter. He and his family of six moved to New Hampshire in 2011 from the Beldangi III refugee camp in Nepal. They relocated to the Green Mountain State two years later to be nearer to their relatives.
In Nepal, with encouragement from a friend, Maidali opened his own clothing store just outside the camp. When he got to Vermont, he said, he wanted to make use of the entrepreneurial skills he had developed.
Inside Deepa, multicolored clothes hang from racks lining the window. Most are women's tops, cotton skirts or kurtas, the loose-fitting traditional tunics favored by Nepali women. More kurtas and frilly children's clothes, as well as handbags and messenger sling bags, hang from wooden beams overhead. Two large wooden shelving units at the back hold neatly arranged clothes, bedsheets and blankets, most still in their plastic packaging. Jeans, sweaters, denim jackets and handwoven scarves are stacked on more racks in the middle of the room.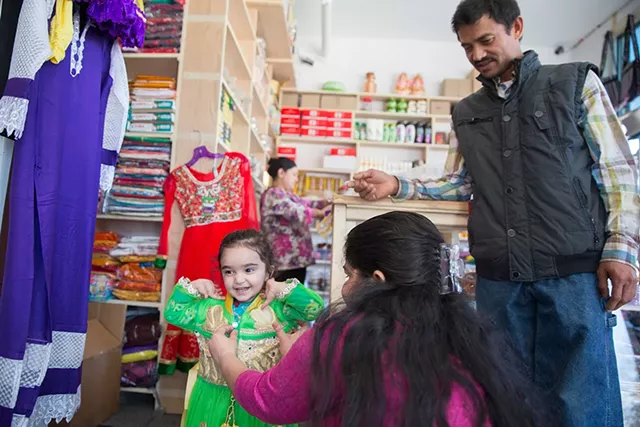 James Buck
Lal Maidali looks on as a young customer tries on a dress
Another wall of shelves holds sundries such as toiletries, cologne, makeup kits, jewelry, statues of the Hindu god Ganesha, flasks and tin containers for religious ceremonies. A glass case displays more such items. Deepa can supply attire for every event, from weddings to parties to funerals, Maidali said with pride.
Not all his wares are so specialized — Maidali readily admitted that some, such as makeup, jeans and T-shirts, are available all over the Burlington area. But his store fills a niche for members of the Nepali community who lack cars and need to shop close to home. Some, too, go there specifically to find products they were familiar with in Nepal. The customer is king, Maidali said; he doesn't order anything that's not in demand.
Devi Chapagai, who visited the shop earlier in the week, said she used to order traditional clothes from relatives in Nepal. Deepa doesn't have the pink kurta that she wants in her size, but Maidali said he will special order it for her.
"Everybody's needs are fulfilled" at Deepa and the adjacent grocery store, Chapagai noted. More importantly, she added, the shopping experience is easier at Maidali's stores because there's no language barrier between the owner and his customers.
Maidali joins a growing number of foreign-born business owners in Vermont. According to the Immigration Policy Center, a research brief published in 2014 indicated that, in 2010, 3.7 percent of all business owners in Vermont had been born outside the U.S. New immigrant business owners had a total net business income of $84 million, or nearly 4 percent of all business income in the Green Mountain State that year.
Simeon Geigel, a counselor with the Micro Business Development program at the Champlain Valley Office of Economic Opportunity, said he's spent about 135 hours in the past year consulting with 21 New American clients. Geigel helps aspiring entrepreneurs write business and marketing plans, develop financial projections and apply for funding.
"New Americans seek self-employment for the same reasons native Vermonters do," Geigel wrote in an email. "They want the potential to earn more income, improve their household's overall stability, have flexibility, fulfill their own sense of purpose [or] perhaps transition out of an unfulfilling job." Some of his clients have gone on to start transportation, cleaning and food-related businesses.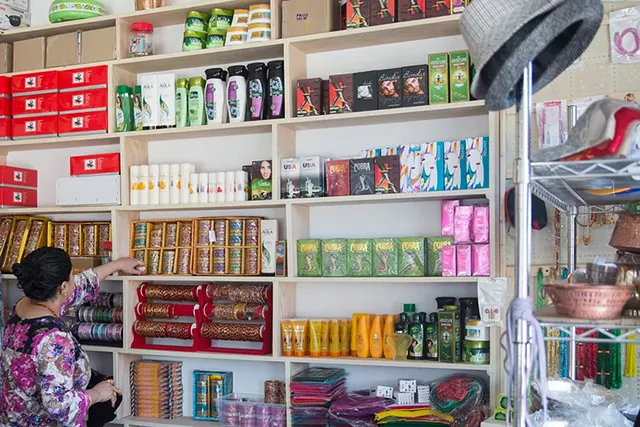 James Buck
Inside Burlington's Deepa Clothing Store
But starting a business isn't easy, especially for New Americans, said Gregory Huysman, the senior business development manager at Opportunities Credit Union. Lacking the necessary credit history, they aren't eligible for most loans. Those who don't speak English find it challenging to navigate the bureaucracy, complete the paperwork or even ask for assistance. Huysman said several New Americans have used the OCU's Gardner Fund — a pool of money available for business loans of less than $10,000 — to buy seeds, equipment or raw materials to make jewelry, and even paint brushes and ladders.
Like most small-business owners in the refugee communities, Maidali was able to depend on his family for support when he decided to open his clothing store. His brother-in-law helped him find a space, register his business and purchase a cash register. His sole supplier, a longtime friend in Nepal, didn't demand an up-front payment for his merchandise; Maidali can pay him back when he sells the items.
Other new business owners have used similarly creative methods to assemble the necessary capital. Alyssa Vigneault and Sudershan Adhikari, owners of the Spice Traders' Kitchen in Winooski, didn't go to formal lending institutions in their startup phase. Instead, they crowdsourced within the community. Vigneault also gives credit to the Women's Small Business Program at Mercy Connections, which she attended in 2012 — and where, she said, she established networks that proved helpful when she and Adhikari started their business in September of last year.
Nurbu Sherpa, managing partner of Sherpa Foods, also took a nontraditional route. Although he worked at Macy's in New York City for 12 years as a marketing manager and buyer, he wasn't able to secure a loan when he decided to set up his own business in Vermont in 2014*. But he didn't give up.
"I was determined. I wanted to make this happen one way or another," Sherpa said. He ended up leasing the equipment he needed to open his Burlington-based business that sells prepackaged momos. "Tables, freezers, stove — everything in the kitchen," he recalled.
Both of those food businesses have since expanded. The Spice Traders' Kitchen has started selling prepackaged takeout at Commodities Natural Market in Stowe, while Sherpa Foods' dumplings are available in supermarkets across Vermont.
At Deepa Clothing Store, Maidali said he doesn't plan to diversify his range of products, at least for now. His friend in Nepal is the only supplier he knows, and his customers already keep him busy with their long order lists.
That busyness is bound to intensify in coming months. Summer is wedding season for the Nepali community, and Maidali said he's looking forward to the rush.
*Correction, April 14, 2016: An earlier version of this story misstated the year Nurbu Sherpa started Sherpa Foods. It was in 2014, not 2012.