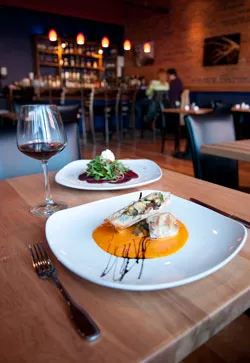 Mark Logan, a physician at Sanctuary Integrative Medicine in Rutland, couldn't get a seat at Roots the Restaurant on Wales Street last weekend. Since the new lunch and dinner spot, with its deep blue walls and extreme-close-up photos of cabbages and roots, opened in February, reservations have been tough to come by. However, one might think Logan, the restaurant's co-owner, could have called in a favor.
Such is the popularity of Roots, the brainchild of Logan and chef-owner Donald Billings. A Vermont Fresh Network member with a menu sourced almost entirely within a few miles, it's arguably Rutland's first true localvore restaurant. And it's giving many residents their first taste of farm-to-table fare without a drive to Brandon or Ludlow.
Roots' owners met while Billings was waiting to receive acupuncture from another doctor in Logan's practice. The two became fast friends, but it wasn't until April 9, 2010 — Billings remembers the precise date — that Logan says he summoned "the bravery and stupidity" to propose opening a restaurant together.
Logan began his career as an emergency medical specialist. His move toward a more holistic, lifestyle-based practice spurred a new interest in food and nutrition. In the more traditional phase of his career, "I never was really interested in [diet] as a modality and intervention in my practice," Logan admits. "Now I use it almost exclusively. Once our bodies get what they need to heal, we don't need prescriptions."
Logan studied with integrative medicine pioneer Dr. Andrew Weil and once ate at his Phoenix restaurant, True Food Kitchen, three nights in a row. But, with a local culinary landscape composed in large part of pizzerias and fast food, Logan's patients often struggled to follow a similar protocol when dining out. The doctor wondered if the kinds of local whole foods served at Weil's restaurant could catch on in Rutland.
That's where Billings' know-how came in handy. A culinary veteran, the chef has headed kitchens ranging from Waybury Inn and Mister Up's in Middlebury to members of the Union Square Hospitality Group in Manhattan. Perhaps even more valuable than his experience are the strong relationships Billings built with a slew of local suppliers during his five years as chef at Cattails Restaurant in Brandon.
When he and Logan decided to open Roots, Billings first approached his next-door neighbor, Jon Satz of Wood's Market Garden. Soon Boardman Hill Farm of West Rutland and Rutland's Hathaway Farm were on board to provide produce and beef, respectively.
Today, the restaurant's entryway is papered with colorful photos and descriptions of some of its dozen or so regular local suppliers. The list continues to grow as Billings strives to feed the masses who wait in line for a space in the 36-seat dining room. At 6 p.m. last Wednesday, the restaurant was full of predominantly female diners supping on salads. Weekends are, not surprisingly, Roots' busiest time. Billings says one close friend had to dine at 4:30 last Saturday because that was the only reservation available several days beforehand.
One of the providers pictured on the wall is Hathaway Farm, less than two miles from the restaurant, whose rib eyes were on the original menu. Billings was confident he'd have enough steak to make it through the season, but it sold out in three weeks. So the chef began changing the beef dish daily, using rotating cuts from Hathaway's stock. Misty Knoll Farms supplies all the chicken that makes its way into sandwiches, dumplings and rice dishes.
Neshobe Farm in Brandon provides the meat for what has become something of a signature dish at Roots. Emu isn't available at most restaurants in Vermont, let alone in Rutland County. The large birds produce costly filets, but their leg meat is far less expensive. It's this cut that Billings grinds to use in a meatloaf baked with sweet caramelized onions and smoky chipotle peppers. He serves it over peppery mashed potatoes, topped with a liberal helping of Blue Ledge Farm goat cheese. The whole thing rests in a shallow pool of tangy, dark-purple red-wine reduction, flavorful enough to dress up the austere but perfectly cooked side of broccoli.
Last week, Billings visited Neshobe Farm to restock his meat supply and see emus hatching. He left with enough of the farm's dumpling squash and emu sausage to serve a special appetizer combining the two.
General manager Alison Logan, Mark Logan's daughter, touts Billings' ability to optimize the slim pickings with which the restaurant started. "You need the perfect chef for this experience," she says. "The attention to sustainability, using multiple producers whose product isn't always reliable and available. You have to be on your toes and adjust. The market is ripe for this, but you need a really creative chef."
Indeed, Billings conceived many of the nonmeat offerings based on what neighboring farms had in their root cellars. The menu will change drastically next month, when fresh veggies become available.
For now, the dishes are a surprisingly bright, light ode to Vermont winter. Salads lean eastward, with Asian-style dressings flavoring cabbage, rice-noodle and quinoa-based compositions.
A popular entrée of housemade squash ravioli uses roasted squash, caramelized onions and hardy winter greens, including spinach. In the same dish, vividly seasoned Misty Knoll chicken rests in its own stock. The onions sweeten the broth for a dish somewhere between pasta primavera and French onion soup.
While most of the dishes at Roots conform loosely to the low-fat precepts of diet gurus such as Weil, one of Billings' signature appetizers strays far from them. A terrine is filled with decadent fondue made from cream and local cheeses (including bruléed chunks of blue) mixed with honey. Fluffy grilled pita bread and an artfully sliced green apple from Champlain Orchards come alongside for dipping. With the addition of thyme, pita dipped in the mixture of bloomy cheese and contrasting honey can be compared to bread spread with honey butter — with a side of crack.
"We do have items that aren't traditionally healthy," Logan acknowledges when asked about the fatty and delicious dish. "But people also have healthy choices."
Adds Billings, "Even with our hamburgers, it's local product. You know where the food is coming from. You know where it's being sourced. It's local beef, and we make the buns ourselves from King Arthur Flour from Norwich. All our eggs are from local providers. It's healthy because it's local."
The food isn't the only thing at Roots with a small carbon footprint. According to Alison Logan, the restaurant's lights are low energy. The ultra-hip Avonite bar top, lit from below by LEDs, is made from 40 percent recycled glass. The vintage barn board that decorates the bar and ceiling was recycled from Williams Farm in Rutland. Even the dishwasher is water and energy efficient.
These details give the two-month-old restaurant a certain cachet that is more than just novelty. Alison Logan believes Rutland is ready for it. Logan, who recently returned to her hometown after several years in Boston, says she was pleasantly surprised to see how the Rutland food landscape had changed in her absence. The local farmers market has become year round, the Rutland Area Farm and Food Link (RAFFL) nurtures new farmers in the community.
"It was the right time," Mark Logan says about opening his restaurant. "There was a market — I hate to use that word, but the interest and the energy were there to be tapped into." He traces the trend to young people, like his daughter, who grew up in Rutland and are now returning with professional training.
Roots has become something of a hub for the local farming community. Last month, the restaurant played host to RAFFL's New Farmer Mixer. In February, Vermont's U.S. Rep. Peter Welch held an open-table agricultural discussion at Roots. The restaurant's suppliers have formed a network of their own. Last week, they all gathered at Roots to discuss what each member would do every day of the upcoming growing season. "It gave me goosebumps," says Logan of the cooperative spirit.
Interest in the restaurant has injected new life into area farms, too. Alison Logan tells of a young man named Marshall who came to Roots every day looking for a job, though the restaurant was already fully staffed. "He even wrote an essay on his passion for the cause," she says. "He might not have had what it takes to be a waiter, but he had some experience farming."
So, Jon Satz — who says he's always looking for help — hired Marshall to work on his farm. "Now Marshall brings us our food," says Logan.
In the not-too-distant future, Mark Logan hopes to create his own community of farmers. One focus of his practice is treating addiction. To create a safe place for recovering minors, Logan plans to start a charter high school that will teach agricultural skills. With the Civilian Conservation Corps as a model, Logan envisions that working the land will help students heal and reconnect to the community. The school will also someday be one of Roots' primary suppliers.
Looking around his restaurant, Logan says, "This is an example of community self-nurturing."
"It's nice to see in this little space what can potentially happen outside," says Billings.