photos COURTESY OF Dee/Creative Music Photography
Eddie Palmieri
According to photographer Dee Kalea, her subjects routinely praise her for capturing their essence. That may be because, over nearly 50 years of shooting the biggest names in jazz and Latin music, she has developed an inimitable and empathetic style. The training Kalea received from her mentor, famed jazz photographer Herb Snitzer, certainly played a role, as did the decade she spent in Los Angeles honing her professional skills.
But there's an even more compelling explanation for the Plainfield resident's ability to transfer the souls of masters such as Tito Puente, Sonny Rollins and Nina Simone from stage to film: She grew up with them.
"Thelonious Monk often woke me up playing my mother and Ornette a tune on 'my' beat-up old upright piano at 3 a.m.," writes Kalea, 65, in her artist biography.
"Ornette" would be Ornette Coleman. In addition to being a free-jazz pioneer and one of the most famous and influential musicians in jazz history, the late saxophonist was Kalea's stepfather. Her mother and aunt were among the first women to work professionally in New York City's music industry. The former was Ray Charles' personal assistant; the latter worked with famed producer Quincy Jones.
As a result, Kalea spent a good portion of her 1960s childhood in New York City nightclubs such as the Village Gate, the Five Spot Café and the Village Vanguard — the last of which she refers to as "my first babysitter." By extension, that would make Coleman collaborators such as bassist Charlie Haden and trumpeter Don Cherry something like her uncles.
"I was raised with these people and have intimate stories of them on their own time, not on the stage or in the recording studio," Kalea says in a recent interview at Seven Days' office.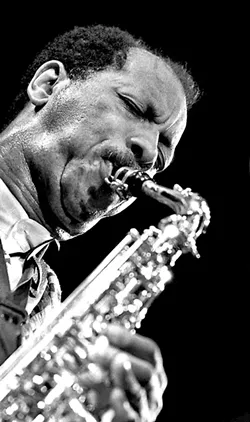 photos COURTESY OF Dee/Creative Music Photography
Ornette Coleman
On Friday, June 2, Kalea will share many of those stories, and photos, at a pop-up exhibit at New City Galerie in Burlington. Titled "New York City 1964-Present," it is the first of three such showings this summer. This one coincides with the opening night of the Burlington Discover Jazz Festival, though it is not affiliated with the fest. The exhibit will feature a slide show narrated by Kalea, as well as live acoustic jazz music and a silent auction featuring silver prints autographed by some of the musicians she's shot.
Proceeds from the auction will help Kalea present her photos in her first professional gallery exhibit. While her work has been featured on album covers and used for publicity — and, she says, has drawn interest from the Smithsonian Institution and the Library of Congress — Kalea has never had a proper showing of her jazz photographs.
Why unveil them now?
"My passion is to share the humanity of these musicians," Kalea explains, adding that she plans to speak with jazz scholars and students about the personal side of her subjects. "There are people dedicating their lives to studying the historic music of these now-departed figures in music," she continues. "And they've never heard anything like the stories I have to tell."
One such tale concerns Miles Davis. Though an undeniable genius, the Prince of Darkness was also a volatile man, as famous for his temper as for his trumpet. One of Kalea's best shots is a side profile of Davis onstage at the Hollywood Bowl in LA, doubled over and blaring his horn. The shot is as notable for Davis' exaggerated posture as for Kalea's proximity to him. How did she get that close?
"I just asked him," she says with a chuckle. "If I hadn't, he might have blown up at me." Davis appreciated the photo so much, he later autographed a print of it.
Kalea, who no longer shoots professionally, says a key aspect of her photographic method was to be as unobtrusive as possible. She rarely used a flash and never shot with a motor-driven camera, which could be distracting because of its whir. She made sure to respect the boundaries not only of the performers but of the audience, she says, striving to remain unseen.
"There is nothing more offensive than a photographer standing right in front of a crowd," she opines. (Kalea declined to allow a photo of herself to run with this article, perhaps further evidence of her desire to focus on her subjects.)
photos COURTESY OF Dee/Creative Music Photography
Sarah Vaughan
Kalea says she often waited interminable intervals to get just the right shot before clicking the shutter. One example, and one of her favorites, is a photo of Steve McCall. The drummer is seen muting a cymbal with one hand, huddled over the kit with his head cocked and mouth slightly agape. The shot came at the end of a nearly 20-minute drum solo, during which McCall's limbs were a frenzied blur. Kalea waited, and then waited some more. The photo evokes an exhausted release after an almost climactic moment.
The photographer takes pride in divining the personal essence of her subjects through her images. Her familiarity with them allowed her to present them not as mythical giants but as real people.
"Dee has had an insider track her entire life," says George Thomas by phone. For 11 years, until his 2012 retirement, Thomas hosted the weekly jazz show "Jazz With George Thomas" on Vermont Public Radio. "She has that kind of perception; she catches them at moments that many people wouldn't even notice," he adds. "She's connected in a way that many photographers would never be able to achieve."
"There was no superstar adulation from me, which is why they were comfortable with me," Kalea says. That, in turn, afforded her a remarkable level of access and enabled her to capture candid moments — such as drummers Art Blakey and Billy Higgins sharing a laugh on a ragged couch in a dingy greenroom.
"Blakey was like a big brother to me," Kalea says.
"She seems a part of it and is able to respectfully present the musicians in her photographs in a way that captures the joy, captures the energy, captures the humor, often," Thomas attests.
Kalea cast her lens on more intimate moments, too.
"I have a photo of Ornette the night John Coltrane died," Kalea says. She recalls that Coleman was unable to get the night off from his regular gig at the Village Vanguard. "He was grieving his friend. But they wouldn't let him out of his contract."
Kalea notes that, for most of her career, she wasn't shooting famous musicians. That's because most of her subjects weren't yet the legends they would become — in some cases, only after they died.
Many of Kalea's photos have a subtle grittiness that counters the mythology surrounding such figures as Count Basie, Charles Mingus and Lena Horne. Details such as an empty mic stand, battered cymbals or a badly scuffed piano humanize her portraits of some of the most famous musicians who ever lived.
The best example is a resplendent photo of Sarah Vaughan. The famed vocalist's shoulders are hunched and her eyes closed as she finishes a phrase and withdraws from the mic — which is held together with duct tape.
"Sarah Vaughan told me, 'I can hear that note in that photograph,'" Kalea says. "They always tell me, 'I can hear my music in your photos.'"