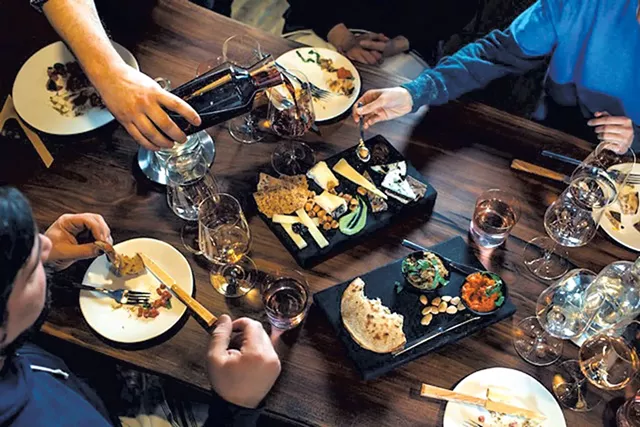 Courtesy Of Jessica Sipe
Dedalus Wine Shop, Market & Wine Bar
The evening of May 29 felt like a "rosé party" at Burlington's Dedalus Wine Shop, Market & Wine Bar, said owner Jason Zuliani. That's the day the Pine Street business debuted its outdoor deck, giving the South End one more option for al fresco wining and dining.
The entrance to the patio is through sliding glass doors of the Dedalus dining room. The space has a concrete floor, high wooden tables, an exposed brick wall and potted succulents that hang from riddling racks, typically used to store Champagne.
"It's got a bit of a communal vibe out here with the stand-up tables," Zuliani noted. Dedalus will extend its restaurant hours from five to seven days a week by the end of June, he added.
— S.P.
---
In Montpelier, popular daytime spot Down Home Kitchen has launched a couple of fun outdoor features for summer. At the restaurant's new Langdon Street sidewalk "porch," passersby can now stop for coffee or a walk-up maple creemee with ice cream from Kingdom Creamery of Vermont. Visitors can also sit in the shade of umbrellas for a boozy cocktail or draft brew, and they can order takeout to stay or go.
— H.P.E.