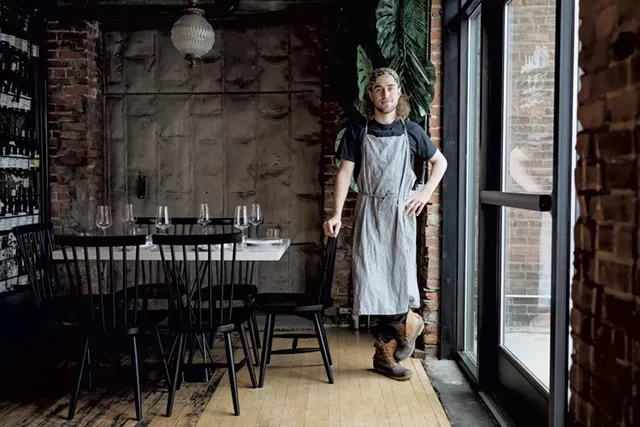 Oliver Parini
Chef Michael Judy
Chef Michael Judy
Position: Executive chef, Dedalus Wine Shop, Market & Wine Bar
Location: Burlington
Age: 26
Cuisine type: European-inspired, wine-focused food
Education: BA in physics from Middlebury College
Experience: Highlights include working at Tom Gray's Bistro Aix in Jacksonville, Fla.; Dolci, the student-run restaurant at Middlebury College; and Tawlet restaurant and its sister market, Souk el Taye, in Beirut, Lebanon
What's on the menu: Charcuterie boards featuring a variety of housemade pickles with housemade pâté en terrine and cured duck breast; cheese boards with an international cheese selection; handmade pasta, such as baked semolina cavatelli with oxtail ragout and fontina cheese; paella pancake with saffron aioli, salmorejo sauce and pulled pork
Michael Judy has cooked in restaurants from Beirut to Jackson Hole, Wyo.; baked bread with refugees on a Greek Island; shared endless pots of tea with desert nomads in Morocco; and motorcycled through Vietnam, learning to make sausage and pho along the way.
He has been to house parties in Myanmar and believes himself among the few to have slept in the streets of Dubai, where homelessness is illegal.
The 26-year-old speaks fluent Spanish and German and is proficient in French and Arabic. He's mulling over which language to learn next. "When you speak people's language," he explained, "they see it as a sign of respect."
At Dedalus, where Judy has worked for about a year, he has been learning the language of wine.
In the long, narrow kitchen, Judy can stretch out his arms and simultaneously touch each wall. With two induction burners and a glorified toaster oven, plus a panini press and prep area in a "second wing" by the retail store's cheese counter, Judy produces a small but delicious menu in service of the deep wine offerings at the heart of owner Jason Zuliani's business.
Judy told Seven Days about the role of wine in history, volunteering in a refugee camp, and how he risked mad cow disease for the best tacos ever.
SEVEN DAYS: What is the first thing you remember cooking?
MICHAEL JUDY: My mom is the worst cook ever. Everything was [made in] either the microwave or the George Foreman grill. I think I was 11 or 12 when I tried to see what I could come up with. I took canned pasta sauce and added spices. I thought it was fun. I was into the science of it, too. I started cooking all our family meals for my mother and younger brother. Then, after high school, I wanted to see how it really worked, so I got an apprenticeship with Michael Gray, a well-known chef in Jacksonville, Fla., where I lived.
SD: You've traveled all over the world. How has that impacted you?
MJ: I had only been out of the States one time before I graduated high school, but I was influenced by my grandma; she's from Switzerland, a big traveler. I backpacked through Europe between high school and college. Then I studied Arabic at Middlebury, and it really made me want to see more.
I took a semester off to go around the world with as few flights as possible; I wanted to do as much as possible over land because that's when you really see places.
There is so much to learn from different cultures. When you actually meet people, no matter how different their lives are, you realize how much they are just like you. It's easier to connect in person, especially over food. Even if you don't speak the same language, you can sit down and share food.
SD: In all your travels, what is the best thing you've ever eaten?
MJ: I was with a friend in Chiapas in Mexico. We were on a street late one night just walking, and we walked by this little taco stand with two big piles of meat and a grandma and a grandpa tending it.
The sign said "Tacos de Cabeza" [head tacos] with some words underneath we didn't understand. The two piles were pig's head and cow's head. It all looked so good we needed to stop, even though we weren't hungry.
After the first bite, I knew we had to order more. The flavors were awesome and the ambience, too: There was quiet music playing from a radio, and the demeanor of the old man and woman — I could see how happy they were watching us eat.
But my friend looked up the words we didn't know, and they meant "brains" and "spinal cord," and he said, "That's how you get mad cow!" There was no second round, unfortunately.
Oliver Parini
Paté en terrine and okra with mustard sauce (left) and chicken-liver mousse with crispy fried onions
SD: Where was your most unusual cooking experience?
MJ: I had a roommate [in college] who was from London, but his parents were Greek from an island, Chios, where many Syrian refugees were going. After we graduated, I decided to travel with him there.
The refugees were living in the moat of an old castle. I introduced myself to camp organizers. I said, "I speak Arabic. Can I help?" I started translating and then helped with preparing food off-site, driving it to the camp and serving it.
Refugees were not allowed to cook, and the food was not their kind of food. I saw how humiliating it was for people to stand in line for an hour for food. One guy told me, "We just need four things: bread, olive oil, dates and yogurt." Another big problem in camps is boredom; there's nothing to do but wait. I got really frustrated with the situation.
I thought, How do we fix this? We can give them the power to make their own bread. I had an idea to start my own program: a bakery that would be refugee-run. Cooking is very communal, too. I came home to America to raise money and make a business plan and then went back to Chios.
SD: How'd that go?
MJ: I tried to get permission to start the bakery. I went to lots of meetings, but the organizations running the camp and the local municipality didn't want the refugees to get too comfortable there, which is understandable.
I reflected a lot, and finally I decided, Screw it. I'm just going to do it.
We baked the bread secretly. It was challenging. It's a round flatbread. You cook it on a pan like a giant wok turned upside down. We had to cook it over fires made of cardboard. It connected the Syrians, the Iraqis, the Afghans. Everyone in the camp ate a similar kind of bread, even if they didn't speak the same language.
But eventually I gave up. It was too difficult to keep going. I was really sad and frustrated and came back and went to Jackson Hole, where I cooked in a high-end restaurant until I had enough money to go overseas again.
SD: What brought you back to Vermont?
MJ: I came to Burlington about a year ago, after cooking in Beirut. I had decided I wanted to open a bakery making the kind of bread I had learned how to bake in the Middle East. I like Vermont a lot. Burlington is a nice-sized city, and there's a passion and respect for food here.
I also applied for a Fulbright [U.S. Student Program grant] to do food research in Morocco. So for a few months, while I was waiting to hear on that, I thought I'd work part time, and a job at Dedalus opened up. I knew the food side, but I knew nothing about wine, so that was interesting to me.
In May I found out no Fulbright, though I had made it to the finals. I decided to stick around to keep building wine knowledge.
SD: The contrast between cooking in a refugee camp and a wine bar must be jarring.
MJ: It's all about sharing food. That's why I'm a cook. Nothing makes me happier than giving someone food and watching them eat it. I spend a lot of time here standing in the kitchen doorway looking out at the guests.
SD: You describe the menu as "wine food." What does that mean?
MJ: Wine is the star of the show here. The food is meant to support the wine and support the experience you're having. I don't need people to come out saying, "That was the best pasta," but if you have my pasta with a glass of Friulano, it should be like you were in my great-great-grandmother's kitchen in Italy.
SD: What have you learned about wine?
MJ: The biggest thing I've learned in my heart is how powerful wine has been throughout thousands of years. It has been celebrated in music, words and statues, but it's also so important in the daily life of so many people.
Before, I thought of it as a beverage and an agricultural product, but I realize it's much more than that. It represents place and culture and history.
SD: I hear you listen to French rap while you're cooking.
MJ: Yes, I'm prepping for my next trip. I'd like to go back to France and work at a winery, particularly the farming part of it.