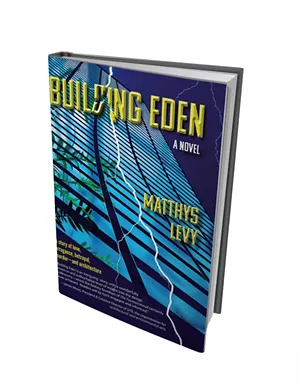 Building Eden by Matthys Levy, Upper Access Books, 240 pages. $14.95.
Burlington-based structural engineer Matthys Levy has worked with famous architects — Walter Gropius, Gordon Bunshaft, Marcel Breuer, I.M. Pei — on some of their most notable buildings. And, at 88, he's still not retired. After 60 years of designing structures with the New York City firm Weidlinger Associates (which merged with Thornton Tomasetti in 2015), Levy is currently wrapping up a 10-year project in New Orleans.
Over the years, Levy has produced seven books that plumb his extensive understanding of how buildings get built and why they last or fail. One, Why Buildings Fall Down (1992), brought him widespread media attention and an augmented reissue in the wake of 9/11. In other books, Levy has explored earthquakes, tsunamis, global warming and city planning. His latest book, though, is a novel — his first.
Building Eden follows the construction of a high-rise project, the Eden Center, on the Upper West Side of Manhattan starting in the fall of 2000. The story turns on the relationships among the host of people on whom such a major project necessarily depends: the visionary but insecure architect, Philip Corta; his construction-site photographer wife, Diane; the temper-tantrum-prone developer, Alex Grant; the lawyer-consultant with a direct line to the mayor; the contractor; the job superintendent; the banker and so on. There's even a shadowy work-site-security outfit that operates like the mob.
Why a novel? In a recent interview at a Burlington café, the tall, lanky Swiss native shrugged and said, "I thought it would be fun."
Levy has no trace of an accent; he came to New York City on vacation in 1939 and stayed after his father called from Paris to tell him not to return because of the impending war.
Building Eden is not a roman à clef. Levy was careful not to base the project on any actual one, and the characters are composites, he said. Corta, the fictional architect, is certainly of modern vintage: Born in Spain, educated in England "in a modernist wave that had spread west from its Bauhaus origins in Germany," he favors "a warmer mode of expression ... [than] the sharp angles and cool materials that were the Miesian norm."
The architect's sparsely furnished living room features an Eames black leather lounge chair, a "geometric" sofa, a dining table by George Nakashima and three-legged dining chairs "to emphasize the minimum required for stability." That portrait, Levy said, is drawn from life, if not any life in particular: "Every modern architect's living room was like that!"
Levy's job requires that he work most closely with contractors. "They take a certain pride in what they do," he said, explaining his sympathetic portrayal of contractor Patrick Connolly. In the novel, the Jersey Protective Association tries to strong-arm Connolly's construction company into paying for its security services by weakening the concrete mix. (That's the only scene that includes a structural engineer, who confirms that the foundations must be dug up and repoured.)
But bigger problems are about to beset Eden: the terrorist attacks of September 11, 2001.
On that day, Levy was in New York City, where he commuted for work, having moved to Vermont in 1999. He was on his way to his office, less than a mile north of the World Trade Center, when the first tower fell. He saw the second plane hit the second tower and watched from his 15th-floor window as both high-rises collapsed. When CBS asked Levy for a quote that afternoon, the only transportation he could find to take him to the midtown studio was a pedicab, he recalled.
Levy repeated the explanation he gave then: "The towers fell because of fire. The planes scraped off the steel structures' fireproofing," leaving them to weaken in the flames.
When Larry Silverstein, who owned the Twin Towers, successfully sued his insurance company for claiming that the two disasters were one, Levy testified as an expert. In 2002, as part of coverage of the suit, the New York Times wrote about a computer simulation Levy had created to reconstruct the moments of impact.
Building Eden is much more than a 9/11 novel. In plain, direct narration, Levy gives readers a behind-the-scenes glimpse at the political, personal and contractual machinations that must happen to get any big project built. He also includes periodic entr'actes, page-long descriptions of the job site over time. These reveal the building process at every stage, from the blasting of rock for foundations to the encircling of each floor with orange plastic shrink wrap as it's built.
Building Eden is a thriller, too, and before its final pages arrive, sabotage, murder and personal tragedies occur.
As the architect Richard Meier, whom Levy first met at Breuer's office 56 years ago, writes in his blurb for the novel: "Only a person with extensive knowledge of the field could make this story so gripping, timely, and powerful."