Courtesy of Kevin Robinson
The mill in East Arlington, soon to be an arts center
The old grist mill in Arlington is getting a new lease on life as a center for the arts, thanks to the efforts of owner Joshua Sherman. This past weekend, the Mill mounted its inaugural production: a staged concert of Perfect Picture, a musical depicting the life of Vermont artist Norman Rockwell. The invitation-only performance boasted an acclaimed cast, including Tony Award winner Lillias White, featured in the Netflix series "The Get Down"; two-time Tony nominee Crista Moore; and Mark Jacoby, best remembered for his rendition of the Phantom in Broadway's The Phantom of the Opera.
Courtesy of Kevin Robinson
Mark Jacoby
Sherman says this showcase of talents won't be the last at the Arlington mill — and his theatrical family has the connections to make good on that claim. Perfect Picture has a book and lyrics by Sherman's mother, New York theater and TV veteran Eileen Bluestone Sherman; and music composed by his aunt, Gail C. Bluestone. On Monday, the same cast performed Perfect Picture in concert at the Bruno Walter Auditorium in New York's Lincoln Center.
A medical doctor by trade, Sherman says he never lost his love for the arts — or for the old mill, which was a central part of many autumns spent vacationing in Arlington with his family. (He now lives there part time.) In 2014, "when the opportunity presented itself to buy the mill," he says, "I knew I had to take it."
That mill boasts a long history. When Arlington was founded in 1761, Ethan Allen's cousin, Remember Baker, built the mill in exchange for 50 acres of land. In the 1920s, the building became the focal point of the Candle Mill Village, a popular tourist destination. Later, it was a successful antique store.
Now, Sherman aims to transform that space into a center for the arts. "Vermont has a tremendous amount of artistic talent, but the artists are physically spread out," he tells Seven Days by phone. "It's hard to actually find a place to collaborate. I wanted to change that."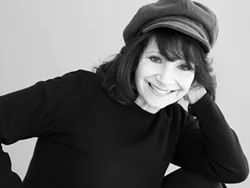 Courtesy of Kevin Robinson
Eileen Bluestone Sherman
For Sherman, who's invested a great deal of his time and money in the renovations, the project is a labor of love. He's even taken to sleeping in the mill while construction is under way, to gain what he calls "a perspective for design" — a Method contractor, as it were.
"The space had lots of partitions for different cubicles where antique dealers would set up shop," Sherman says. "I broke the space open." Once the demolition is finished, he'll add spaces for performance, rehearsals, a gallery, a kitchen, bathrooms, storage and bedrooms where visiting artists can stay. For now, the performance space is complete enough to support the staged concert of Perfect Picture.
"I hope it will be a center for creativity," Sherman says of the mill. "Opening with the Rockwell story is perfect."
Perhaps best known for his Saturday Evening Post covers, the American artist created many of his iconic paintings in Arlington, where he lived for 14 years. Bluestone Sherman decided to write the musical after visiting a (now-closed) Norman Rockwell Museum in the town and picking up a copy of the artist's autobiography. "I am fascinated by Rockwell's personal life, his integrity and his patriotism," she says. "He depicts life in this perfect way, but he was not a perfect man."
Rockwell never achieved critical acclaim in his lifetime, despite his immense popularity. In Perfect Picture,
Bluestone Sherman explores his struggle between "aspiring to be well respected by his peers" and pleasing his public. "He was like Beyoncé is today," she suggests.
While some may dispute the comparison, Rockwell is still a rock star in Arlington. "Everyone in town feels a close connection to the show because this was [Rockwell's] home for so long," Bluestone Sherman says.
Courtesy of Kevin Robinson
Joshua Sherman
Perfect Picture was first staged in 1992 at the Southern Vermont Arts Center in Manchester under the title Rockwell. Bluestone Sherman put it in a drawer to make way for other projects, but not before releasing a studio cast recording of the musical. Recently, she was asked to showcase it as part of the Songbook: Broadway's Future series hosted by the New York Public Library for the Performing Arts. Simultaneously, her son was looking for a way to kick off his new theater space. It "seemed like the right time to revive the musical," Bluestone Sherman says.
Rockwell once said of his work, "I paint life as I would like it to be." Sherman may be following in the artist's footsteps as he restores the mill to the state that longtime Arlington residents remember. "Because of all the demolition, it looks more like the way it used to — a large space with high ceilings," he says. "Even though everything will be new, it's almost like we're bringing it back to the way that it was."
Having introduced the Mill formally to the community with Perfect Picture, Sherman now hopes to collect insight from that community and raise funds for its completion. It "feels good to be restoring something," he says.