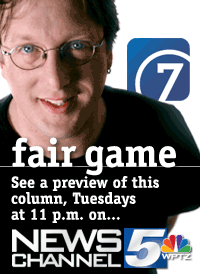 Since leaving the Democratic Party in September, State Auditor Tom Salmon has been on a one-man crusade to convert folks to his Church of Fiscal Responsibility.
He's been a hit not only at GOP rallies and fundraisers around the state; he's gone right into the lion's den — telling union workers they should take pay cuts and the unemployed they should expect less money per week.
He's also a go-to guy when local officials need to sort out fiscal oversight and accounting problems. For example: Montpelier officials are seeking him out to help review city accounting procedures, and he's been quietly talking with some people at Burlington City Hall about the best way to move forward on Burlington Telecom.
But while Salmon is attracting fiscally conservative acolytes, especially among his GOP brethren, "Fair Game" has learned that Salmon has had his own bout with fiscal irresponsibility.
In 2002, before he left Los Angeles to return to Vermont, Salmon was sued for failing to repay nearly $30,000 to his credit union and two credit card companies. In L.A., he worked as an English teacher and part-time accountant.
According to court records obtained by "Fair Game," Salmon took out a $20,000 loan in 1999 from the California Credit Union to help pay off four different credit card balances totaling nearly $23,000. He defaulted on that loan just three years later and stopped making payments on two credit cards.
When he was taken to court in 2002, Salmon owed about $12,225 to the credit union, as well as $12,200 on one credit card and $5000 on another. Total balance due: roughly $29,000. Creditors also sought damages to cover court costs and legal fees.
Salmon said he got into debt when a sizable business investment went sour.
"I never claimed bankruptcy or anything like that, and over time, one by one by one, I cleaned off and mitigated whatever I could," said Salmon. Rather than lean on his family to bail him out, he said he adjusted and made do with less.
In fact, Salmon claimed when he was sworn in as state auditor in January 2007, he had $1 to his name. "And that wasn't symbolism," he said. He now makes about $95,000 a year.
Salmon settled up his credit card debts in 2003, according to court records. He finished paying off his credit union debt in 2007, halfway though his first term as auditor.
"My experiences during financial storms gives me passion to warn others to prepare for the worst," said Salmon.
Passion may account for why Salmon took control of a public hearing on the state's rapidly depleting unemployment insurance trust fund.
In his two-minute sermon, he told workers in the audience that if they didn't have a job in six months they might "consider finding a new line of work."
Tough talk.
It's Easy Being Green
They came, they saw, they promised. Democratic gubernatorial hopefuls gathered Saturday for the first "debate" of the 2010 political season as part of the Environmental Action conference at Vermont Technical College in Randolph.
The takeaway? Vermont's environmentalists are likely to be happy with any Dem that wins — as long as the candidates follow through on their campaign promises (cough, cough).
Four candidates — State Sen. Susan Bartlett (D-Lamoille), former State Sen. Matt Dunne (D-Windsor), Secretary of State Deb Markowitz, and Senate President Pro Tem Peter Shumlin (D-Windham) — attended the forum.
State Sen. Doug Racine (D-Chittenden) was out of the country. Representing him was Pat Parenteau, a campaign volunteer and former top environmental aide to Gov. Madeleine Kunin.
All five said they would: close down Vermont Yankee and have Vermonters buy local and regional renewable power sources; put more money into the Vermont Housing and Conservation Board; develop more local food production; and clean up Vermont's dirty waters and lakes.
Of course, none of the candidates spelled out how they'd fund these promises. Details.
I posted a lengthy recap of the speeches on the Seven Days blog, Blurt. You can also check out videos of the speakers on VTDigger.org. They're worth a look.
The five will appear again on November 19 in Burlington at a candidate forum sponsored by the Vermont League of Conservation Voters.
Lt. Gov. Brian Dubie, the presumptive Republican nominee for governor, was invited to both forums but declined due to "a scheduling conflict."
Which conflict, you ask? It's called a Democratic primary.
Not to be Taken Lite-ly
Given all the attention the guv's race is attracting, what about the number-two slot? There's only one declared candidate so far — Republican Mark Snelling — but that could change soon. Snelling could end up in a race as crowded as the one for governor.
State Sen. Randy Brock (R-Franklin) is still considering a run for the office, as are state senators Phil Scott (R-Washington), Kevin Mullin (R-Rutland), and former Rutland State Sen. John Bloomer Jr. Likewise, Sen. Vince Illuzzi (R-Essex/Orleans) said he's going to wait until after the legislative session to determine if he'll make a run for lite guv.
"I'm going to make a decision soon," said Scott, who is 75 percent sure he's going to run. Still, he wants to hear from Brock first. "It's not that I won't do it if he does."
Scott knows his vote in support of same-sex marriage will hurt him in a GOP primary against Brock, who voted against marriage equality.
Brock expects to make a decision "soon."
On the Democratic side, a lead candidate dropped out of the running on Tuesday. Chittenden County State's Attorney T.J. Donovan said he is likely to run for reelection rather than lite guv.
Progressive Rep. David Zuckerman is expected to make a decision if he'll run for the post by month's end — as a Democrat. He may opt to run for state Senate.
Chittenden County state senators Virginia Lyons and Ed Flanagan and former Vermont CARES executive director Tim Palmer remain potential candidates.
Anyone else worried that almost half the Vermont Senate is running for governor and the other half wants to be lite guv?
Frame of Mind
Democratic State Sen. Ed Flanagan will not face charges stemming from an incident this summer where two patrons allegedly saw him masturbating inside a private men's locker room at the Greater Burlington YMCA, acting Addison County State's Attorney Chris Perkett told "Fair Game."
Though he's confident he could prove that Flanagan performed the act in front of other Y patrons, Perkett said he did not believe he had the evidence to prove "beyond a reasonable doubt" that Flanagan acted intentionally.
Perkett did think he had the evidence to convince a jury the incident occurred, as reported, but to file a charge of lewd and lascivious conduct, he also needed to prove Flanagan's intentions.
"Based on the evidence, I could not prove Sen. Flanagan had the requisite mental state necessary to conduct the act intentionally," Perkett noted.
The case was originally handed to Chittenden County State's Attorney T.J. Donovan. He recused himself because, like Flanagan, he was thinking of running for lieutenant governor.
Flanagan has denied the allegations, but apologized if his behavior "offended anyone." He even told Perkett he had a skin condition that made him itch uncontrollably — a condition he failed to mention months ago.
Why's that? Hard to say, since Flanagan hasn't returned phone calls to "Fair Game" since August.
His supporters claim he's suffering from a traumatic brain injury and can't help himself. Then again, when Seven Days raised questions about his TBI affecting his legislative abilities, supporters claim he is just fine. Well, which is it — can't help himself, or just fine? Can't have it both ways. Or can you?
You're on Your Own
The U.S. House spent the better part of Saturday debating health care "reform," and Rep. Peter Welch voted for the Democratic version even though the public option wasn't as strong as he had hoped.
"The historic nature of the vote is this: We turned our back on the status quo," Welch told reporters on Monday.
Perhaps, but Congress also turned its back on women, especially poor women, by denying access to abortions through any of the federally created insurance plans. Welch opposed this amendment.
The result: If a woman purchases insurance through the public option — even if she pays 100 percent of the premium — she can't use her insurance to pay for an abortion. Instead, she will be forced to pay for it privately.
Historic, indeed. What's next? Taking away a woman's right to vote and own property?
Proactive Progressives
Burlington Progressives, while battered by the Burlington Telecom scandal, have regrouped.
Led by co-chair John Franco, a battle-worn veteran of the Bernie Sanders administration, city Progressives have been meeting regularly with Mayor Bob Kiss to talk political and policy strategy. That's a first since Kiss was elected in 2006.
"That used to be the practice," recalls Franco. "The Sundays before the council meeting they'd all meet at Bernie's house. That fell out of practice with the [Peter] Clavelle administration. If there is a silver lining, this is it."
The Progs maintain the $17 million loan was necessary to keep BT afloat and was the least costly option. They'll make that case, and others, in a citywide leaflet drop this weekend.
Got a news tip? Email Shay at shay@sevendaysvt.com
Click here to follow Shay on Twitter.