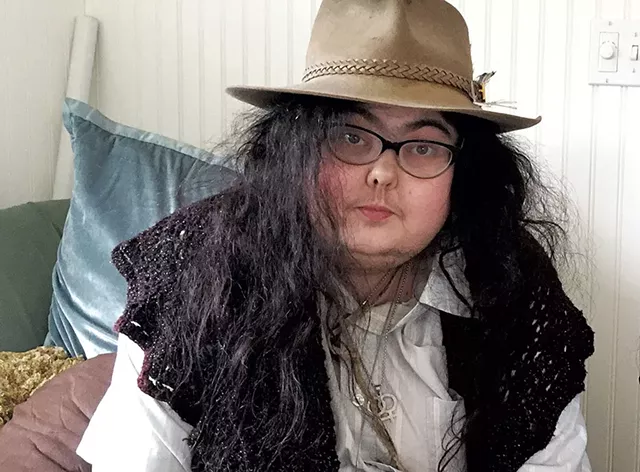 Courtesy
Mel Baggs
When Amelia "Mel" Baggs' parents took young Mel on a hike years ago in a California forest, the child stopped them and pointed at one of the trees.
"She said, 'There's something wrong with that tree,'" Mel's mother, Anna Baggs, recalled this week.
No one could see anything amiss, but Mel ran around to the opposite side of the tree and discovered a large metal spike hammered into it.
"She somehow feels things," said Anna, who is 73 and lives in Northern California. "She just had this deep love of everything, and she had this feeling that she was connected to everything."
Amelia Evelyn Voicy Baggs, as Mel came to call herself, offered insight into the minds of those with autism and other disabilities and fought for them to be recognized as people. She died April 11 in Burlington at age 39.
Mel died of apparent respiratory failure brought on by chronic health problems while staying in the apartment of close friend and fellow activist Laura Tisoncik.
Mel identified as "genderless" and preferred gender-neutral pronouns such as "they" and "their."
Mel became an influential disability rights activist and blogger after posting a 2007 YouTube video called "In My Language." The video shows Mel interacting nonverbally with objects at home, waving their hands while humming, fiddling with a drawer knob, and rubbing their face against a book.
Using a computer synthesizer that converts typed words into speech, Mel produced a voice-over that translated these movements as "being in a constant conversation with every aspect of my environment." Mel hoped to illustrate that people who interact differently with their surroundings deserve to be treated as fully human.
"There is a tendency to see disabled people, especially people with cognitive disabilities, as not quite human, as not experiencing life in any whole way," Tisoncik said. "And that's nonsense, of course."
Mel suffered from numerous physical ailments, used a wheelchair and was sometimes bedridden. Still, Mel inspired other autistic people and their families across the nation to fight for their rights in a health care system that often seems ill-equipped to treat patients with different communication abilities, Mel's mother said.
Mel dedicated the video to "all other people who are considered non-persons or non-thinking." The video, and their writings, made Mel's a distinctive voice in the neurodiversity movement, which aims to recast conditions such as autism less as illnesses and more as an inherent variable in human cognition. Mel was featured on CNN as offering rare insight into the mind of a person with autism and was the subject of a story in Wired magazine. The New York Times and Washington Post published lengthy obituaries, citing Mel's influence in the field of disability rights.
Such attention also drew detractors who questioned whether Mel was intentionally adopting the mannerisms of autism for attention. After the CNN coverage, classmates stepped forward to point out that Mel had been able to speak while attending Bard College at Simon's Rock in Massachusetts.
That's true, but intermittent speech is common in those with autism, Tisoncik said. Mel was diagnosed with autism as a teen. Their cognitive skills were "very uneven" and shifted over time, Anna said. Mel devoured adult astronomy books at the age of 5, was excellent at math and had a phenomenal vocabulary, but their social skills were limited.
"If she typed, she was able to express herself so well," Mel's mother said. "But if she spoke, it was getting more difficult, and she finally wasn't able to speak at all."
But man, could Mel type — more than 100 words per minute. On two blogs, one called "Cussin' and Discussin': Mel being human in a world that says I'm not," they churned out pieces on a wide variety of subjects.
Mel railed in blog posts against electroshock therapy and the oppression of "ableism." They also wrote poetry. Mel wasn't afraid to blast the quality of the health care they received, at times with ribald humor.
In 2017, Mel wrote a post titled "When psychiatric services suck donkey balls (compared to other disability services)." In it, Mel argues that people with mental differences should receive the same quality of in-home care as those with physical disabilities.
"It shouldn't matter whether your inability to get the housework done is because you're paralyzed, because you've got a chronic illness, because of a cognitive disability, because of terrifying hallucinations, because you're depressed and feel worthless and drained of all energy, because you've got a movement disorder, or any combination of these and other things," Mel wrote. "If you need the help, you need the help."
Mel needed the help. It took an outpouring of support to get their feeding tube put in several years ago, a procedure doctors initially resisted by saying Mel might be more comfortable without one, Tisoncik said
"If we hadn't put together what was essentially an international outcry, they probably would have insisted that she just die," Tisoncik said.
Mel moved to Burlington to be closer to Tisoncik, their "second mother," after Mel's parents retired to a small town with no services for Mel. For most of their 15 years in Burlington, Mel lived independently, with varying degrees of help from in-home care services. Mel was an avid artist who enjoyed painting and crochet. Mel was also a cat lover and a regular at the Burlington Farmers Market.
Mel cherished their independence. But as their health challenges compounded, Mel moved in with Tisoncik, who did her best to offer care. That became infinitely harder as the COVID-19 restrictions took hold, Tisoncik said.
"It was a struggle to take care of Mel and take care of myself," she said.
Mel suffered from osteoporosis, adrenal insufficiency and myasthenia, a chronic autoimmune disease that weakens muscles, Anna said.
With recent travel restrictions in place, Anna was unable to visit Mel, and sending Mel medicine became more difficult. Anna heard in Mel's voice fear about their declining health and, toward the end, their desperation.
"She kept saying, 'We're going to die here.' And she did," Anna said.
Despite a life of struggles — or perhaps because of them — Mel helped to broaden the conversation about neurodiversity beyond the autism spectrum to the concept of personhood.
"Mel's whole point was that every human life is a human life," Tisoncik said. "There aren't un-people."