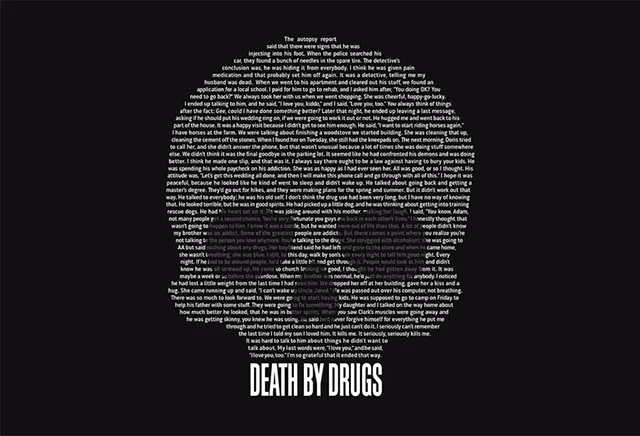 They were chemists and truck drivers, landscapers and car salesmen, homemakers and hydrologists. They plowed snow for the Agency of Transportation and brewed coffee at Dunkin' Donuts.
They died in motel rooms in Brattleboro, woods in South Burlington, a sister's basement in Barre, a campground in Duxbury and a mobile home three blocks from a Rutland hospital. They were young mothers and retired Vietnam veterans.
Some had lost contact with their families and were dead for days before someone discovered them. Others had kissed their wives goodbye or bid their parents goodnight just hours earlier.
Their common fate: All were Vermonters who died of opiate overdoses in 2016.
It's been three years since former governor Peter Shumlin devoted his entire State of the State address to Vermont's "full-blown heroin crisis," focusing attention and resources on a public health problem that has since exploded nationwide. In Vermont, the Department of Health reorganized and expanded drug-addiction treatment programs. Law enforcement officials unveiled new strategies and declared that addiction should be treated as a health problem, not a crime.
Despite those efforts, the "crisis" is claiming the lives of more and more Vermonters.
In anticipation of the health department's annual tally, Seven Days obtained and reviewed last year's drug-related death certificates. The records revealed that 100 Vermonters died from fatal opiate overdoses in 2016.
The Hometowns of 2016 Vermont Opiate Overdose Victims
Eleven victims who died in Vermont were from out of state. Their hometowns are not shown.
Although she wouldn't corroborate that number, Vermont Department of Health Deputy Commissioner Barbara Cimaglio didn't dispute it, either. The department, which uses complex criteria for labeling a death an opiate overdose, is expected to release its official count for 2016 in the coming weeks.
Cimaglio said: "From what we do have, it doesn't look like it's gotten better, and it's not going to be lower than 2015," when 75 Vermonters fatally overdosed on heroin and prescription opiates. "We're still in the throes of a serious problem. The supply is there, and it's cheap."
Analysis: Andrea Suozzo | Design: Diane Sullivan
No report — official or independent — can reflect the number of overdose deaths that would have occurred last year, if not for efforts to increase the statewide availability of Narcan, a life-saving drug that reverses opiate overdoses. Addicts get free Narcan at most treatment centers and tend to keep it around in case the need arises — a friend or family member can easily administer the nasal spray. Most police agencies, ambulance crews and pharmacies now carry it, too.
The health department distributed more than 4,000 doses of Narcan in the first six months of 2016, according to its most recent available data, and the drug was used to attempt to reverse 241 documented overdoses. By contrast, Narcan was used only 122 times in all of 2014.
"The fact that fatalities are still up, even with a universally available antidote, is troubling," Burlington Police Chief Brandon del Pozo said. "It shows that the grip of opioids is relentless. People struggle with this addiction knowing it has killed their friends and that it could kill them."
As use of the powerful "antidote" spread, though, so too did an even stronger poison: The opioid fentanyl, which is used as an anesthetic in routine surgical procedures such as colonoscopies, can be 100 times more powerful than heroin. In 2016, it claimed a record number of lives in Vermont, according to death certificates. The drug, which is also now manufactured illicitly, was cited in 47 Vermont death certificates from 2016 — up from 29 in 2015.
Many other drugs, from Demerol and Dilaudid to Percocet and Vicodin, show up as a "cause of death" or "contributing condition."
To better understand the Vermonters who died by overdose, Seven Days attempted to reach out to the families of each and every victim. Some could not be located or did not respond to requests for comment. Others declined to speak because the stigma of a drug-related death compelled them to conceal — even from friends and neighbors — how their family member died.
"That would be devastating," one mother said of going public. "We've already lost enough."
But many people did agree to talk, hoping that it would shed light on the problem. A number spoke in unwavering voices, bravely answering questions they had clearly pondered long and hard. A few broke down sobbing and asked apologetically for a break. One or two talked for more than an hour and then called back again and again.
Their stories illustrate the diversity of Vermont's opiate victims: blue collar and professional class, rural and urban, old and young. Roughly 30 percent were women.
And yet common themes emerged.
Addiction often starts with a prescription to ease the pain of injuries or medical procedures. Eric LaPierre, a 38-year-old Milton carpenter, hurt himself playing hockey as a teenager and quickly became hooked on prescription painkillers, touching off a lifelong struggle with addiction. He overdosed on fentanyl in October, just a few months after he married his longtime girlfriend. They were planning to build a house together.
"I honestly thought that wasn't going to happen to him," his wife, Shannon LaPierre, said. "I knew it was a battle, but he worked every day to stay good. He wanted more out of life than that."
A startling number of opiate victims died just after they had gotten clean — and when their families had reason to believe that the worst was over.
Jared Lee Jackson, 36, had moved back to Vermont from Florida, where he fell in with the wrong crowd and developed a drug habit. His father, Joel, said his son was excited about moving in with a health-nut friend in Waterbury, and perhaps launching his own business. "Things were really looking up: It looked like he was turning the corner; we were all proud of his efforts," said Joel Jackson. "He seemed fairly put together. He was making good plans."
The night he died was supposed to be one of celebration; he and his sister were hosting old friends for dinner. As she was preparing the food, he overdosed on a mix of fentanyl and methadone.
Experts in the field have long been aware of this cruel irony: Addicts may be most susceptible to an overdose just after they have gotten clean. In recovery, the body's tolerance for opiates drops, according to Cimaglio. Starting up again with a formerly acceptable dosage can prove fatal.
Cimaglio said the Department of Health has started a public education effort to warn addicts and their families of the risk. They're distributing literature at treatment, rehab and needle-exchange centers and encouraging health professionals to find a way to bring it up with patients.
The opiate epidemic is no longer a secret. Every family member contacted for this story was well aware of the nationwide rash of opiate-related deaths. They know that their personal loss is part of a much bigger problem. A few relatives, determined to overcome the stigma, have used obituaries to reveal how their loved ones struggled with addiction.
They also offered a range of possible solutions: Hire more cops. Open more treatment beds. Pass tougher laws for drug dealers. Give addicts a safe, legal place to inject.
But more often than not, their recommendations seemed half-hearted, as if they were restating something they had heard on the news. Most of them were too deep in their own grief, trying to make sense of what happened, to debate policy. They just want the problem to stop.
"It seems kind of weird for an adult woman to confess this, but I'm astonished at the permanency of death," said Island Pond resident Susan Vera, who lost her 29-year-old son Adam to a fentanyl overdose. "I don't have the answers. I have a loss that will never be regained. As a society, I don't know what we are waiting for. Have we not lost enough people — male, female, young, old, everywhere in between? How many more do we have to lose?"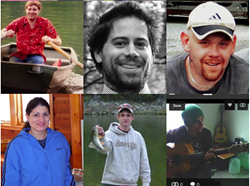 We asked family members of the overdose victims to share their last memories of their loved ones.

Read those stories here.
How We Reported This Story
Investigating the breadth of the opiate abuse problem in Vermont, Seven Days filed a public records request with the Vermont Department of Health for death certificates for every fatal drug overdose in 2016. We quickly realized that pinpointing opiate overdoses is not as simple as we had assumed. Our findings may not match the Department of Health's own forthcoming annual opiate overdose tally.
Why? Many people are killed not by one drug, but by a mixture of multiple drugs. Alcohol is sometimes a factor. Some overdose victims have underlying health problems, such as heart disease, that contribute to their deaths.
For these reasons, the health department has complex criteria for declaring a death an "opiate overdose" and conducts investigations of every fatality.
Even the term "opiate" is more complicated than you might think: The health department supplied a list of 56 prescription medications that double as oft-abused opiates. Most of them we'd never heard of.
For this story, Seven Days included people whose death certificates reported that opiates were a cause or contributing factor in their death. Like the health department, we excluded drug-related suicides. Last year, there were six.