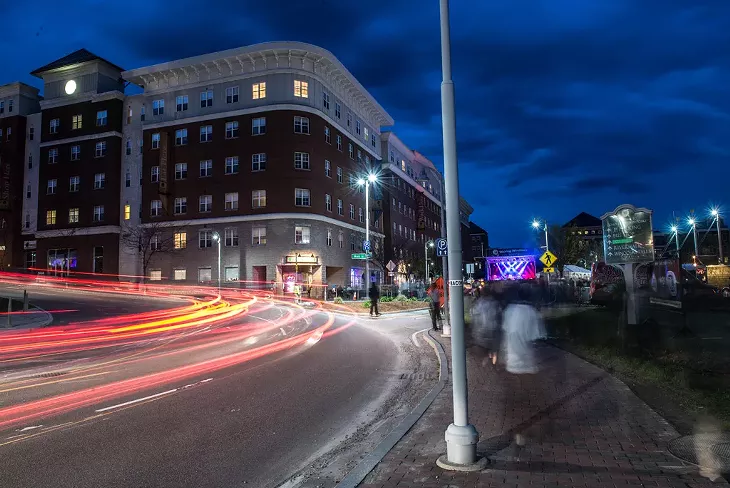 16 slides
If you're like me, you're probably still coming down from the sonic high that was Waking Windows, the multiday music and arts festival in downtown Winooski last weekend. I spent three straight days rocketing around the Onion City rotary, consuming as much music as I possibly could. What follows is a running diary of my thoughts, feelings and observations as I rollicked from sound to sound.
Friday
5:15 p.m., Scout & Co.
I arrive just as the Snaz start their sound check. The coffee shop approaches capacity as they begin their penultimate performance — the Brattleboro band is calling it quits next month. Spectators look like human bobbleheads as they furiously nod along with the band's up-tempo grooves.
6:18 p.m., Main Street
As I head over to the Main Stage area, I hear, "Bullshit! Dog shit! Cat shit! Rat shit!" shouted from the Rotary Stage. Your profanities are making me smile, Blue Button.
7 p.m., Scout & Co.
Kudos to Laser Background for having a most unusual stage prop: an illuminated world globe. Somebody better spin that damn thing.
7:07 p.m. Scout & Co.
Yes! Songwriter Andy Molholt spins it.
7:26 p.m., Monkey House
The Metal Monday showcase is thoroughly "lit" thanks to Kiefcatcher. (See what I did there?) They're thrashing the living snot out of us.
8:52 p.m., Lucky Cloud
I pop into the Local Hip-Hop Showcase. Holy shit. Jarv can spit rhymes faster than "Motormouth" John Moschitta. (You know, the guy from the Micro Machines commercials.)
9:02 p.m., Main Stage
Dan Deacon is saying some crazy shit. Referring to Garfield's best friend: "You can't draw Odie from memory." Referring to fingers: "...the teeth of the hands." And a joke that helps him remember how to pronounce Winooski: "Did you hear the winter sporting goods store is having a huge contest? You could 'win new ski.'" Good one, Mr. Deacon.
10:57 p.m., Lucky Cloud
Just as Jeremy Mendicino debuts his glitchy, sound-bending new project, the Gifts, four spritely festivalgoers appear out of nowhere and launch into a convulsive group dance that looks like tai chi crossed with break dancing. This is not part of the show, but it looks like it could be.
11:57 p.m., Lucky Cloud
I've been waiting all day for Exit Someone's syrupy pop duets. After a song or two, they demand the lights be turned down. The room goes dark and feels about 75 percent sexier as they play their new song, "Situational Lover."
Saturday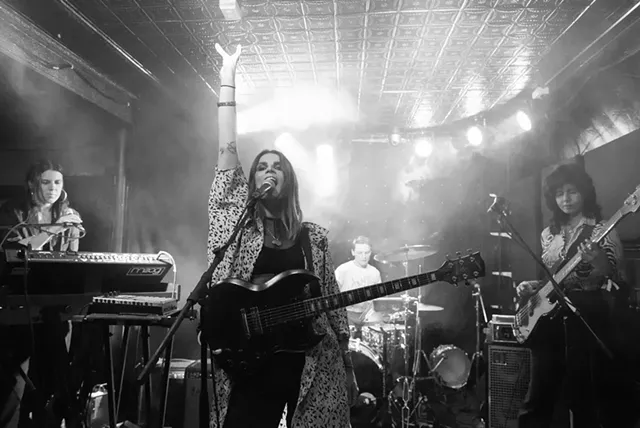 Photo Courtesy of Britt Shorter/Waking Windows
Teen
2:23 p.m., Main Street
I dub myself an honorary member of Brass Balagan and hold up the rear of their ragtag parade. You don't even need a crossing guard to get through the rotary when more than a dozen people in cherry-red jumpsuits with brass instruments are leading the charge.
4:29 p.m., Monkey House
Smileswithteeth singer Lillian King takes a break from her group's chilled-out, trip-hop vibes to comment on the excessive air traffic we're experiencing this afternoon. To paraphrase her unambiguous comments: The military is bad. I hope she's referring to its bloated budget and not the individuals within it.
5:12 p.m., Winooski United Methodist Church
At the Signals Showcase, composer Daniel Wyche presents an ambient, wordless movement. He alternates between plucking and bowing his guitar as his musicians accompany him on strings. The setting sun illuminates the church's stained-glass windows as their atmospheric textures expand and contract. Pardon the on-the-nose summation, but it's heavenly.
5:50 p.m., Lucky Cloud
Though I only catch the tail end, here's my overly wordy — and overly hyphenated — description of Tiny Hazard: left-of-center-quiet-time-music-box-shoegaze lullabies for cool kids.
6:36 p.m., Lucky Cloud
I love Tim Woos' V-formation double-keyboard setup in Gnomedad. He's simultaneously got his right hand on the Rhodes and his left hand on the Prophet 600.
Photo Courtesy of Luke Awtry Photography/Waking Windows
Pond front man Nick Allbrook
8:08 p.m., Main Stage
I'm really digging Pond's psychedelic, hair-band riffs. From far away, I think singer Nick Allbrook looks like Anne Heche. I can't unsee it.
9:15 p.m., Main Stage
Memo to Real Estate: It's called Waking Windows, not Sleeping Windows.
9:46 p.m., Monkey House
Future Punx are dispatching some serious '80s vibes. Overheard in the crowd: "This is the sickest shit I've ever seen. They're like the B-52s or something." Agreed, but I'd like to add Devo in there, too.
10:05 p.m., Monkey House
I grab a vacant seat at the window and realize I've just insinuated myself into what seems like a close group of friends. They're struggling to decide where to go.
"I feel like I'm a part of your huddle," I say. They immediately pull me into their conversation, and I give my two cents about late-night offerings.
Now I feel like I recognize them, but I can't put my finger on it. A few exchanges lead me to believe they're in a band.
"Are you guys a band?" I ask. Indeed they are: Alpenglow.
11:26 p.m., Monkey House
Artsy electronic duo Home Body win the night with their life-affirming, emphatic anthem, "Tits to the Sky." Before beginning, singer Haley Morgan says, "Tits to the sky. It's the new balls to the wall."
12:56 a.m., Monkey House
TEEN's electrifying, oddball synth-pop destroys me. During a particularly rousing number, front woman Kristina "Teeny" Lieberson steps off the stage as she sings. She sidles up to me, sits down on an adjacent barstool and lays her head on my chest. I can't even believe what is happening.
Sunday
Photo Courtesy of Luke Awtry Photography/Waking Windows
Ivamae at Scout & Co.
2:20 p.m., Scout & Co.
Ivamae's soft, contemplative music is the perfect start to this overcast afternoon. She debuts a new song she wrote yesterday.
"I puked out some shit, and I have to share it," she says.
3:05 p.m., Main Street
Security magnate Michael Van Gulden, of Chocolate Thunder Security, is simultaneously keeping things safe and orderly, consulting on an issue at the box office and offering cooking advice.
4:30 p.m., Lucky Cloud
In one of the weekend's most emotional moments, Amelia Devoid is moved to tears during her performance of "Land Below," a song she wrote for a departed friend.
4:45 p.m., Rotary Stage
Thank God I make it to Steady Betty for their rendition of Alton Ellis' "I'm Still in Love With You Girl." You know, the one Sean Paul and Sasha made famous during the brief pop-reggae fad of the early 2000s? And, yes, I'm filling in the Sean Paul parts in my head.
6:07 p.m., Monkey House
I don't think I've heard an artist intentionally snort as many times as rockabilly stud Bloodshot Bill.
8:31 p.m., Lucky Cloud
Orchestral ensemble Tredici Bacci close their set with a cover of Thin Lizzy's "The Boys Are Back in Town" — aka No. 7 of my top-10 most-hated songs of all time. But their version is a dirge-speed torch song, and it's hard not to like it.
9:40 p.m., Lucky Cloud
Kalbells' Kalmia Travers could probably be a professional whistler. Despite technical difficulties, the group's skewered take on electro-pop is one of the most beautiful performances of the weekend.