Matthew Thorsen
Jill Badolato
When it comes to merging business and community arts, Burlington-based Dealer.com has shown itself to be ahead of the pack. From cabin doors at a camp for kids with cancer, paint jobs on recycling dumpsters, Mary Lacy's silo murals at the company's headquarters, to a number of initiatives for the King Street Center, Vermonters have seen and felt the impact of Dealer's focus on supporting local creativity.
Now this work has been recognized far beyond the Queen City: the Business Committee for the Arts, a branch of Americans for the Arts, has selected Dealer.com as one of 10 Best Businesses Partnering with the Arts in America. Located in Burlington's South End Arts District, Dealer.com was nominated for the award by the South End Arts and Business Association.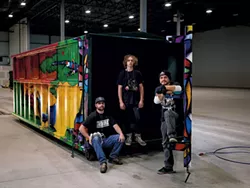 Courtesy of Michael Sipe
The Art of Recycling: Anthill Collective
Other companies in this year's lineup include Delaware-based Dogfish Head Craft Brewery, New Jersey's Johnson & Johnson and Austin Energy in Texas. Honorees will be recognized at an October black-tie gala in New York.
"We are so honored to be recognized for the BCA 10 and privileged to be headquartered in a city that thrives in the arts," director of social responsibility and "art instigator" Jill Badolato told Seven Days. "This award is for all of us, and we are looking forward to many more collaborations and painting this town with the vibrancy it emanates."
Dealer.com sums up its multipronged approach to corporate responsibility with the acronym PEACE: Planet, Eating local, Arts and culture, Community and Employees. In service to that mission, the company offers an annual cycle of community grants. While these are by invitation only, anyone can make a suggestion on Dealer.com's website.