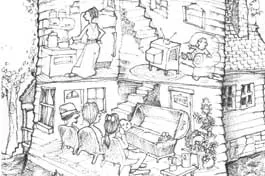 All my life people have asked me what it's like to be surrounded by death. I grew up in a funeral home, and spent the first nine years of my life living directly above people mourning their loved ones. My father is a funeral director, as was his father and his father's father.
Dad is the only mortician in our small town in Massachusetts, which means everyone knows him and our business. When I was younger, kids would unabashedly ask, "Do you get to play with the dead bodies?" To this day, people assume I must be messed up from coexisting with corpses. I set them straight with a smile. But I'd really like to scream, "Yes, you ignorant freak, I am very mentally disturbed and I can't wait to sink an ax into your head!"
But I digress. Of course I'm not surprised that people have twisted expectations about living with death. Until recently, movies and television portrayed funeral directors as gaunt, morbidly depressed men. A girl exposed to death while growing up was expected to turn out like Wednesday from "The Addams Family." Now, the HBO hit series "Six Feet Under" gives viewers an in-depth, mostly realistic view of what actually happens after someone dies.
My family, though, wasn't exactly like the Fishers: Ruth, the widowed mother, who cheated on her husband; David, the relationship-challenged gay son, who follows in his father's occupational footsteps; Nate, the free-spirited oldest son, who initially wanted nothing to do with the family business but finally gave in; and Claire, the cynical teen-age daughter whose boyfriend can't seem to stop doing drugs. My parents are happily married, my brother is studying to be an air traffic controller, I'm a recent college graduate, and my younger sister will soon be starting high school. We're no more dysfunctional than any other family in America, but we have dealt with the same morbid issues probed on "Six Feet Under." And we've heard the same black humor.
When I was little, death was impersonal, even incomprehensible, for me. It was hard for a 5-year-old to be quiet for two long hours when a wake was going on downstairs. I remember hearing people's voices reverberating through the floor, and the smell of cigarette smoke wafting up the stairs. But I never came close to a corpse until I was 6. My brother and I were brought downstairs during a service to meet a young girl whose grandmother had died. Before we took her outside to play on our jungle gym, she walked me right up to the casket, touched her grandmother's face and remarked on how cold the body was. It was also the first time I'd seen someone my own age in mourning.
Death is impersonal for the Fishers, too, until a bus hits and kills the family patriarch. The first time a death really hit home for me was when my own grandmother died — the first family member I'd ever lost. I was 15. A year later, a 16-year-old boy I'd known since kindergarten was killed in a car accident. In the following month, I lost 20 pounds. I hadn't thought that death could affect me that way. If you see dead bodies as often as my family does, they become just that — bodies.
Because of a law forbidding minors in the morgue, I never saw the one in our house. Assisting my father on "take your daughter to work day" was not an option. But he tells me the equipment and supplies the Fishers use on "Six Feet Under" are accurate. That the deaths they deal with are not always pretty is also realistic. Morticians are often required to reassemble gunshot victims and bodies mangled from car accidents.
I've never had to deal with corpses, but I've assisted my father in lots of ways over the years. I've helped him with data entry and filing. I've worn my little black dress for more funerals than hot dates. Once my father sent me to the store to buy "spring rain"-scented air fresheners. The woman he was preparing for burial had died the week before and wasn't exactly "fresh."
One episode of "Six Feet Under" addressed how our culture sanitizes death. We cover up the smell with flowers and formaldehyde, suspend the decay by pumping the body full of toxic chemicals, paint color back onto cold, graying flesh, and cover up the dirt at the grave with grass-colored Astroturf. There are even salt-shaker-like containers for the dirt that's thrown on the coffin during burial, so no one has to get their hands dirty. All to avoid thoughts of our own demise?
There was a lot of life in our home despite the accoutrements of death, decay, grief and sorrow. My parents hosted parties for their friends in a bar they constructed in the attic. They conceived their children in a house where people go to mark the end of a life.
The tools of my father's trade were just objects — and sometimes even playthings. My brother and I used to have races down the driveway on the casket trucks — the metal frames on which coffins are transported. We practiced our backhand swings against the doors of the garage where the hearses were housed. I never even knew there was a casket elevator in my house until after we'd moved out — my mother was afraid we'd want to play in it.
A mortuary is really just a business. Just like on "Six Feet Under," there are meetings and, well, deadlines, and my dad has a small staff — guys who trade off the tasks of picking up, embalming and delivering bodies. Dad works long hours, he's on call a couple of weekends a month, and he has a separate phone line for business-related calls. Naturally, we call it the "death line."
Like lots of small-business owners, my father worries about competition from big franchise companies. And, like the Fishers' father before he died, Dad hopes to pass the tradition on to one of his children. When he calls me to say hi, he updates me on recent deaths and the funerals he's done. But the family business itself may be at death's door, I'm afraid; my brother, sister and I have other plans.
Regardless of what people may expect, I don't think about death all that often. Death was and still is just a part of life. Perhaps my unusual childhood left me with less need to ponder my own mortality than other people seem to have. I know some deaths are tragic, some come too soon. But when you take away the grief, the sadness and the loss, the only thing left is the body. Somebody's gotta deal with it. And that somebody needs a strong stomach and an even stronger heart.
As for me? I want to be cremated.