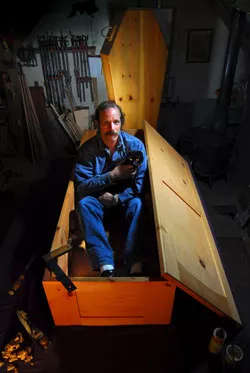 Richard Winter's pine prototype rests against the wall of his East Calais workshop — a massive, 7-foot-tall, wide-shouldered hexagon, and home sweet home for all eternity. There's no mistaking this baby: It's your classic Dracula-style coffin. But to Winter, a cabinet and furniture maker with 28 years under his tool belt, it's like any other piece of furniture. Since 2000, he's crafted and sold about 10 caskets as a sideline — called Vermont Coffins — to his woodworking business. And they run a lot cheaper than what you'll find at the funeral home.
Coffin makers in B movies are a morbid, cadaverous breed. Winter's a friendly guy, quick with a laugh — a typical pony-tailed Vermont carpenter. A hint of a Beantown accent reveals his actual origins: A Boston native, he moved here with his wife and kids in 1991.
"The first one I built," the 54-year-old says, pointing to the coffin, "I climbed inside it and asked two friends to lift it up." Because it was his first try, he worried the casket's bottom might fall out, along with its occupant. "Those things have happened when people have built their own," Winter says wryly. Just last year a Hardwick funeral home required him to sign a release stating that he would be responsible if something happened to his coffin during the wake and funeral.
Rest assured that in his decade or so of casket crafting, Winter has always built for keeps. His caskets feature mitered corners and tongue-and-groove joints with biscuit joiners. The bottom fits snugly within a groove cut inside the frame, much like the bottom of a dresser drawer.
Well-made coffins aren't like orange crates, with the bottom simply nailed to the frame. "The weight is totally distributed over the whole thing," Winter explains, waving his hand over one of his standard unlined, rectangular coffins, which is 15 inches deep by 24 inches wide by 80 inches long, and requires about a day and a half of labor. This is the no-frills type in which fallen Western gunslingers were once displayed. "Even if the bottom cracks, it's all held in," he goes on. "It's not going anywhere."
But for all the care that goes into one of Winter's caskets, each is designed and destined to disintegrate along with its occupant. There are no metal fasteners; everything is glued. The handles are either hemp or manila. "They're 100 percent biodegradable," says Winter proudly. (For customers who want the fancy stuff, he offers optional brass handles and muslin lining.)
In the end, of course, it's dust to dust for all of us. But who really wants to disintegrate? Modern, airtight caskets, enclosed in the concrete liners many cemeteries require, offer the chemically preserved corpse a stable, if not "eternal," final resting place. However, some religions dictate that the faithful let themselves biodegrade. Orthodox Jews, Winter says, actually cut slats in the caskets, "so that it goes faster." Then there's the "green burial" contingent, who like the idea of returning rapidly to the Earth — and not feeding a funeral industry that brings in $11 billion annually in the U.S.
Do Winter's friends and neighbors know him as "the coffin maker"? "Some people want to ask about it," Winter says. "Other people just ignore it. Some people are really interested. Some think I'm joking."
But funeral directors may not be laughing. Winter sells his back-to-the-earth pine or maple caskets for $475 to $750. (More dough will get you red oak, cherry or ash.) By contrast, the top-of-the-line fancy, airtight caskets sold at mortuaries can fetch $10,000 or more. "This is kind of a service, especially for people that don't have a lot of money," he says. "When they go to a funeral home, they are going to try to sell them the most expensive casket. You are in a vulnerable place." A full-service funeral — body preparation through graveside service — averages $6500, according to the National Funeral Directors Association.
Winter isn't an outspoken critic of the industry; he'd be happy if funeral directors passed his name along to customers who want a more bare-bones option. Considering the scant potential for a mark-up on his product, though, that's unlikely.
While people may react with surprise and even skepticism to his handcrafted products, there's nothing really new about Winter's dual profession — some would even say it's as Vermont as sugar on snow. "Part of the reason I was drawn to it was because, traditionally, in Colonial America, the local cabinet and furniture maker was also the coffin maker," says Winter. "I thought that was kind of a neat tradition. I have a small shop. I make furniture, and I could make coffins, too, for people who might need them."
The first one he made for an actual occupant ended up in flames, rather than in the ground. It was a gift for a friend of Winter's who died tragically, and whose brother needed a coffin to move the body to a crematorium.
Winter's clientele tend to approach death with more matter-of-factness than the average person. He tells of a woman in her late seventies from Topsham who tracked him down while dying of a brain tumor. His home and workshop, just down the road from Grand View Winery, is fairly well hidden in the East Calais hills.
"She and her husband came wandering down the pathway. 'We're looking for the coffin maker,'" he recalls them announcing. "I said, 'That's me,' and they came in and we talked." Winter built the woman a standard $475 rectangular coffin and delivered it to her home in his pickup. (Standard was appropriate for a 5-foot-4 occupant — "I usually ask them for their height," he says.) When he toted in the coffin, "her kids were kind of freaked out," Winter goes on. "She said, 'Bring it in and put in the dining room." The kids got a double dose of the willies later on, when the woman's husband decided to order one for himself.
Another recipient, one of Winter's neighbors, wanted to come to the shop and see his casket being built, but died before he had the opportunity. "Their main motivation was that he was a simple man, and he wanted a simple coffin," Winter says of the man's family's decision to employ him. The deceased was buried with his favorite quilt in the casket.
In addition to building and selling his own coffins, Winter has helped people make them for family members at his shop. "Working with someone who was building it for a loved one? It's almost as if you are helping them build a boat for their last journey," he explains. "I feel honored to help them build."
For all the Halloween lore surrounding graves and coffins, Winter sees nothing ghoulish about his sideline business. "It's not somber," he stresses. "I find that when I'm building [caskets], I think about the people. It's knowing you're building this for someone, and it's going to be the last part of their journey — of this life."