Molly Zapp
Rabbit stuffed with foie gras at Aux 2 Clochers
As my friend Marcella and I drove up Route 108 toward Frelighsburg, Québec, less than three miles north of the Vermont border, we considered the flow of people and goods that has legally and otherwise traversed this bucolic border for centuries. Best known, perhaps, is the liquor smuggled into Vermont in the 1920s. But North Americans had been violating the laws here for more than a century before Prohibition. Enslaved Americans escaped to Canadian freedom on this route, while Canadian and English goods were brought south in violation of the Embargo Act of 1807, enacted against Great Britain and France.
Just over the border from Berkshire, Frelighsburg is a gem of a small town well worth a daytrip. Over the past decade, the Eastern Township of about 1,000 residents has been revitalized as younger adults have moved to town and started families, restaurants and other enterprises. The surrounding area is dotted with apple farms, cideries and a bike path, while its compact downtown offers culinary exploration and appealing local boutiques.
The village of Frelighsburg is compact, best explored by foot or bike. The following is a sample tour.
Aux 2 Clochers
2 de l'Eglise, 450-298-5086
Consider beginning at the Centre d'Art de Frelighsburg, which is well stocked with free town maps and information. Upstairs is a contemporary gallery and a small museum dedicated to Adélard Godbout, a prime minister of Québec in the 1930s and '40s who was born in the town.
Just across from the Centre d'Art is Aux 2 Clochers, a village staple for 30 years that serves classic bistro fare. On a recent Friday, the cozy interior hummed with what seemed to be a crowd of locals. We opted to sit on the patio overlooking the Rivière-aux-Brochets. I ordered the lunch table d'hôte, which includes soup or salad, a main, and coffee or tea — a steal at $12.50.
I chose the salad, a generously portioned mesclun mix topped with poached asparagus and dressed with vinaigrette. My main, a lean rabbit stuffed with foie gras and hazelnuts, came with a creamy Dijon sauce, herbed mashed potatoes, zucchini, broccoli and carrots. Savory but not overly rich, it epitomized confidently prepared, no-fuss decadence.
Only slightly less indulgent than foie gras for lunch was my friend's salad with smoked duck ($18.25). The Québec-sourced duck breast was sliced and seared medium-rare. Red peppers, almonds, asparagus and mushrooms added texture to the generously portioned salad. The dressing, as with every dish we had, contained mustard, but pas de problème; something about that spicy, grainy ingredient is emblematic of French-inspired bistro food. We passed a lazy two hours eating and sipping as the tranquil river flowed by, cedar waxwings fluttered about, and our good-natured server repeatedly replenished the hot water for tea.
Wander Throughthe Shops
Downtown Frelighsburg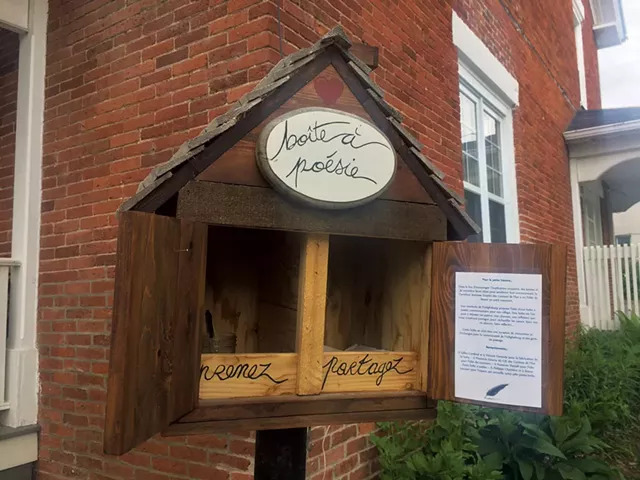 Molly Zapp
Boite à poésie
Just across the river from Aux 2 Clochers is Confiserie Bartlam, a pinch-your-cheeks-cute jam shop with a small café. We stopped at Coeur Nomade, a nonprofit boutique and collective that sells affordable art and artisanal creations by Eastern Township artists, including pottery and handmade wooden children's puzzles.
Continuing down rue Principale, we stumbled upon a boîte à poésie. The wooden box had a sign inviting the curious to write a poem or take one. Some that had been left were scrawled on the backs of receipts, others carefully crafted and edited with clips from magazines.
Not far from the poetry box is Adélard, an artists' residency venue in its first year, housed in an old barn. Along with scheduled workshops and craft talks, the place is sometimes open for visitors to stop by and chat with one of the three resident artists. Loren Williams showed us the cyanotypes she'd taken of flowers and foliage from the 11 cemeteries in Frelighsburg. Barnes Cemetery, we later learned, has stone steps carved by Justus Billings, who escaped from American slavery.
Restaurant Lyvano
4 rue Principale, 450-298-1119
Molly Zapp
Roasted guinea hen at Restaurant Lyvano
After an afternoon of roaming, we found ourselves hungry again. The dinner table d'hôte at Restaurant Lyvano offered a good choice of appetizers, mains and desserts, along with soup or salad ($42).
The straightforward potage of puréed potatoes, seasoned with white pepper and drizzled with olive oil, was basic but satisfying. Next, for my appetizer, I chose the rabbit rillette, which was spread on crunchy buttery toast along with sweet pepper jelly, candied pecans and microgreens. Its crunch, salt and sweetness tasted rustic yet elevated.
Marcella ordered the roasted guinea hen, which came with gnocchi, carrots and Brussels sprouts in a brown sauce. My main was bone marrow with a flank steak, served au jus with roasted new potatoes and button mushrooms. After tasting it, Marcella said the dish had "classic meat flavors," and that's not an insult. As I slathered the rich, gelatinous marrow onto sliced baguette, I realized how enjoyable it can be to eat well-prepared food that eschews novelty in favor of simple, savory pleasure.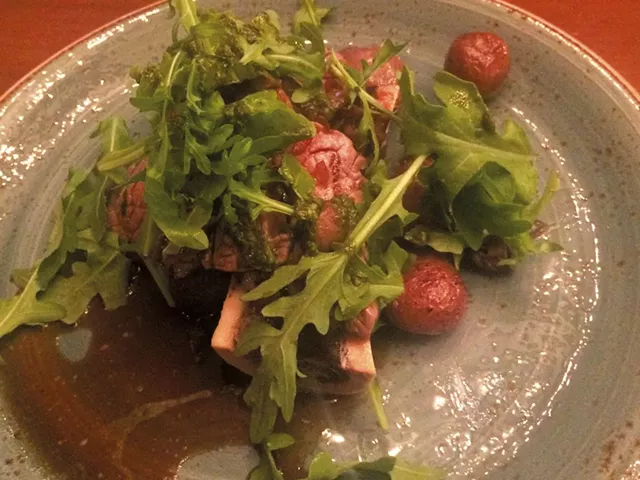 Molly Zapp
Roasted bone marrow at Restaurant Lyvano
Lyvano's aim to please was further evident in a bilingual restroom sign that politely asked customers to inform them "in case of hygienic failure" or "lack of anything."
Dessert was a delightfully airy cream puff with pastry cream, sliced sweet cherries, granola-like buttery crispies and fresh basil.
The only things lacking in this upscale-casual restaurant were food that tries too hard — which is nothing to miss — and more local drink options.
Beat & Betterave
41 rue Principale, 579-440-8600
The upside of limited nightlife in small towns is that when cultural events do happen, locals tend to show up. Simultaneously a café, bar and intimate concert venue, Beat & Betterave is the place to be for locals and visitors alike.
Ludovic Bastien, who formerly worked in the Montréal music industry, opened the place in 2015 with his girlfriend, Eloise Comtois. Beat & Betterave features live music once or twice a week, along with Wednesday barbecues in summer and occasional film screenings. It's equally enjoyable during the day, especially on its rear terrace, which overlooks Mont Pinacle and the café's vegetable garden. On a previous visit, I'd enjoyed the café's gravlax and crispy falafel. This evening, I was contented with a delightfully floral chai latte.
Bastien credits microbrewery and restaurant Brasserie Dunham, about six miles away, as the catalyst for the local food-and-booze renaissance, which has attracted more visitors to the townships. The café keeps its brews on tap, along with Brett-fermented beers from nearby Sutton Brouërie. Occasionally, it will offer one of nearby Clos Saragnat's dry and complex organic ciders.
Artisanal cider lovers would do well to add a tasting tour of Clos Saragnat to their township tour or to their list for next time. Delicious, welcoming and beautiful, Frelighsburg is definitely worth more than one visit.