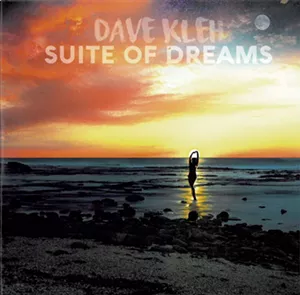 Dave Kleh, Suite of Dreams
(Self-released, CD, digital download)
Dave Kleh, a multi-instrumentalist home-studio auteur, has been quite prolific in recent years. His latest, Suite of Dreams, is something of a concept album, built around his educated pop-rock style. It is unpolished and occasionally inexplicable. It is also charming as hell.
Kleh's work occupies an interesting gray zone. While it's undeniably rough around the edges, it's far from the "outsider music" of, say, Daniel Johnston. (That's no doubt related to the fact that Kleh is a successful real estate agent, whereas Johnston has been institutionalized for large periods of his life.)
The advent of drum machines and samplers has made life a lot easier for the bedroom producers and multi-instrumentalists of the world. Kleh makes the most of these tools. He's a playful and unpredictable song arranger, and the soundscapes on Suite of Dreams range from sparse to orchestral. Most remarkably, the album maintains an intimate session feel despite the abundance of canned sounds.
Suite of Dreams opens with the title track — an expansive instrumental tune and a tasty piece of work. It fades into "Beautiful Song," a slow reverie about those magic moments when the perfect melody hits you like a bolt of lighting. "Last night, as I lay sleeping in my bed," he sings, "a beautiful song came to me."
This dreamtime logic defines the album, framing Kleh's home-studio experiments against a series of ambient interludes with titles such as "3:56 A.M." or "5:23 A.M." (They're not throwaway filler, either — these REM flashes are densely layered and interesting work.) This simple device goes a long way toward making Suite of Dreams feel like a proper LP.
Kleh's skill shines, and his innocence is no affectation. Tracks like "Chinese Food Tonight" or "Wish I Was a Spaceman" are exactly what their titles suggest. Kleh's sense of humor is both goofy and sly: "I wish I was a cave man, eating dinosaur stew. I'm just glad I'm the Dave man, standing here in front of you."
Musically, not much separates Suite of Dreams from Kleh's earlier output; in fact, a previously recorded track, "What You Do to Me," reappears here. Ric Ocasek (the Cars) and Roger Waters (Pink Floyd) are both still big influences on his sound, and his vocal style remains earnest and rough.
My sole complaint, after multiple spins, is the mixing; the tracks can get downright piercing on the high end. Technical concerns aside, though, Suite of Dreams is Kleh's most polished and cohesive album to date.
Listeners who are used to a Pro Tools radio polish and perfectly pitched vocals might find Kleh a jarring change of pace. He is keenly aware of this, perhaps even a bit proud of it. If you're looking for something deliciously weird, though, Vermont's most psychedelic real estate agent has 14 new listings to show you. Buy the ticket, take the ride.
Suite of Dreams is available at CD Baby. Kleh celebrates its release on Friday, July 6, at SideBar in Burlington.