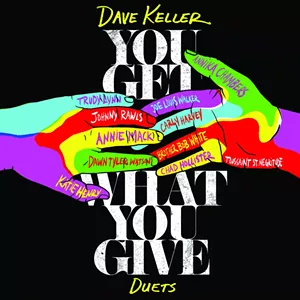 Courtesy
Dave Keller, You Get What You Give
(Self-released, CD, digital)
Vermont bluesman Dave Keller has made a career of playing a historically and culturally Black genre. Keller, who is white, acknowledges this up front in his new album, You Get What You Give. The album's liner notes thank a slew of Black mentors, such as Mighty Sam McClain and Fontella Bass, who helped him learn the genre and grow as an artist.
But beyond these recognitions, Keller turned his new album into a showcase not just for himself and his band but for Black voices from across the continent's blues community. (I say "continent" instead of "country" to acknowledge Canadian Dawn Tyler Watson. The Juno Award-winning singer appears on the track "God Is Love/Love Is Everything.") Keller celebrates how and why he's able to do what he does by sharing the spotlight. Additionally, all proceeds from the album will be donated to racial equity nonprofits.
You Get What You Give calls on the effervescent Stax Records influence heard on Keller's other albums. As always, his horn arrangements are the lifeblood of his work, flavoring the tunes with gusto and grace. Conceptually, the album dabbles in topics related to the tumult of 2020 but is generally a reflection of the biggest concepts anyone ever wrote (or gave a damn) about: love, loss, heartache and belonging.
Opening track "One More Tear" and follow-up "That Thing We Do" are thematically linked. The former, a duet with Houston-based singer Annika Chambers, wallows in a breakup. The latter, on which Keller pairs up with Washington, D.C., vocalist Carly Harvey, celebrates finding love. Whether or not it was Keller's intention, placing the songs in that order implies hopefulness about romance and contentment.
Stark piano ballad "The Evil That Men Do" is the album's emotional core. That it's a group effort, vocally speaking, makes perfect sense. Keller, Chambers, Minnesota-based Annie Mack, Houston's Trudy Lynn and the acclaimed bluesman Johnny Rawls take turns lamenting the ultimate horror of Black life, naming George Floyd in the process.
Keller takes a fairly guileless approach to his songcraft, which may jar listeners who favor a more subtle or impressionistic approach to songwriting. But You Get What You Give isn't meant to be subtle or artsy; it's a heart-splosion of emotion and deep gratitude, not to mention a showcase for a heap of talented musicians and singers.
You Get What You Give is available at davekeller.bandcamp.com.