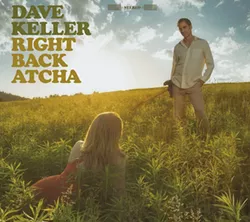 (Tastee-Tone Records, CD, digital download)
Dave Keller has lightened up. The Vermont bluesman's 2014 album Soul Changes was a deeply personal work, written and recorded in the aftermath of the end of his marriage and the death of his father. Three years later, Keller appears to have exorcised his demons and emerged from his darkness stronger and happier. The evidence is his sixth and latest full-length, Right Back Atcha, which comes out this week.
To get a sense that Keller is in a better emotional place, look no farther than the album's cover. Keller stands in a rolling Vermont field with a linen shirt unbuttoned to his chest. He's holding his electric guitar and looking suggestively at blond woman in a red dress, who appears to be lying in wait for some splendor in the grass. To be honest, the image evokes all the artistic heft of a Cialis commercial. But it does clue the listener in to what's in store on the record. And that is slinky, soulful baby-makin' music.
Perhaps emboldened by newfound romantic freedom, Keller is out to seduce. And, by and large, he succeeds. The lightness in his writing stands in contrast to the emotional weight of Soul Changes. Whether he's singing about finding true love, as on "Deeper Than the Eye Can See," "She's Just Katie" and "Willing to Learn," or about a late-night rendezvous as on ... well, lots of other tracks, Keller howls with an inviting, brassy swagger. One school of thought suggests the worst thing a songwriter can do is get happy. And in some cases, such as "Forever Summer," Keller's renewed breeziness borders on schmaltz. But more often he strikes a charming balance.
The album is immaculately engineered and produced. Horns and strings burst and bloom with aplomb — the Mo' Sax Horns (Joe Moore, Jessica Friedman and Terry Youk) are dynamic. Backing vocals flit and flirt around Keller's soaring exhortations. His core band is as tight as ever. The album was recorded earlier this year at Lane Gibson Recording and Mastering in Charlotte. But at certain moments it sounds like it was made in Memphis in the 1960s.
The focus of Right Back Atcha is Keller, and rightly so. He has long been regarded as one of Vermont's elite vocalists and guitar players, and the new record will only cement that reputation. Keller is still a commanding, compelling vocalist, unleashing runs that few other local singers would even attempt. But he also benefits from the wisdom of experience. Some of his best performances are his most understated. "You Make it Easy," for example, succeeds with swooning simplicity.
Keller is clearly in a happier place personally. That comes through loud and clear on Right Back Atcha. He feels good. And it's a good bet that, after hearing his latest, his fans will, too.
Right Back Atcha by Dave Keller is available at davekeller.com.