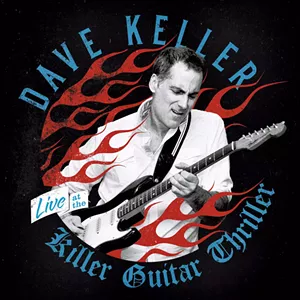 Dave Keller, Live at the Killer Guitar Thriller.
(Self-released, CD, digital)
Dave Keller is an accomplished bluesman, a proud practitioner of both the genre and its traditions. The Montpelier singer, songwriter and guitarist is a constantly gigging journeyman who has stacked up an impressive discography. The capstone of his career had been Every Soul's a Star, recorded with a world-class session band, the Rays, and a Grammy Award-winning producer, Jim Gaines. That 2018 LP opened doors for Keller, which leads us more or less directly to his latest project, an outstanding live album with a name to match.
Live at the Killer Guitar Thriller began with an invitation from the legendary Bucks County Blues Society in Levittown, Pa., to headline its equally legendary "Killer Guitar Thriller." The Thriller is a tradition that started in 1983 with a pyrotechnic gig featuring Matt "Guitar" Murphy. This is not an annual lineup the Blues Society needs to fill; it only happens when they feel someone has earned the gig. So to play the Thriller is more than just another show. It's an honor, and a rare one at that.
Keller played the Thriller with a power trio including his longtime drummer Jay Gleason and bassist Alex Budney — the latter of whom was playing his first-ever gig with Keller. Gleason and Budney are consummate local sidemen with serious experience. Together they form a deep, natural groove. For a rowdy live album, Keller couldn't have done much better: His rhythm section absolutely compels the crowd, track after track.
That's not an educated guess, mind you. The album was recorded from a single stereo microphone that was placed out on the dance floor, so it's not hard to tell how well this set went over. Clocking in at a whopping 77 minutes, Live at the Killer Guitar Thriller is a soul-blues marathon. Given the raw energy on display, the trio must have been both exhilarated and exhausted by the end — conditions grateful listeners may well experience themselves.
The only real downside to all this raw authenticity? It's pretty damn raw. From the opening chords of "Slow Train" on, there are occasional glitches in the stereo spread and lurching drops in volume. Local sound magician Lane Gibson edited and mastered the tracks, and surely did the best he could. But even his wizardry has its limits. As a rural music nerd who grew up scrutinizing bootlegs on cassette, I wasn't much bothered by any of that, but your take may vary considerably.
Technical quibbles aside, Live at the Killer Guitar Thriller is a dynamite set showcasing a Green Mountain master at the peak of his powers. Keller is a born performer who has dedicated his life to the blues and, as his latest album confirms, his story is far from finished.
The Dave Keller Band performs Friday, February 7, at the Double E in Essex Junction. Keller celebrates a CD release party on Sunday, February 9, at Sweet Melissa's in Montpelier. Live at the Killer Guitar Thriller is available at davekeller.bandcamp.com.