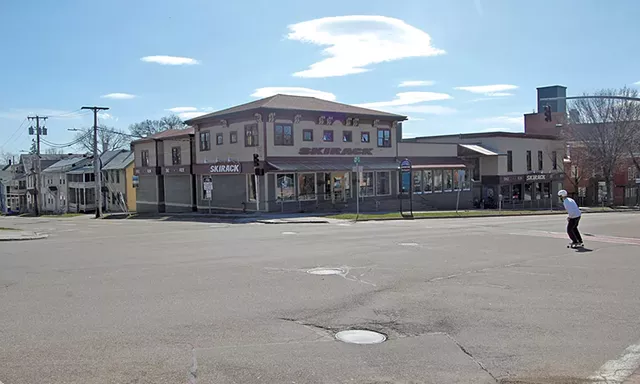 Matthew Roy
Skirack
A group of college ski bums may have opened Skirack in Burlington on a whim in 1969, but it's taken smart business instincts to survive the 50 years since. Faced now with an unprecedented public health crisis that has shuttered the outdoor gear store, founder and co-owner Zandy Wheeler knows he needs to navigate with care.

Except that Wheeler will need to throw caution to the wind if his company is to get a share of the $349 billion that Congress has set aside to help small businesses during the coronavirus pandemic. The Paycheck Protection Program launched last Friday, April 3, to a crush of would-be borrowers, forcing business owners to make quick decisions about whether to seek a share of the money.
The program provides loans that will float businesses and nonprofits with fewer than 500 employees for eight weeks. Crucially, the U.S. Department of the Treasury will forgive the loans — as long as 75 percent of the money is used for payroll and borrowers bring back all of their laid-off or furloughed employees by June 30.
That June deadline has given Wheeler pause. He's already had to lay off all but 19 of the 90-plus employees at the three stores he now owns: Skirack and Patagonia in downtown Burlington and Vermont Trailwear in Waterbury Center. It's far from certain that the shops will be able to reopen by June 30, and it's even less likely that the post-pandemic economy will have fully rebounded by then.
If Wheeler can't rehire all of his workers by the deadline, how much of his loan would be forgiven?
It's a question Wheeler hasn't been able to answer as he weighs the risk of taking on debt while his stores are closed and online sales are low. But he doesn't have the luxury of time. The $349 billion spigot is already open, and millions of small businesses across the country are rushing to fill up their bank accounts before the program runs dry.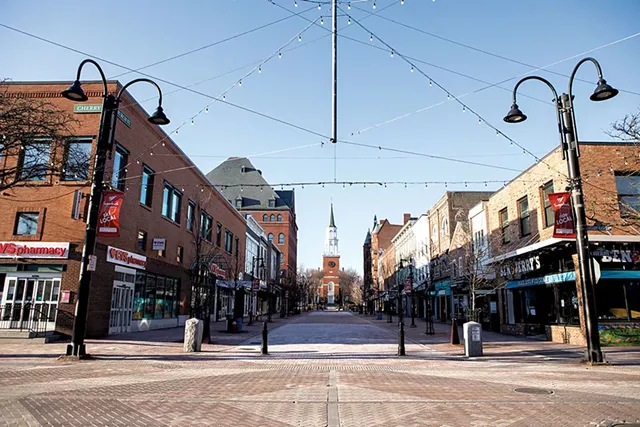 File: Luke Awtry
Burlington's Church Street on a Sunday afternoon in March
The federal program began with a chaotic rollout — glitches and other delays in early April hampered some Vermont lenders and frantic businesses that lined up to take part.
It's too soon to know whether those problems will stop companies from obtaining the help they need. In any case, business advocates say the stopgap program, while providing important financial support, will distribute that support unevenly and leave key Vermont business sectors especially vulnerable in the months ahead.
"It's like getting two units of blood when you need six," said Wheeler, who nevertheless decided to apply.
The program is overseen by the U.S. Small Business Administration but relies on private banks to process the loans. Borrowers complete a short application and provide payroll information to their loan officer, who uploads it through an electronic SBA portal to reserve up to two and a half times the borrower's average monthly payroll.
The U.S. Treasury didn't issue key guidance about the program until the night before the SBA began accepting applications. On top of that, Vermont lenders reported problems that prevented them and banks around the country from being able to process applications.
Northfield Savings Bank, the largest community bank in the state, had to apply for permission to participate because it wasn't an existing SBA partner. The bank filed its paperwork ahead of time, but approval didn't come until Monday, chief lending officer and senior vice president Al Flory said. Even then, only one of its nine lending officers was authorized to use the SBA's electronic portal, limiting how quickly the bank could process loan applications. By the end of Monday, the bank had successfully filed a "small number," Flory said.
Similarly, the Vermont Economic Development Authority was among numerous approved lenders nationwide who couldn't get access to the SBA system because of what VEDA chief executive officer Cassie Polhemus described as a "glitch."
"Friday night was a bad night," she said. "We knew that other lenders were already getting them in."
But the problem was resolved, and over the weekend, VEDA got its first several applications approved.
The hiccups underscored business owners' fear that luck might decide whether they receive desperately needed funds. Most banks in Vermont and elsewhere gave priority to their existing customers, leaving at a possible disadvantage businesses whose primary lender didn't participate or was stalled by technology problems. VEDA is among the fraction of lenders that will make the loans to new customers — but the organization, unlike most banks, isn't authorized under the program to issue loans greater than $250,000, Polhemus told state lawmakers on Tuesday.
Christopher D'Elia, president of the Vermont Bankers Association, credited his members with a "herculean" effort to prepare for the program. Most loans that have been approved still haven't been closed, he said, because the federal government is still ironing out details about the process. Those details matter for banks, who are issuing the loans using their existing capital, he said. (Lenders will be able to turn over their PPP loans to the Federal Reserve for cash, the central bank signaled Monday.)
"While the program is not smooth by any stretch, it is going to make a difference in Vermont," D'Elia said.
The SBA's Vermont District Office declined to comment or provide figures about loan applications in the state, citing a national directive issued Monday. D'Elia, however, said data he's collecting from member banks showed that the number of Vermont loans processed in the program's first few days was in the "high hundreds" of applications totaling "mid-hundreds of millions of dollars."
D'Elia told lawmakers last week that he expected that the $349 billion could be drawn down within days, but he later told Seven Days that the nationwide rollout problems appeared to have slowed the pace. By Tuesday, though, the U.S. Treasury was angling to have Congress approve another $250 billion for the fund, as White House economic adviser Larry Kudlow said that nearly $50 billion of the initial amount had already been guaranteed to 178,000 businesses.
The loans may be especially helpful as a bridge for businesses — such as law firms and those providing other professional services — that are still open during the stay-at-home order but dealing with a sudden drop in revenue, said Kelly Devine, executive director of the Burlington Business Association. The loans offer less relief to businesses for which payroll isn't their primary expense, or to those, such as Skirack's Wheeler, who might not be able to rehire all of their workers by June 30.
Restaurants, in particular, will need direct cash infusions — beyond the SBA emergency loans — to stay afloat, said Farmhouse Group owner Jed Davis, whose restaurant portfolio includes Burlington's Farmhouse Tap & Grill, El Cortijo and Pascolo Ristorante.
"The only thing the federal government has offered so far is more debt," he said, referring to restaurateurs who might not qualify to have their loans forgiven. "Debt is an option, but who wants to take out more debt in the middle of a pandemic, as we enter a global recession?"
Davis, like Wheeler, said he had misgivings about applying for the loan, particularly without more clarity from the U.S. Treasury about the risks to restaurants that borrow. But Davis said he was advised to apply immediately anyway, in the hopes that the program's terms would "change or evolve."
"If you don't apply," he said, "you don't get a place in line."