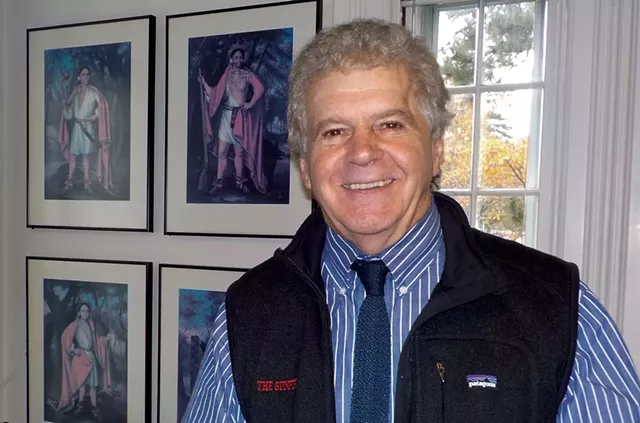 Jim Schley
Colin G. Calloway
Though he grew up in the Old World, Colin G. Calloway has been fascinated by the New World since childhood. He's been teaching American history since 1978, first in his native Britain, then in the U.S. Previous posts have included a public high school in Springfield, Vt., and the University of Wyoming, as well as a stint as assistant director of the D'Arcy McNickle Center for American Indian and Indigenous Studies in Chicago. For the past 20 years, Calloway has been a professor of history and Native American studies at Dartmouth College in Hanover, N.H.
As a teacher and scholar, he has made his life's work the study of this country's Native peoples and the white colonizers who turned their lands into the United States of America. Calloway, who lives in Norwich, has edited 11 books of Native American history and authored 14 others, most recently The Indian World of George Washington: The First President, the First Americans and the Birth of the Nation. The 640-page tome might not have the hip cachet of Lin-Manuel Miranda's Hamilton, but it is a finalist for the 2018 National Book Award; winners will be announced on November 14.
Seven Days stopped by Calloway's Dartmouth office to talk about his new book and learn more about his own history.
SEVEN DAYS: How did you find your way to Native American studies?
COLIN G. CALLOWAY: For a young person growing up in northern England, interested in America and very interested in history, what was particularly distinctive in American history? Native Americans. I don't remember a time when I was not interested in American Indian history, but I do remember reading American history books and being perplexed by the absence of Native Americans.
SD: When did you realize that the relationship of George Washington with Native peoples was an underexplored area?
CGC: There are many books about George Washington, and I spent several years reading them all. Most said little about Indians, but they all talked about Washington's ventures in acquiring land, and, of course, that was Indian land. Although my publisher has identified my new book as a "biography," this isn't a biography in the usual sense but a history of a time period when the United States was small and fragile, with a very uncertain future.
The first phrase in my title is The Indian World. I believe that the experiences George Washington had with Indians — from his youth as a frontier surveyor through years as a military commander to his time in the presidency — had a defining impact on his life, and on his way of perceiving how the new nation would be governed and relate to the rest of the world. And, because of his pivotal role as first president, that impact on him profoundly affected the early history of the country.
SD: Your new book reflects a vast amount of research and synthesis of archival materials, yet you've written an exciting, briskly told story with fascinating characters. How do you see your role as a scholar and teacher in relation to a nonspecialized audience?
The Indian World of George Washington: The First President, the First Americans and the Birth of the Nation by Colin G. Calloway, Oxford University Press, 640 pages. $34.95.
CGC: What those of us in my field talk about is how to place Native American history within, not at the margins of, American history. In my view, Native American history is the history of our country — inseparable, and continually illuminating the whole.
For his entire life, George Washington was obsessed with the west, which to him was the lands beyond the Appalachian Mountains, and which he viewed as available. Yet indigenous people had been living there for thousands of years. Personally, Washington had a tremendous desire to acquire land, and as president he believed that the original colonies had to expand to be economically viable. So his story says a great deal about the era of westward expansion. At the same time, the tribes were doing everything they could to survive.
SD: You observe that Washington had a "memory for detail." Is this a feature of his writings — journals, letters, reports and so on?
CGC: He's not thought of in the same league as others, for instance Jefferson, in terms of the eloquence and beauty of the writing, but he had a practicality and specificity that is really valuable for us to see. I urge my students to pay attention to how this kind of writing reveals a person.
The style can seem flowery, but a sensibility comes through. In recent years much of the writing of George Washington has been digitized, so these texts can be viewed online. He did have a knack for details, and it's notable where his account isn't as clear, maybe even evasive — when he's recounting a situation that perhaps doesn't reflect so well upon himself.
SD: What would you say about an epithet Washington was given by the Iroquois: Conotocarious, "Devourer of Villages"? Were some of his actions murderous, even genocidal?
CGC: Washington was a military man, and while he pursued efforts to persuade and trade with Indians, he knew how to wage war. Although I'd known some of the history of the campaigns he led during the French and Indian War and the Revolution, for this new book I learned a great deal about his very direct role in subsequent efforts to defeat Native resistance by sustained warfare in the 1790s.
As for that nickname — I think as a young man it was a kind of boast, to say to some of his adversaries, "You think you're a great warrior; well, I'm called Devourer of Villages." Later he proved to really be a destroyer, when he unleashed devastation on the Seneca towns, for instance. And whether you're forcing people to relinquish their cultures by war or some other form of force, the term "genocide" can apply to what's taking place.
SD: Your presentation of Washington never seems idealized. It must be a challenge to make one of the most iconic and legend-laden figures in our national myth real for a reader. After years of research and writing, how do you see him?
CGC: Washington was a man who strove for power and wealth and land — always more land. He believed the Indian peoples of America needed to become like everybody else. And, despite his well-intentioned efforts to negotiate with the tribes in nation-to-nation relationships, as a president his policies eroded the Native sovereignty he claimed to respect.
SD: The tension throughout Washington's story is embedded in U.S. law and practice, as an approach to indigenous peoples: between conquest and coexistence. Washington didn't believe that Native Americans would survive with distinct cultures and tribal identities. Yet he advocated recognition of tribes as sovereign nations and negotiation of legally binding treaties. Isn't this legacy of treaties and Native sovereignty still meaningful today?
CGC: Yes. Instead of disappearing, Indian people and tribes have survived within American society. Their sovereignty was never extinguished, and constitutional and treaty-guaranteed Native rights have been robustly asserted since the middle of the 20th century. As I say near the end of the book, the nation-to-nations relationship between the federal government and Indian tribes today in some ways resembles that which Washington ... aspired to establish. Meanwhile, assaults on the rights and resources of Native peoples continue.
FromThe Indian World of George Washington
American territorial expansion also contributed to an emerging Indian identity. Colonial policies fomented and fueled recurrent divisions among and within tribes, and Indian leaders were not unanimous in opposition, but multiple tribes united to resist the assault on their homelands. When Washington and his peers talked about Indian land, they called it "hunting territory," which implied a more transient occupancy and a lesser value than farming land; with no deep attachment to the land, Indian hunters could, as Benjamin Franklin said, be easily persuaded to give it up as game diminished.
In fact, Indians clung tenaciously to their land even as the game diminished. Washington viewed land as a commodity to be surveyed and measured, bought and sold, and accumulated. Tied to their homelands by cycles of life and death, kinship, ceremony, and subsistence, Indian peoples viewed them as sites of tribal creation and sources of tribal identity. As American demographic and military assaults intensified, diverse Indian peoples found common cause in defending all Indian lands. As American agents pressured them to adopt new ways of living and believing, many Indian people who fought for their lands also fought to be Indian.