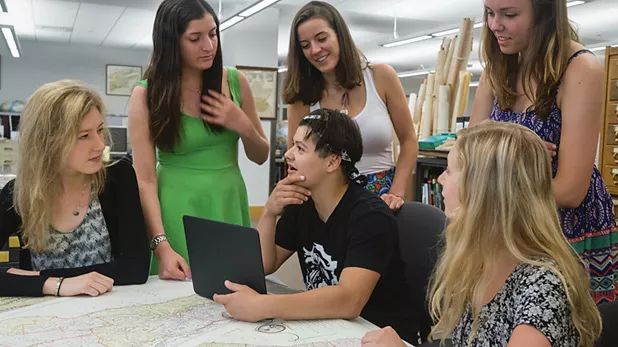 Left to right are Katie Kilkenny, Lindsay Ellis, Danny Valdes, Kelsey Stimson, Madison Pauly and Kendall Madden
When Danny Valdes stepped off a bus near a White River Junction motel one afternoon last February, he wasn't sure how he'd approach the task at hand. In front of the Shady Lawn Motel, the petite Valdes — who was nearing graduation at Dartmouth College — saw a place "where passing trucks hurl waves of dirt over the sidewalk."
In the lobby, Valdes told the couple behind the glass, "I'm an English student just looking for stories to write." Then he sat on a couch and waited.
A tableau gradually emerged: A few transient residents surfaced to smoke cigarettes outside their rooms or cart trash to the Dumpster. A child, whom Valdes found "playing on a mound of ice and filth," oriented the young writer. As Valdes prepared to leave for the day, a 19-year-old pregnant woman named Maddy appeared, clad in flip-flops in the middle of winter. And the story deepened.
"Jeff told me about it [the motel], and then told me not to go," Valdes says, referring to Jeff Sharlet, the Dartmouth English professor who sent him on assignment. "He didn't want to be responsible if anything happened."
What did happen was that a few months later, Valdes' 3700-word piece "The Shady Lady: Children of the Transient Motel" became one of the most mesmerizing stories in 40 Towns, an online journal of literary nonfiction created by Sharlet and his students.
40 Towns, which debuted in June, is named for the 40 or so towns that compose the Upper Valley. Its aim is to collect the region's stories and "myths of small places" into "artifacts of real life along a northern stretch of a cold river," according to its website. The 14 inaugural stories — all of them written by students from Sharlet's creative writing and nonfiction classes — plumb the murky, quirky depths of the Upper Valley, puncturing its Rockwellesque façade of friendly neighbors with unlocked doors.
While a few pieces are tinged with new-writer self-consciousness, many are gripping reads. In "Brace Yourself: Two Women Leave Prison," Kendall Madden describes hearing two friends, recently released inmates, casually narrate the sometimes-horrifying details of their lives over lunch. Lindsay Ellis spent successive mornings at a Lebanon, N.H., truck-stop counter for "Kings of the Counter: After the Fire, Bacon, and Eggs," and her piece takes a suspenseful turn from breakfast conversation to sexual and generational tension. Eva Xiao tried speed dating in White River Junction, while Miriam Kilimo reflected on her religious upbringing in Kenya as she got to know an elderly Jehovah's Witnesses minister living in a Lebanon housing project.
"This is essentially the publication that I wanted when I moved here and wanted to know about [the Upper Valley]," says Sharlet, who came to Dartmouth from New York University three years ago as the Mellon assistant professor of English. "Newspapers sometimes aren't really getting to the texture of experience. One of the things these kids do is make these prosaic stories new again."
As a creative nonfiction professor, Sharlet had a second motivation to found 40 Towns. "You see these pieces that are so great and then never get read," he says. "Every single term, someone writes something really great. These stories are so fleeting, and then they're gone."
Sharlet's students clearly have great instruction, natural talent, stellar editing or all three. They also seem gifted at getting their subjects to let their guards down. Details about violent marriages, addictions and bitter disappointments pour out of the stories' protagonists, and the writers deftly weave these together with subtle, sensuous details — such as when Kilimo notes the minister's "greenish veins that run like tiny rivulets along the length of her arm."
Sharlet quips that when students first land in his class, "they never know who I am" — which is fine with him. "I never tell them," he adds.
But Sharlet is no slouch when it comes to literary journalism. He's a contributing editor at both Harper's and Rolling Stone magazines and has written four books, mostly about faith, religion and spirituality. His latest, Sweet Heaven When I Die, is part personal memoir.
Sharlet has been what he calls "obsessive" about literary journalism since he took a class with writer Michael Lesy as an undergrad at Hampshire College. After a stint as an intern and fact-checker at the Nation, Sharlet began his reporting career at the alt-weekly San Diego Reader. There, he recalls, his experience as the only reporter at a Navy court martial of an African American sailor — accused of stabbing a white counterpart — impressed upon Sharlet the importance of telling untold stories. "I thought, I'm the only reporter here. There are real lives at stake," he says. "And you realize, what I write about this person is going to be the only record of what happened."
Sharlet's career veered into academia in 2003; he began as a research scholar at NYU and has been in the classroom on and off ever since. In a conversation over lunch, he's brimming with ideas, eager to discuss writing, academia, the lack of a strong literary culture in Hanover and his students' tendency to eschew the liberal arts to "get an MD 'just in case'" — so eager that he apologizes for seeming overcaffeinated. More than anything else, though, Sharlet seems to be infected with a fever for well-crafted, considered writing, which some of his students appear to have caught.
Valdes admits that the first story he handed in to Sharlet was "really, really, really bad. He read it out loud to me, and I thought, I need to do better." When Valdes showed up at the Shady Lawn, he recalls, he soon learned one of the golden rules of immersion journalism: "You just wait for things to happen, and they start to happen."
Valdes took the bus to the "Shady Lady" three times a week for the entire month of February, getting to know Maddy and her boyfriend, Eddie, as they waited for their first baby. He writes:
Her name is Maddy. Her mother left her dad three months after Maddy was born. Since then she has had a number of bad stepfathers.
"I saw my mom being beat up since I was five. I was a depressed kid."
"Damn. I actually just started anti-depressants a few weeks ago," I tell her.
The clash of cultures between Dartmouth students and the people they're reporting on can be stark. In "T-E-C-U-M-S-E-H," Nate Kania describes getting to know an enigmatic panhandler along Route 12A in West Lebanon, N.H. As he tracks her to her campsite on the Connecticut River and, later, to the Mad River Valley, he becomes aware of his "rich douchebag that likes to party" sunglasses — and pushes them to the back of his head. Later, a party near Warren with Tecumseh and her friends speeds to an alcohol-soaked climax. Kania writes, "It's getting cold, so I go up to my car to grab a fleece. The car's been sitting in the sun all day, and when I climb in, the air is warm. So warm. It would be so easy to just turn the key, put in the clutch, back out onto the road…"
The implications of presumably privileged Dartmouth students converging on the Upper Valley's less-thans were not lost on Valdes. "I thought about exploitation all of the time, and Jeff and I talked about it a lot," he says. "Part of me thinks there is an inherent exploitation [in] the relationship between me and people at the Shady Lawn Motel. Yeah, even though I'm not making money, I got to write a piece and get it published, and everyone in my story is still low income and still having housing problems, these really big problems."
Yet Valdes thinks it's invaluable for him and his peers to fan out into the region they call home for four years. "One of the things about Dartmouth students is that we don't step outside of campus nearly as often as we should," he notes. "It was one of the best things about this class. All classes should emphasize stepping outside of your comfort zone and leaving the 'Dartmouth bubble.'"
Valdes' piece was chosen as a college pick of the week by Longreads, a website devoted to long-form nonfiction. Kilimo's piece was spotlighted in the Revealer: A Daily Review of Religion & Media, and other pieces have received attention from fellow writers and blogs. The 40 Towns blog itself is full of praise from respected writers and editors. Their reactions suggest that Sharlet has used his cachet in the world of literary journalism to get the word out about the site, which has received 27,000 unique visitors since it went live.
"I want these writers to get noticed. Especially at a place like Dartmouth, which is known for economics and government and so on," Sharlet notes, referencing the easy path into finance for many Dartmouth grads. "There's no such channel [for writers]. I want a pipeline for students who want to do creative writing."
After a beat, he adds dryly, "You will probably be poor at least at first, if not always."
This fall, 40 Towns will publish a profile of "an ordinary White River Junction comics artist," says Sharlet, as well as a story about roller derby and two audio pieces, including one on mushroom hunting "with the radical town lister of Norwich."
Though Valdes has graduated, he'll return to the Upper Valley in September for a sequel that he calls "Shady Lady 2" — also to appear in the fall issue. "Most of the people who read mysteries are like, 'What happens to Maddy and Eddie afterward?'" explains Valdes, who is also 40 Towns' assistant editor. "There is really no closure and so much more to write."
The original print version of this article was headlined "40 Towns, Infinite Stories."