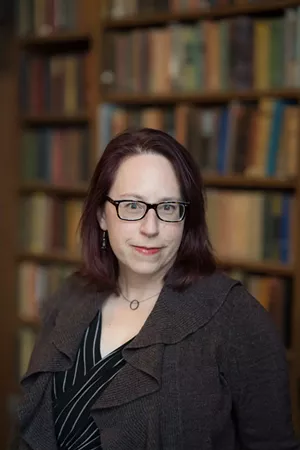 Courtesy Of Eli Burakian
Laura Braunstein
The crossword puzzle dates back to 1913 — but ironically, given its predominance now, the New York Times was the last major paper to begin running a regular crossword. According to the Smithsonian Magazine, it took the Times until 1942 to adopt the puzzle form, when Americans needed something to distract them from World War II. Margaret Petherbridge Farrar, who would become the first crossword editor at the paper, wrote to the Times editors, "I don't think I have to sell you on the increased demand for this type of pastime in an increasingly worried world. You can't think of your troubles while solving a crossword."
By the same logic, a crossword puzzle is a perfect pandemic activity. Solvers no longer even need a physical paper or book of puzzles. The Times crossword app delivers a daily puzzle straight to your phone and offers a huge archive; the Washington Post, Slate and Merriam-Webster are in the online crossword game, too. There are blogs and podcasts in which dedicated solvers review puzzles, and forums in which they post the exact time it took to solve a certain puzzle. "Constructors" — the people who write and design crosswords — often form communities to share ideas and collaborate.
Still, crossword constructors like Lebanon's Laura Braunstein have noticed disparities in who, exactly, creates them. Simply put: "There just aren't a lot of women or people of color in the crossword world," she said.
Together with Tracy Bennett, a Michigan-based copy editor and crossword constructor, Braunstein founded the Inkubator, which publishes two puzzles a month — soon to be three — by women and nonbinary people and offers mentorship for beginner constructors. The Inkubator, now in its second year, raised more than $30,000 on Kickstarter from 800 backers and currently has about 1,300 subscribers.
"We've really tried to be different than mainstream newspaper crosswords, I think, in centering women and also in being frank about things that are important to women," Braunstein said.
Constructor Alex Briñas, editors Laura Braunstein and Tracy Bennett
An example? A puzzle titled "Period Piece," themed with menstruation-related wordplay. Or, when a puzzle includes a last name, considering whether there's a woman who could be used as a clue to that answer instead of a man.
Inclusivity and avoiding heteronormativity — the belief that heterosexual relationships are the default — are important to the Inkubator's founders, too. "Trans women and nonbinary people find our environment a welcoming one for their work," Braunstein said.
Braunstein, 50, a digital librarian at Dartmouth College, has been solving crosswords since childhood.
"My grandfather was an immigrant," she said. "He used to tear out a puzzle from the local paper wherever he lived and use puzzles to practice his English. When I was a kid, he used to ask me to help him."
When Braunstein went to college and graduate school, she would solve crosswords with friends between classes and studying.
She published her first crossword with the American Values Club in 2017 and her first solo Times crossword in 2018. Constructing a crossword, she says, often starts with a theme — a handful of longer entries that have something in common — and involves some kind of wordplay, such as the puzzle Braunstein collaborated on with Erik Agard in 2017. It included actors whose names contain a body part and was titled "Full Body Cast." Puzzles without themes usually have a few longer entries that are interesting words or phrases.
After the longer answers are in place, the constructor fills out the rest of the puzzle. It can take quite a bit of trial and error before the entire puzzle is completed without too many obscure words or awkward combinations. These days, Braunstein said, constructors are aided by computer software but often make many custom changes.
"It can take days, and you can sometimes put a whole grid together and then discover that you have a duplicate," Braunstein said. "It's a craft. If the theme is something that takes inspiration and creativity, then the filling is the craft."
The clues themselves come last, and Braunstein said she likes the opportunity for creativity that writing them offers.
As a librarian, she's interested in many different things. "[It helps] to be just as interested in, say, women hip-hop artists as I am in 18th-century Australian history," Braunstein said, "to have a voracious appetite for knowledge."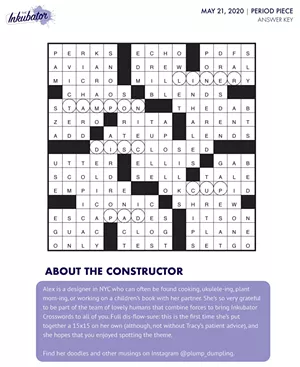 Why does representation in crossword constructing matter? The person who writes the crossword and the person who edits it become the arbiters of what is or isn't common knowledge. Their biases will invariably sneak in when picking words or writing clues.
Sexism and racism in crosswords, particularly the Times, has been well documented. In 2019, women constructed just 18 percent of the Times' crosswords. In April this year, more than 600 crossword constructors and writers signed an open letter calling on the newspaper to diversify its crossword at all levels of construction, citing names such as Marie Kondo, bell hooks and Flavor Flav, which the letter writers allege have all been "deemed too 'niche' for mainstream puzzles."
The work of Braunstein and Bennett — and many other independent crossword publishers, such as Queer Crosswords — can help diversify crosswords' content and bring wider swaths of people into the puzzle form's enthusiastic fan base. After all, Braunstein said, crosswords are for everyone.
"We stereotypically ascribe some kind of prestige to filling it in the first time and not making any mistakes," she said. "There's zero shame in, say, googling a clue ... The biggest myth is that it's some specialized thing that you're born with. Anyone can learn."