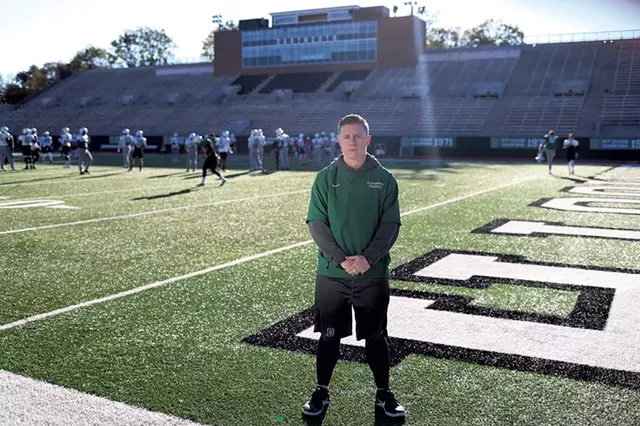 Sarah Priestap
Callie Brownson
Dartmouth College quarterback Derek Kyler drops back in the pocket and surveys the chaos unfolding before him. The receivers to his right are locked down in coverage. Ditto the tight end crossing the middle of the field. But to the sophomore QB's left, Drew Hunnicutt has shaken free of his defender and is streaking toward the end zone. In a flash, Kyler winds up and throws, hitting his wide receiver in stride. The pass is perfect, but it didn't have to be. Hunnicutt didn't have a defender within six yards of him.
"Hooooooly shit!" a woman's voice erupts after the touchdown. "He was wide open! Wide open!"
Callie Brownson springs from her position under the goalposts, waving a laminated playsheet as she strides toward a group of defensive backs. "How do you let him get that wide open?" she asks in disbelief, practically teasing the dejected DBs, who mill around the field, heads hung low and hands on their hips.
To a casual observer, this scene at a recent practice might look improbable. Beside Dartmouth football's Big Green giants, Brownson — generously listed at five foot six in her playing days — is practically Lilliputian. But it's clear she commands outsize respect.
"She's one of us," says Dartmouth head coach Buddy Teevens.
Brownson, 29, is the team's offensive quality control coach. Brought on in September, just four days before the start of the 2018 season, she's the newest member of Teevens' coaching staff.
And Brownson is something else: the first full-time female coach in the history of NCAA Division 1 football. In recent weeks, hordes of national news outlets, including the Washington Post, NPR and ESPN, have descended on Hanover, N.H., looking for a glimpse of the pioneer.
Fortuitously, Dartmouth's football team is off to a blistering start. The Big Green are 6-0 with an average margin of victory near 30 points per game. They've scored fewer than 34 points only once — 28 against Columbia University last weekend. And they've yet to give up more than 18 in a single game this season. The defense has pitched two shutouts, including a 42-0 shellacking of Sacred Heart University at home in week five.
That result led to Dartmouth cracking the Football Championship Subdivision Coaches Poll, a ranking of the top teams in the country, at No. 24. It's the first time in several years the school has been in the top 25. Now ranked at No. 20, Dartmouth is a powerhouse, which is all the more remarkable given that the team was projected to finish near the bottom of the Ivy League in the preseason.
Despite the team's success, the talk of the town is Brownson making football history.
"I didn't know that I was the first until I got the job," the rookie coach informs this reporter, yet another in a long line.
She's taking the attention in stride. Telling her story, Brownson says, is an opportunity to change football. "Being the first doesn't matter that much to me," she says. "It's being the first of many that's important."
Three and Out
Courtesy Of Bruce Brownson
Callie Brownson, circa 1999
Like most red-blooded American kids, Brownson was introduced to football by her father.
"My dad and I are really close," she says of the man who raised her. "And when you're young and close like that, anything they love you tend to love, too. I latched on to it."
Bruce Brownson attended the football-obsessed University of Miami and continued to follow his alma mater's team while raising Callie and her older brother in Alexandria, Va. Growing up in the early 2000s, she spent fall Saturdays watching Larry Coker's Miami Hurricanes dominate the college football world.
"I loved the culture of it, how crazy it was," she recalls. "The tradition behind it appealed to me. Football Saturday, the game is two and a half, three hours, but it's a whole day of being excited about football."
"Callie was a tomboy," Bruce says of his daughter. "And she just loved the game."
While it's more common now to see girls playing alongside boys in youth football, it was exceedingly rare two decades ago. At 10, Callie tried out for a local boys' team. Not only did she make that team, she became a star.
"She started every game," recalls Bruce. "On offense and defense."
The talented two-way player expected her winning streak to continue in high school. But when Callie asked about trying out for football, the answer was no.
"I had grown up playing with the same guys who were going to be on the freshman team," she explains. "So I went into it not seeing an issue: Of course I'm gonna play with them."
Theoretically, the Brownsons could have sued Alexandria's Mount Vernon High School for not allowing Callie to play football. Under Title IX of the Education Amendments of 1972, any educational institution receiving federal funding is required to provide equitable opportunities to play sports — though not necessarily the same sports. But Bruce decided not to press the issue.
"As a single dad of two, I had to pick my battles," he explains.
His young daughter was crushed. "It sucks, because you have to wrap your head around people telling you no when you know you're capable," she recalls. "That was the hardest part."
Callie Brownson was also a star youth baseball player who played on a high-level travel team. There, too, she ran headlong into the glass ceiling of high school sports. She was allowed a tryout for Mount Vernon baseball but was cautioned that she probably wouldn't play, even if she made the team.
"They told me I could be on the team but that I would get more playing time and have more of an impact if I played softball," Brownson says. "For me, I didn't want to sit the bench for anything."
So Brownson turned her attention to, and excelled at, softball, playing for both the school and elite travel teams.
"It filled the void, for the most part," she says. But it didn't satisfy her desire to play football.
Before her senior year, a coaching change at Mount Vernon prompted Brownson to ask again about joining the football team. Still no dice.
She graduated that spring without playing a snap of football at the high school level.
"It hurt more when I was a freshman, because I didn't think there would have been an issue with it, but then all of a sudden there was," she says. "Going into senior year, I kind of expected it. I would have been more surprised if he had said yes."
Back in the Game
Courtesy Of Douglas Charland/d.c. Divas Football
Callie Brownson with the D.C. Divas
College football was no more female-friendly. So, at George Mason University, Brownson settled on and earned a degree in sports management, a pursuit she assumed would redefine her relationship to competitive sports.
Then a family friend told her about the D.C. Divas, an all-female semipro football team based in the Washington, D.C., metro area. Brownson tried out and made the team. At 19, she was one of the youngest players in the Women's Football Alliance, the league to which the Divas belong. She soon became one of its best players.
"We knew her as 'the Swiss Army Knife,'" says Rich Daniel, who was the team's general manager during Brownson's eight-year tenure. (Now he's the owner.) He says her teammates eventually gave her another nickname: Captain America.
That's a reference both to her stint on the USA Football Women's National Team and to her clean-cut, all-American look. Brownson sports a neat crew cut. Her pale blue eyes are alert, and she smiles easily. Sporting a trim, athletic build, she looks like she could still throw on shoulder pads and play.
"She was someone who was liked and admired by everyone," says Daniel. "She was an excellent player."
As she did in youth football, Brownson played on both sides of the ball. On offense, she played running back and wide receiver — and, on at least one occasion, filled in as the starting quarterback. She also returned kicks on special teams.
Courtesy Of Bruce Brownson
Callie Brownson with Team USA
"Everything but messing with the bigs," she says, referring to playing with the behemoths on the offensive and defensive lines.
On defense, she developed a reputation as a fearsome free safety, equally as capable of covering wide receivers as she was of knocking them silly. (The WFA is a full-contact tackle football league.) For Brownson, it was a deferred dream come true.
"One, I was getting to play again," she explains. "Two, I was part of a football culture. Anyone who plays women's football will tell you: You don't just stumble upon a team; you stumble upon a family."
She also stumbled upon an experience that would pay dividends down the road.
"Not only did football come back into my life, but there's this whole level you lose when you don't play team sports anymore, and I had it again at a very high degree," she says. "It wasn't just a rec softball league. It was the real deal."
For Brownson, that meant more than just hard contact. "People think of women's football as this watered-down thing," she says. "The schematics of it are just as complicated and complex as men's football."
Keeping up with those complex play calls required Brownson to study the game. She began immersing herself in game film.
"It opened up my knowledge and made me an even bigger student of the game than I was," she says. "I became almost infatuated with watching film on us. I loved breaking down what went right on a play and what went wrong. And I loved studying other teams, too."
Little did she know that the academic aspects of playing football would one day consume her life.
While she was playing for the Divas in 2015, Brownson also coached softball at her old high school. One afternoon, Mount Vernon's football coach, Barry Wells, approached her, having heard that Brownson played semipro ball. He offered her a job coaching receivers and defensive backs. She accepted without hesitation.
"Callie really cares about kids and wants them to be successful," says Monty Fritts, the current head football coach at Mount Vernon. He was an assistant under Wells during the first of Brownson's two years there.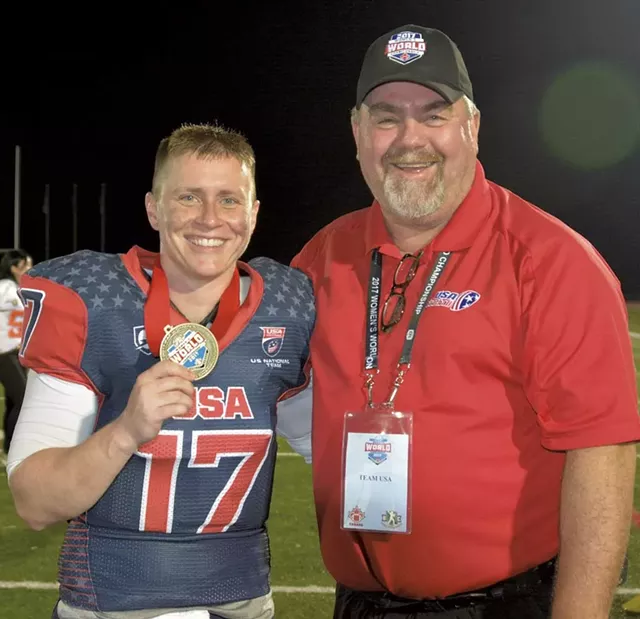 COURTESY OF DOUGLAS CHARLAND/D.C. DIVAS FOOTBALL
Callie Brownson with Team USA
Fritts describes Brownson as a natural coach who immediately took a hands-on approach. "She's organized and can relay information to the kids in a way they understand, which are two of the most important qualities a coach can have," he says. "And she really understands the Xs and Os of football."
"My favorite practice was when we coached press-man coverage," Brownson recalls, referring to a technique in which a defensive back attempts to disrupt a receiver by jamming them before they can get off the line of scrimmage and into their receiving routes. It's a physical play — one that Brownson relished.
"I would get right on the line and show them: 'This is what you need to do,'" she says, holding her hands up as if pushing against an invisible player. "They respected that.
"I was confident in what I knew and what I could offer them," Brownson continues. "And that's where my coaching journey really started."
Fair Catch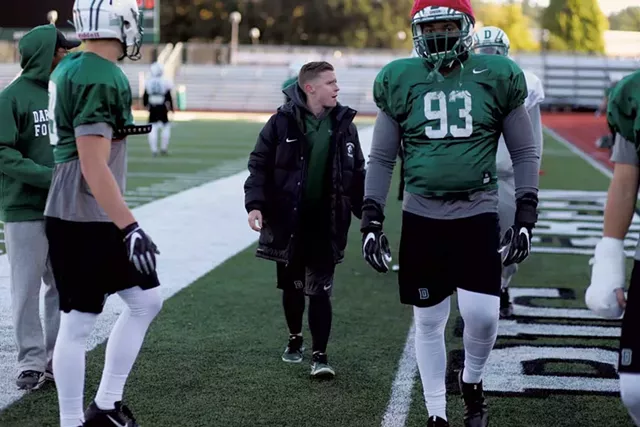 Sarah Priestap
Callie Brownson at practice
Brownson met Coach Teevens in June at the Manning Passing Academy in Thibodaux, La. The renowned youth football camp is sponsored by the Manning family, a clan that includes three star National Football League quarterbacks: Eli, Peyton and their dad, Archie.
It was the first time female players and coaches had been invited to participate, a policy change that may have had something to do with an NFL initiative called the Women's Careers in Football Forum. The summer before, that program had helped Brownson land an eight-week internship with the New York Jets' scouting department.
Brownson notes that 45 percent of NFL viewership is female. "Externally, there is a lot of interest, but we don't have a lot of females internally," she says. She adds that more than half of NFL employees are women, "but that's on the business side — sales, marketing — not the football side."
The Women's Careers in Football Forum is the NFL's attempt to balance that discrepancy. For Brownson, at least, it's working.
"I didn't know how a female worked in football," she says. "If we go through the same avenues that our male counterparts do, of course they're gonna win, because they have more of a résumé, more opportunities. They're former college players. The network that they have, we don't."
The Manning camp exemplifies that football ecosystem. It's "like, 1,700 boys who have been playing football most of their lives," Brownson explains. "And then there are about a hundred girls, 99 percent of whom have probably never touched a football before."
Over the course of a weekend, Brownson and about 15 other coaches worked with the girls on the fundamentals of football. Teevens observed the girls' camp, which was separate from the boys', and came away impressed with Brownson.
"She buzzes around; she's a high-energy individual," says Teevens. "She had a confidence that was impressive."
He was equally intrigued by the girls' camp as a whole.
"I remember that first day and him being like, 'Wow, I wish I knew this existed before. This is a whole new world of football that we've been missing out on,'" recalls Brownson. "He was like, 'I'm mad at myself for that.' For him to vocalize that immediately said a lot to me."
Describing Teevens as a "very progressive, forward-thinking person," Brownson notes, "There's not a lot of that in football."
When the camp ended, Brownson sought out Teevens for advice on pursuing a career in the sport. After graduating from college in 2015, she had gone to work for her father's company, KnowWho, a D.C.-based firm that maintains a massive database of political contacts useful to lobbyists, nonprofits, corporations and government officials. The gig gave Brownson the flexibility to continue coaching at Mount Vernon, but she was considering a different job: paving driveways.
Brownson and Teevens chatted briefly before she flew home.
"I thought that was pretty much the end of it," she says.
A week later, her phone rang. It was Teevens offering Brownson a two-week preseason internship with Dartmouth football, essentially a crash course in all aspects of football operations, from team meetings to recruiting to game planning. Without even asking for details, Brownson accepted and booked a flight to New Hampshire.
"I was like, 'I'll be there tomorrow,'" she recalls.
One Piece of the Puzzle
Sarah Priestap
Callie Brownson at practice
Viewed from a distance, a Teevens-led football practice has the orchestrated feel of a massive marching band performing an intricate routine — albeit to a curious soundtrack of '90s hip-hop blaring from the loudspeakers. From one end of Memorial Field to the other, various position groups run individual drills: Over here, hulking linemen hammer out blocking schemes; over there, nimble receivers practice toe-tapping out routes along the sideline; near the middle of the field, a kicker drills kick after kick through the uprights. Above the fray, the scoreboard clock ticks down. When it hits zeroes, the entire field shifts as players begin new drills in new groupings in new places, and the clock resets.
For two straight hours, this elaborate, nonstop routine repeats again and again until its movements feel synchronized, like a ballet. Throughout, Brownson is a blur of energy. She barks orders at an out-of-position defensive back at one end of the field and hollers encouragement to a receiver with a sudden case of the drops at the other end. She playfully chides a quarterback who is having trouble gripping the ball on a cold, wet October afternoon. She jokes with her fellow coaches and coordinators. She never stops moving, or watching.
"She's a great friend of the players," says Dylan Mellor, who encouraged Teevens to bring in Brownson permanently after her internship. The senior wide receiver notes that he and several other wideouts on the team have special handshakes and high fives they've developed with Brownson to celebrate big plays. "It's a fun relationship we have going on with her."
When she's not out on the field, Brownson shares a small, cramped office with director of player personnel Seitu Smith. The spare gray cubicle is windowless, though a poster tacked to the wall depicts a window opening on a sunny blue sky. This is where Brownson finds impactful ways to help the team's offensive coaches.
Using skills she developed with the Divas and later with the Jets, she pores over game film, looking for anything that can help the offense gain a strategic edge.
"I'm looking for patterns in what our opponents do," she explains. "How they line up against some of the stuff we might do, based on what other teams have run against them. What kind of team are they? What do they do well? What are they gonna do against us? What are they comfortable with?
"That's fun to me," she continues. "It's like a puzzle that you get to try and solve every week."
Mellor says his teammates quickly noticed Brownson's work ethic, passion and love of the game. During her brief internship, "She was an intense motivator throughout camp, whether she realized it or not," he says.
Teevens certainly did. "I had guys coming to me saying, 'Coach, would you consider hiring her?'" he recalls. "They were seeing the same thing I was: She's organized, disciplined, attentive to detail, communicative. She has a good sense of humor. There was a mesh."
Teevens maintains that his hiring of Brownson was first and foremost a football decision.
"My coaching staff knows I like to do things differently on occasion. And some were a little bit like, 'Coach, why are we doing this?'" says Teevens. "It was to help the game," he continues. "And so the coaches came around. And they saw what I saw: She's pretty good.
"People say, 'Oh, you hired a woman on the staff.' No, I hired a coach. She just happens to be female."
Rush Week
Sarah Priestap
Callie Brownson at practice
Teevens has a reputation for unconventional approaches. Most famously, he doesn't allow tackling in practice. The idea is to minimize the risk of injury in non-game situations, particularly the risk of concussion. Instead of mauling each other, Dartmouth players hit robotic tackling dummies: human-size, black-padded cylinders that whiz around the practice field via remote control.
"He's infamous in college football for what he's done and how Dartmouth operates when it comes to contact," says Brownson of her head coach. Come Saturday's game, however, "You'd never know we don't hit," she continues. "We're a very physical football team. We just take the risk out of it. Our guys wanna hit."
And hit they did in the Sacred Heart game two days later. In front of a national TV audience, the Big Green bulldozed the Pioneers on both sides of the ball. On defense, they were relentless, overwhelming the Pioneers' attack with hit after jarring hit.
The Dartmouth offense was equally dominant that night, seemingly scoring at will, both on the ground and through the air.
"That was fun," Brownson says, audibly beaming, in a phone call after the game. Her father, who was in the stands, thought so, too.
"I couldn't be prouder as a dad," he says.
Although she declined to go into specifics about the game plan against Sacred Heart, it's clear that Brownson and the rest of the coaching staff identified key weaknesses to exploit. One possible example: Sacred Heart's leaky run defense. Eight different Dartmouth players had at least 20 yards rushing, en route to 277 total rushing yards and three rushing scores as a team. That's on top of 254 yards and three touchdowns passing.
Ever humble, Brownson credits the offensive staff with devising a good game plan. But that plan was built on information she collected through hours of studying film.
A typical day for Brownson begins at 6 a.m.; she rarely leaves the athletic facility until 10 p.m. And no, she doesn't take days off.
"Days off come in the off-season," she says. "I'm getting paid to be surrounded by football all day. So I don't care how long the hours are." Like Teevens, she's focused on bringing another Ivy League championship to the school.
Brownson is grateful for her welcome into the Dartmouth community — she says she gets daily supportive emails from alumni — and for the opportunity to work for an open-minded coach. "This couldn't be a better place for me to be," she says.
At least one of the Big Green giants is aware of the broader cultural significance of her presence.
"It's going to be really fun, 10 or 15 years down the road when there are a lot more women involved in professional sports, to know that we were a part of that," says Mellor. "It's a changing of the times."