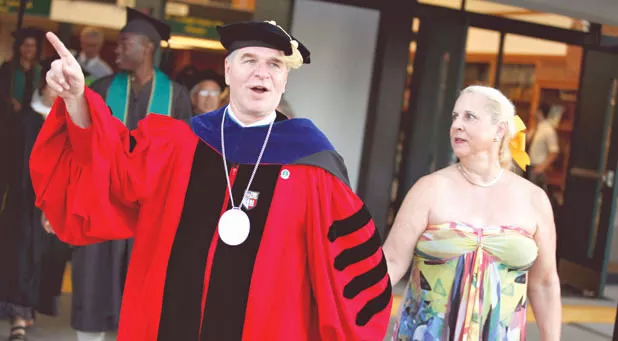 Dan Fogel and Rachel Kahn-Fogel
For more than six years, Rachel Kahn-Fogel, wife of University of Vermont president Dan Fogel, sent suggestive emails to a member of the UVM staff assigned to work with her on fundraising and special events.
The emails, furnished by UVM in response to a public records request by Seven Days, detail an unusual emotional attachment between Kahn-Fogel and associate vice president for development and alumni relations Michael Schultz. In a divorce hearing on February 23 in Chittenden family court, Schultz's soon-to-be ex-wife publicly identified Kahn-Fogel as the "other woman" whose sexually charged letters contributed to the dissolution of her marriage.
In March 2010 Pauline Manning found a packet of letters among Schultz's things and read them, hoping to find out who was sending mail to her husband at an Essex Junction post office box she didn't know he had.
"I started reading through it, and it became obvious to me who this person was," Manning told her attorney under questioning.
"And who was this person?" asked her attorney, Mary Kirkpatrick.
"This person was the wife of the university president, Rachel Kahn-Fogel," replied Manning.
"Was it explicit?" asked Kirkpatrick.
"It was very explicit," said Manning. "It said, 'Taste me, I want to taste you, let me feel your long, muscle-y arms on my body.' There was also a picture of a house they both should be in, and the words 'my darling, my love' for 30 pages, excuse me, 31 pages, ad nauseam."
Additional clues led Manning to conclude the unsigned letters came from Kahn-Fogel, such as references to a recent UVM athletic event in Connecticut that Schultz and Kahn-Fogel attended together.
In his capacity as a UVM employee, Schultz was often assigned to staff events Kahn-Fogel attended. In fact, according to emails obtained by Seven Days, Kahn-Fogel forcefully lobbied Schultz's current and former bosses to make sure that arrangement would continue. Schultz draws an annual salary of $155,408, according to the most recent compensation figures available.
Do Kahn-Fogel's advances constitute sexual harassment or intimidation? Although the relationship between them appears to have been largely consensual, and Kahn-Fogel is not officially employed by the university, on Monday the UVM board of trustees announced that it had initiated a review "to determine whether the behavior and actions that have come to light were appropriate under our policies and standards of conduct." Noting that "President Fogel fully supports this review," the trustees also announced that Kahn-Fogel has "been removed from her volunteer role" planning university and development events, "including interactions with associated staff."
The review team will include UVM staff, as well as outside consultants, with oversight by UVM's chief compliance officer, Anna Drummond.
UVM bans sexual harassment in the workplace, but the policy focuses primarily on unwanted advances and is usually triggered if an employee complains about a coworker's or supervisor's behavior. UVM also has policies that deal with the topic of amorous relationships between staff and students.
The power dynamic evidenced in Kahn-Fogel and Schultz's relationship is apparently not one that human resources anticipated: While he admitted under oath to having a "relationship" with Kahn-Fogel, Schultz clarified that it was not sexual. Since his wife found Kahn-Fogel's letters, he has come out as a gay man.
UVM trustees learned of the relationship as a result of Seven Days' public records requests, the first of which was filed on April 21. "When it comes to personal relationships, we all expect a certain level of privacy. However, from a fiduciary perspective, the Board of Trustees takes its responsibilities and obligations very seriously, and while we respect privacy concerns, we must and will do what's right for UVM," board chair Robert Cioffi wrote in a statement to Seven Days.
As a proxy for her husband, Kahn-Fogel wielded presidential power over Schultz and his career at UVM. He made a case for that interpretation in his own doctoral dissertation, published in May 2009, titled "Elucidating the Role of the University CEO's Spouse in Development, Alumni Relations, and Fund Raising." In the abstract to his final thesis, Schultz observes, "While the president works very closely with the development office in garnering private support, there is often another player significant to the success of a university's development efforts. Hired along with the CEO, the individual serves a major role, but has no job description and often works without contract or remuneration. This is the spouse of the CEO."
During the divorce trial, Manning said Schultz told her the affair went on for five years and that President Fogel was not aware of it. He is now. "These allegations are profoundly disturbing," Fogel wrote in an email to Seven Days, "and Rachel and I are now dealing with their impact on our marriage."
Fogel also revealed that Kahn-Fogel "has long been in treatment for serious mental health issues with which she has struggled throughout her life." He asked the couple be granted privacy "as we take the time to work through an ongoing course of treatment." UVM spokesman Enrique Corredera said Kahn-Fogel's issues had no bearing on her husband's recent decision to step down as president of UVM.
A Spark Is Lit
What brought Schultz and Kahn-Fogel together? Schultz said he helped the Fogels get through a problem early on in their tenure at UVM.
"We worked together and a few years ago had sort of a crisis or something, where I was very helpful to her, and she was appreciative of that, and there's very few people that, frankly, she has that confidence or level of trust in, and then she wanted to see me and just develop a friendship, which is what I thought was going on," Schultz explained during his divorce hearing. "Later on she started to express her love for me, and I was very clear... no sexual, no anything... was going to happen here. She wanted to remain in this sort of relationship and she wanted to communicate to me and wanted to write to me."
It's unclear exactly when Schultz set up a post office box to receive Kahn-Fogel's personal letters — correspondence separate from the lengthy emails she sent at all hours of the day and night. Also worth noting is that Schultz's emails from numerous exchanges with Kahn-Fogel were not retained. The correspondence came from his UVM account; Kahn-Fogel was using Yahoo.
Neither Schultz nor Kahn-Fogel provided further details about the "problem" he helped the Fogels get through, but according to emails between them, there was an apparent falling out between the presidential couple and Ian deGroot, then UVM's vice president for development and alumni relations. Schultz was caught in the middle and had concerns about his job security.
"I don't think you need to worry about looking bad in Dan's eyes," Kahn-Fogel assured Schultz in a lengthy October 2004 email obtained by Seven Days. "Things will get straightened out, and you will be vindicated. I know you are not doing all this for your own ego, but to make things right for us and UVM. But of course you are concerned about how things will go and how you will come out in all of this. I can reassure you that things are all right with Dan; and, as I said, as things develop, you will be proved right."
A month later, in November 2004, they went out to dinner alone. The next day, Kahn-Fogel wrote Schultz a four-page email recounting the events of the evening in detail — from the moment he picked her up to the car ride home.
"When you arrived here, we hugged and kissed and saw the lake. And when you brought me back, we hugged and kissed and smelled and saw the lake. I felt as if the evening were surrounded by lake and kisses. It could not be topped. From lake viewing to lake viewing, from kiss to kiss ... I will never, never forget last night and the happiness I felt with you," she wrote.
Over the next two years, the pair continued to exchange emails and to arrange to attend meetings and special UVM events as a team. They also considered the possibility of going to Chicago together, for a meeting of the Association of Public and Land-grant Universities.
"The absolute most wonderful part of your e-mail was saying that if the meetings were in a fun city, you and I might be able to explore the city together," wrote Kahn-Fogel. "I can't imagine anything more fun. The problem is, would the world ever let us do such a thing?"
In a February 2006, it seems Schultz tried to end his relationship with Kahn-Fogel. She referenced an email in which he questioned whether he could continue to see her. She implored him to reconsider or to at least make the break temporary.
"I am very sad … I had great hopes that you and I could keep seeing each other. Now that I have just read your morning e-mail, of course I understand that you have been suffering about your family and don't want to see me," Kahn-Fogel wrote. "But I wonder if you mean it that it might be temporary. I dread that it is just a time for you to detach from me forever and that you will never see me alone again and will stop loving me. It is torture not knowing."
In the same email, Kahn-Fogel forbade Schultz from working events she attended: "This is not punishment but just an impossible situation for me. I don't want to run into you until at least you have decided whether to be with me again.
"One other question: do you want me to stop writing to you? I don't know how I am supposed to behave, still loving you but not knowing what I am allowed to write, or how or when," she added. "No more real letters? No more e-mails? And if so, not writing only temporarily or forever? Do you want to know what I am thinking and how will I know what you are thinking? Please let me know. I am heartbroken. Love, Rachel."
Schultz told Seven Days via email that he did not feel pressured to continue the relationship with Kahn-Fogel, evidence of which exists in both email and letter form through 2010. "Mrs. Kahn-Fogel and I are friends. We were friends during work and apart from our work. Our friendship tended to facilitate our work," Schultz wrote.
After his separation from Manning, Kahn-Fogel reached out to him repeatedly, albeit with shorter messages. On March 28, 2010, just 20 days after Schultz had moved out of his house, Kahn-Fogel sent a one-word note: "LOVE."
In July 2010, she emailed Schultz several one-line emails during an apparent out-of-state trip. One read, "LOVE IN ITHACA." In August, Kahn-Fogel continued her love-tinged emails, including this one: "LOVE on my birthday. I just had my most perfect long swim of the summer, alone, in green, smooth lake under bright sunshine, and I thought of you the whole way."
Sphere of Influence
The thought of Schultz "leaving" Kahn-Fogel, and UVM, was something the president's wife worried about. In 2004, Schultz told her that Rutgers University had shown an interest in him.
"I am sure you will be wanted in many universities," she wrote. "And I am so very glad you want to stay at UVM for now. But I am sure you will get other offers; and it would be devastating for me if you moved."
In December 2010, Kahn-Fogel wrote twice to incoming vice president for development and alumni relations Rich Bundy, asking him to keep Schultz assigned to her. Kahn-Fogel also has an ad hoc personal assistant, Leslie Logan, who earns slightly more than $66,000 a year in that role.
Kahn-Fogel told Bundy that Schultz "rescued Dan and me during a prolonged problem that could have destroyed the presidency" involving another leading administrator whom Kahn-Fogel did not name but identified as a vice president for development.
She also said that Logan has been "fantastic at helping me to create the beauty of the events I'm striving for, too, down to the tiniest details."
Kahn-Fogel added, "It's no wonder that these two smart, fine, and professional UVM staff have become my truest personal friends as well, for they are people I trust with my life in a sea of sometime treachery."
In a March 2011 email, Kahn-Fogel again asked Bundy to assign Schultz to her events, in what appears to be an attempted end run around her husband.
"Even if Dan is thinking of other things and doesn't remember our years-long, informal agreement with the [Department of Alumni Relations], Mike is one of the few who has worked well at our level," she implored. "So in my attempts to work with DAR now, I would like to ask if you would be willing to assign Mike to events I'm involved with, when possible. OF COURSE he doesn't know that I'm making this request, (that has gone on for years). And I'm not asking because he's a friend of mine, though he is.
"I understand that I have no legal rights to request staffing," Kahn-Fogel continued, "but I thought you might be understanding in my current situation of trying to come back to work that it would be helpful to me to have, when possible, a member of your team who has always worked well and treated me with respect, hard work and discretion at events to make things really good and right."'
Bundy's response was cool and cautious.
"Thanks for your feedback on Mike and his work with you in the past; I do recall you mentioning your fondness for him and the confidence you have when he is staffing events," he wrote. "I'll need to think carefully about how I might accommodate your request."
University officials tell Seven Days that Bundy did not honor Kahn-Fogel's request and has since created new staffing schedules and assignments.
"He believes strongly that no one development and alumni relations staff member should be assigned exclusively to staff any function, but rather that a number of staff members should participate in that role from time to time as appropriate, depending on individual circumstances," said UVM spokesman Corredera. That includes Schultz and Logan. In the next few months, most of the employees from DAR will migrate over to the University Foundation, a private, nonprofit fundraising arm of UVM.
It wasn't the first time Kahn-Fogel tried to persuade one of Schultz's bosses to keep him close. Bundy's predecessor received a similar email last fall.
In October 2010, Kahn-Fogel made a plea to then interim vice president for DAR Kathleen Kelleher, who was considering some staffing changes: "You told me at the art opening of the Fleming last week not to trust Michael Schultz but I TRUST HIM WITH MY LIFE, AND HE KNOWS THIS. Trying to keep us apart is not the solution to the messes at UVM."
During the divorce court hearing, one of the lawyers asked Schultz, "Did you have concerns about your job because of this?"
After a long pause he replied, "No. I mean, I guess in some ways the way it all got started is that part of my job is to work with university leadership, and this incident, to start, was sort of helping out the president's spouse. We had developed this friendship and that, in some ways, it probably helped with the job. It didn't cause any promotions, but didn't change things either way. It didn't."
Bench Press
When the name of Rachel Kahn-Fogel — wife of UVM president Dan Fogel — came up in a family-court divorce hearing last February, her relationship to the case became discoverable public information. Plaintiff Pauline Manning identified Kahn-Fogel as the "other woman" in the complaint against her husband, UVM associate vice president for development and alumni relations Michael Schultz.
The exchange excerpted below illustrates the efforts of Judge Matthew Katz and Schultz's attorney, Deborah Lashman, to minimize the embarrassment, by keeping the content of Kahn-Fogel's lengthy letters to Schultz out of the public record. They succeeded in persuading Manning's attorney, Mary Kirkpatrick, to do so, but Schultz had already read an excerpt during her cross-examination.
Kirkpatrick: The salutation to you is what?
Schultz: "P.S. My darling."
Kirkpatrick: The end on the first page is what?
Schultz: "I love you so much. I'm yours."
Kirkpatrick: "So, so much"? Can you read it properly?
Schultz: Sure. "I love you so, so much. I'm yours."
Kirkpatrick: And…
Lashman: I'm going to object to any further questioning, Your Honor. I don't think there's any further relevance to this. We've already established there was some kind of relationship. Ms. Manning testified to it; Mr. Schultz testified to that. I'm not sure how much further we need to go.
Kirkpatrick: Well, Your Honor, Mr. Schultz testified it was a grandmotherly relationship.
Schultz: I did not testify to that; Pauline testified to that.
Kirkpatrick: Pauline testified to that. So, may I continue my cross-examination?
Judge Katz: Well, I mean, is it really in everybody's interest to have this exhibit admitted into evidence?
Kirkpatrick: If we have a stipulation that it was more than just letter writing, I don't think that it needs to come in.
Katz: Isn't that a fair inference of the evidence that has been received thus far?
Kirkpatrick: Ah…
Lashman: If I could speak to my client for a moment?
Katz: All right.
After a very short break, Lashman told Katz: Your Honor, my client testified before that there was no sexual relationship. I mean, there is a letter that if it has to go into evidence about what this woman's ... what she wrote, then it has to go into evidence.
Katz: It strikes me that we had a little discussion in chambers earlier. Having this letter in a public file does not enhance job security, when job security is in mutual interest. It's not just one side's interest.
Kirkpatrick: We agree.
Manning: I agree.
Katz: Sooo...
Kirkpatrick: It's just to try to get the truth out, on the infidelity.
Katz: As a cross-examination tool, well, that's one thing. Um, offering it as an exhibit, probably not wise.
Kirkpatrick: Let me reframe the question: In this letter, Mr. Schultz, do you recall her saying, "I'm feeling all of you with all of me right now. Kiss me, my sweetheart, my M. Taste me, take me, make love with me forever." Do you recall her saying that?
Schultz: I don't recall her saying that.
Kirkpatrick: OK, would you look at...
Schultz: I recall her writing that.
For the Record
Under Vermont law, family court proceedings are a public record. Seven Days requested a video transcript and corroborated that Rachel Kahn-Fogel had been named in a February 23 divorce case hearing in Chittenden County family court. Seven Days then made two separate Vermont Public Records Act requests for UVM emails between and documents relating to Kahn-Fogel and various UVM officials, including Michael Schultz, his bosses and people associated with his dissertation. UVM provided all the emails Seven Days requested, if they were available, and only redacted the names of individual donors. The UVM system purges deleted any unsaved emails every 90 days — unless an employee saves emails to a personal folder or hard drive — which makes it nearly impossible to retrieve emails and other associated documents dating back more than six months.