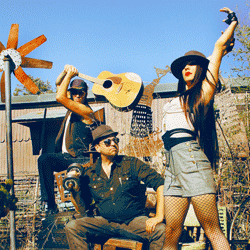 David Satori is coming home, at least for a night. The Burlington native has been traveling the globe with San Francisco-based trio Beats Antique, who meld unwieldy styles and influences into a rare and wondrous spectacle. Think performance art and hot-blooded, down-and-dirty dance music. Oh, and belly dancing. Lots of belly dancing.
The multi-instrumentalist and producer graduated Burlington High School in 1997, then headed west to study music in California, with a specific focus in world music. Satori's curiosity eventually led him to Africa, where he delved deeper into West African rhythms, studying and playing with some of that region's greats, including Fela Kuti's son Femi Kuti.
With Beats Antique, Satori fuses his passion for world music with an unlikely assortment of Western styles, including electronic dance music, hip-hop, jazz and rock. But what sets the band apart is Zöe Jakes. The classically trained dancer interprets her band's music through a whirling blend of ballet, burlesque, urban dance and, yes, belly dancing. Her movement lends a sensual visual aesthetic to the live show, which is thus as compelling to watch as it is to hear.
In advance of Beats Antique's performance at the Higher Ground Ballroom on Wednesday, April 27, we spoke with Satori by phone from Baltimore.
SEVEN DAYS: When you were growing up in Burlington, did you ever imagine you'd be touring with an electro-world-roots-belly-dance band?
DAVID SATORI: I did not. I actually didn't think I'd be part of any band that way. I always wanted to be part of a band, but certainly didn't know it would take this form.
SD: What sorts of music were you involved with here?
DS: I had a great teacher, a guitar player, Steve Blair. He had a big impact on me, taught me about jazz, how to produce music and write music. At the same time, I was into Phish and Jazz Mandolin Project. Aram Bedrosian [Gordon Stone Band] was a schoolmate of mine, and we used to play and jam together. Actually, he's going to sit in at the [Higher Ground] show and play some bass. He's a good friend. I also used to go to a lot of punk shows at 242 [Main].
SD: I bet we were at a lot of the same shows. After high school you went to California and studied world music. What is it about world music that attracted you?
DS: I think it's the nature of the melodies. Those scales and harmonies I just gravitate toward a little more than straight Western music or pop music. I'm more intrigued by quirky and interesting music, and then just deep, beautiful, old traditional music that's stood the test of time. I feel a connection to it.
SD: What was it like to play with Femi Kuti?
DS: I was with a band in San Francisco called Aphrodesia, and we had this crazy idea to go to West Africa and hang out with the musicians we were influenced by. And we had the chance to play with Femi in Nigeria for two nights. We were the first American band that had ever gone to Nigeria and played with him there. It was a really cool experience. It was wild.
SD: Beats Antique take those world influences and meld them with some pretty aggressive Western styles. What are some of the challenges making those pieces fit?
DS: Well, it's really easy for anyone to take a sample of some Indian vocal melody and slap it over a hip-hop beat. Anyone can do it. So, our way is to get in there and compose our own melodies, develop our own beats and make the parts melt together in a more organic way than a synthetic, collage way. We want it to fit together and make sense rather than have two strange things just slapped together.
SD: I imagine that could be a daunting task.
DS: That's our challenge. And sometimes it does feel slapped together, so we have to work it until it feels more natural, you know?
SD: Your live show is wild and seems centered on dance as much as music. Does one idiom influence your work more than the other?
DS: The band originated by making an album for dance. So our live show is really based around dance music and, specifically, in the beginning, belly-dance music. But it's really morphed into a lot of different genres, from vaudeville to burlesque to ballet and more modern genres. We're combining a lot of different stuff. So, that dance influence on our compositions and productions is really showcased live.
SD: When you're writing, how much do you focus on the fact that you're composing for dance?
DS: We're really based on what music comes naturally to us. If it's something that naturally makes you feel good or makes sense for a dance piece, then great. But we still have pieces that aren't easy to dance to or weren't made just for dance. There are definitely pieces that are made just for the sake of making music. But Zöe has a big influence on arranging the music and bringing in choreographers, and that perspective makes for a really unique way of creating music.
SD: Last question. What's your favorite thing to do in Burlington when you come home?
DS: Going to Ahli Baba's and getting a falafel, then to Muddy Waters and gettin' my coffee.