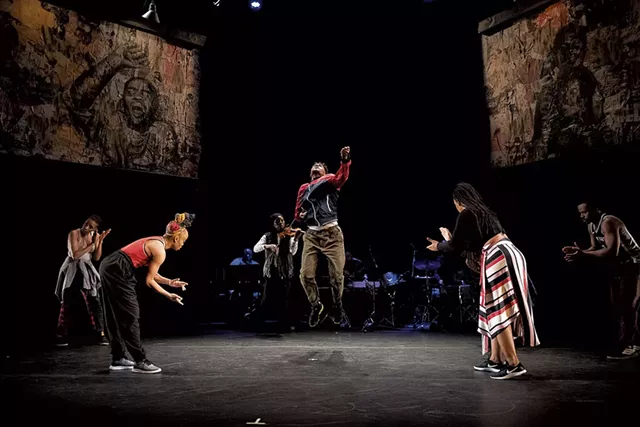 Courtesy Of Christopher Duggan
Camille A. Brown & Company performing a scene in ink
The concept of superhuman ability moves from the big screen to the live stage in Camille A. Brown & Dancers' production ink, next week at the Hopkins Center for the Arts in Hanover, N.H.
"I lift up our real-life super heroes of the past who paved the way for us to fly ... In flight, we see the super power of Black people in America," writes Brown of ink in an article for the Joyce Theater Foundation.
The third work in Brown's trilogy on Black identity, ink follows Mr. TOL E. RAncE (2012) — for which her company received a 2014 Bessie Award for Outstanding Production — and BLACK GIRL: Linguistic Play (2015). The trilogy grapples with the human right to define one's identity and how resolutely African Americans have fought for that right.
Based with her company in New York City, Brown has received numerous choreography awards, including a 2016 Guggenheim Fellowship, a 2015 Doris Duke Artist Award and a 2015 TED Fellowship. Her TED-Ed video "The History of Social Dance" has been viewed more than 15 million times.
Brown shared more insights about ink in an email with Seven Days.
SEVEN DAYS: Why is the piece called ink?
CAMILLE A. BROWN: The title speaks to Black people writing our own narratives, clearing the stories that are written from another perspective to make space for narratives told through our lens. It is a reclamation. As a student proclaimed during one of our school shows, "You don't write history with a pencil, you write it in ink."
Courtesy Of Christopher Duggan
Catherine Foster
SD: In describing ink, you've said that it is "exploring the gestures and movements that live inside the dancers' bodies" and that you function more as "a director guiding them than a choreographer telling them exactly what to do and how to do it." Could you elaborate on the creative process that generated ink's movement vocabulary?
CAB: I am inspired by choice making. All of the steps are choreographed, but I give the musicians and dancers agency to make choices within the structure. The stories and ideas are my own, but the work can only come alive when everyone in the space gives every part of themselves to the process.
The space is very organic and fueled by research. My dancers, musicians, dramaturges and I are in constant dialogue throughout the process about the work and how it's progressing. We don't move forward unless we're all on the same page. We are building the work together.
SD: In the ink duet "Balance," the dancers hold hands for fairly long periods of time through riffs on social dances. What's behind the hand-holding as a choreographic element?
CAB: "Balance" ([to be] danced at Dartmouth by Alia Kache and Maleek Washington) is inspired by the Hustle and Lindy Hop. We are riffing off these social dance forms that have partnership at their center. Two wholes working together create balance. Choreographically, the duet can't work unless there is the swing, push and pull, support, danger, and safety inside of it.
The hand-holding is a disruption of patriarchal narratives surrounding relationships. Roles can be interchangeable, and the hand-holding highlights this.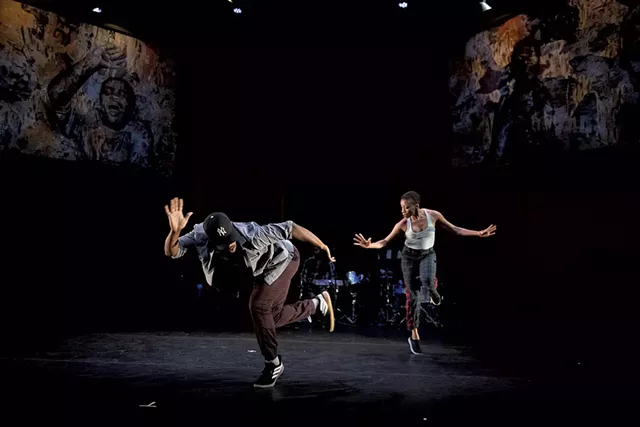 Courtesy Of Christopher Duggan
Maleek Washington (left) and Yusha-Marie Sorzano
SD: In a 2018 interview, you stated, "Social dances are indicators of time." It's been seven years since the premiere of Mr. TOL E. RAncE. Have you noticed changes in social dances since then, perhaps in response to current socioeconomic and/or political conditions?
CAB: Yes. Some of the social dances that did not exist when we premiered TOL are: Whip/Nae Nae, the Shoot, the Floss. Social dances are supposed to progress, shift and morph. That's why the form is so fascinating. The progression of social dance has not changed, but the attitudes of many about the content of the work and the topics it deals with (minstrelsy, double consciousness, stereotypes) [have] indeed shifted. When TOL was created, there were many who felt like the piece was "unnecessary" because we were living in "a post-racial society." This is a very hard argument [to make] these days.
SD: What do you hope viewers in New Hampshire and Vermont will take from ink?
CAB: The humanity of Black people.