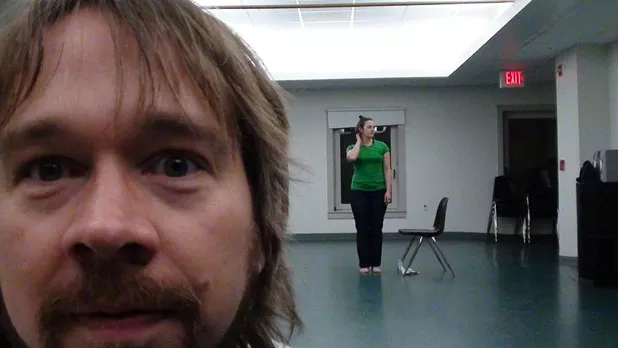 With more than 800 million active users on Facebook these days, it's remarkable to find someone without a profile. Frances Binder, cofounder of Burlington's Steel Cut Theatre, is one of those people. And, as if that weren't rare enough, the 33-year-old also writes real letters, regularly.
Her creative partner, James Moore, 36, on the other hand, spends a fair amount of time on Facebook, and regrets that he doesn't write letters more often. Does Binder's decision to opt out of the world's largest social network make her any closer to, or more distant from, her friends and family than Moore is to his?
That question is at the heart of Binder and Moore's newest performance piece, near/far, which premieres this weekend at Burlington Dances. In this era of incessant virtual communication, the duo asks through movement and text, "What keeps us close? What holds us away? And how do we choose?"
Binder and Moore moved from Portland, Ore. — where they codirected defunkt theatre — to Vermont about two years ago. They debuted at Burlington Dances last March with Will Eno's one-man show Thom Pain (based on nothing). "We like pieces that leave the audience with something to talk about in the end," says Moore. The name Steel Cut, of course, refers to oatmeal, which "sticks to your ribs."
The couple explains that near/far is a nonlinear melding of dance and theater, with text culled from letters, Facebook posts and emails.
"We went into [developing the piece] with a bias toward letter writing," says Moore, adding, somewhat sheepishly, "I'm sure that every time I talk about this [show] to my mom, she's like, When was the last time I got a letter?"
Still, Moore and Binder consider handwritten letters the gold standard when it comes to communication. Which is why they were surprised to find some equally compelling material for near/far when Moore posted a simple request on his Facebook wall: "We need lines for our show: Go!"
Not only did interesting and playful posts rush back at him, but his aunt saw his post and wrote him a long, thoughtful email. "This was a very personal, very moving message," he says. And it wouldn't have happened without his initial Facebook post.
So don't expect a diatribe against social networking. "We didn't want to turn it into a piece where we hand everybody in the audience a pen and a paper and say, 'Write to your mom,'" says Moore.
Has anything changed about the duo's own communication habits since they began working on this show?
"I think a little more before I put my headphones on when I walk downtown," says Moore. And, when he and Binder ask each other for a line during rehearsals, "We say thank you more."
near/far by Steel Cut Theatre, Friday and Saturday, January 20 and 21, at 8 p.m.; Sunday, January 22, at 2 p.m. at Burlington Dances in the Chace Mill. $10. steelcuttheatre.com