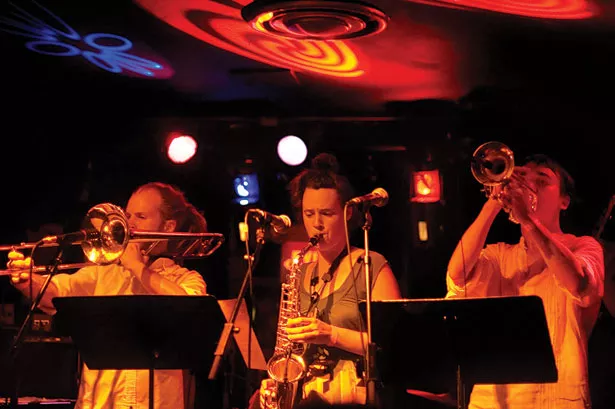 I've never been much of a marathon kind of guy. I guess there's just something about short shorts, funny tank tops and chafing that doesn't jive with my personality. Oh, and there's also the running. I hate running.
By the same token, I'm really not much of a dancer. It's not that I can't - I've got rhythm. Rather, I just don't. I'm the kind of person who much prefers to stand on the sidelines and watch other people sweat it out to "The Humpty Dance," than actually "lean to the side like my leg was broken," myself. It's a personal thing.
That said, the fine folks at Burlington City Arts have concocted an event that might cause even someone as jiggy-ically challenged and athletically averse as I am to shed his inhibitions and bust a move. The fact that Nectar's will be providing a beer garden practically doubles that likelihood.
This Saturday, BCA is sponsoring the first annual Dance Dance Marathon in Burlington's City Hall Park to raise money to help fund the organization's many projects and community programs.
The idea is pretty simple: find a group of dancin' fools, raise $1000 as a team, and then shake it like a Polaroid picture for eight hours. It's a marathon, get it?
You don't have to dance for all eight hours, but someone from your team has to be on the floor at all times. Given the lineup of local musicians set to provide the tunes, that shouldn't be a problem.
Burlington's funkiest ex-pat, Jen Hartswick, will be handling headlining duties with support from trumpet phenom Alex Toth's new Afrobeat crew, Rubblebucket Orchestra - more on them in a minute. Burlington's first family of bluegrass, The Cleary Brothers, will throw down with an old-time hoedown. DJ Hector Cobeo brings the Latin spice. DJ Fattie B will employ his flux-capacitor - er, turntables, to take a trip through the annals of dance music before the kids from WRUV close out the night with a two-hour melee of reggae and hip-hop.
More info can be found online at http://www.burlingtoncityarts.com, or you can swing by the Firehouse Gallery and pick up a registration form.
KICKIN' THE BUCKET
Most local music fans have likely seen ace trumpeter Alex Toth performing with his local jazz ensemble The Lazybirds, or perhaps as a member of the nationally renowned reggae group John Brown's Body. But this weekend, the horn-blowin' Horatio unveils a new project that has the potential to set a new standard for ass-shakin' fusion in the region.
Rubblebucket Orchestra is a 10-piece "Afro-trance" troupe led by Toth and fellow JBB member, saxophonist Kalmia Traver. Toth describes the sound as "Fela Kuti meets James Brown meets Portishead." Sweet Jesus. Is the world really ready for such a bumpin' bunchalliance? I hope so.
Find out this weekend as Toth, Traver and Co. kick out the jams for the first time in Vermont with three dates at area venues.
Unless you skipped the first part of this column, you know they'll be rockin' 26.2 miles of Afrobeat in City Hall Park on Saturday. If marathons aren't your thing, you can catch a preview on Friday night at Brennan's Pub in UVM's new Davis Center, or at their post-marathon late-night gig on Saturday at Montpelier's Positive Pie 2. Groovy.
EXTENDED FAMILY
If you missed Pennysylvania's Akron/Family when they came through town a few months ago, shame on you. Actually, I missed them, too. Whoops.
This Thursday, an intriguing version of the experimental-pop collective storms the stage at Club Metronome, offering Burlington's huddled indie masses a shot at redemption, or maybe even salvation.
The group has been on tour with North Carolina folk freaks Megafaun and our own eclectic avant-garde auteur, Greg Davis. Each of those acts is worth the price of admission on its own, so the fact that they're playing the same bill is pretty incredible. But it gets better.
Akron/Family, Megafaun and Davis will converge, Voltron-style, to form a spectacular seven-piece brood, the likes of which has rarely, if ever, been seen in the Queen City. Oh, and there will be a special performance by the mysterious Bob Log III.
Who is Bob Log III? Nobody knows, so you're just gonna have to show up and find out.
GOGOL BORDELLO PLAYS ON ROOFTOP!
OK. I lied. Gogol Bordello aren't really playing on a rooftop, though given the location of their next Vermont gig, I wouldn't rule it out.
Rumors abound concerning ex-Burlington lead-singer/actor/runway model/porn star/Madonna canoodler Eugene Hutz's gypsy-punk outfit and the last show they played at Higher Ground. I can neither confirm nor deny said reports, so for now, I'll leave it at that.
I can say for certain that the group will be playing on Friday, October 12, at the Vermont College Gymnasium in Montpelier. No, seriously. You can go to Pure Pop in Burlington or Riverwalk Records in Montpelier and buy tickets, I swear. You can even go online to http://www.frontgatetickets.com and get them there. And if it's on the Internet, it has to be true.
A LITTLE ADIS, A LITTLE ADAT
I really need to invest in a fact-checker.
Two weeks ago, I wrote about a new studio set to open this month called Wasted City, owned and operated by Justin Gonyea of local hardcore outfit Romans.
In the blurb, I alluded to the studio's "lush warm sounds of reel-to-reel" analog recordings. But I also informed you that Gonyea is using ADAT tape, which is digital, not analog. I'm not a tech guy, but several alert readers who apparently are wrote in to inform me of my mistake. Thanks, guys - but honestly, enough with Wikipedia already.
Gonyea does employ an analog mixing board, but the signal is converted to digital, making almost everything I wrote previously null and void. But while we're on the subject, I do have some cool news involving the studio.
For starters, it's open! The first project will be local ska/punk outfit Husbands, which feature Alex Pond and Chris Valyou, formerly of the iconic local hardcore outfit From the Ground Up. Following that, Gonyea will finish up a recording by local group Valkyrie - a project almost one year in the making. Then it's on to new Romans material and a few more local demos.
There's also an inaugural show lined up for Thursday, October 25, featuring Deathwish, Inc. signees Trap Them, Black Market Activities group Architect and - obviously - an opening set by Romans themselves.
So there you go. My apologies for the misinformation, but on the plus side, it appears the best way to double-up on press is for me to screw something up. Bonus!