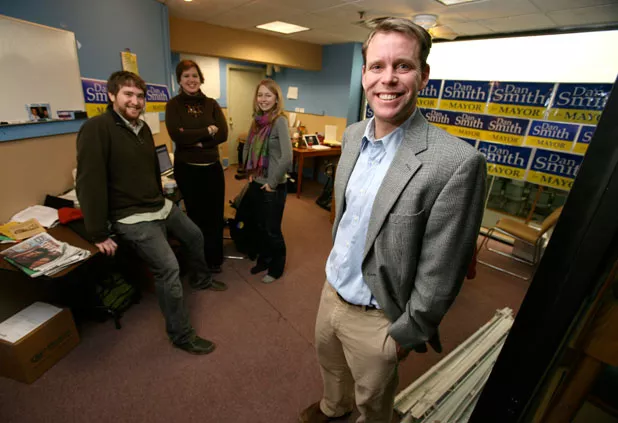 Dan Smith with campaign staff
Independent Dan Smith is running for mayor — literally. At 10 a.m. on a recent weekday, the 34-year-old newcomer to city politics has been up for hours, making phone calls, knocking on doors, even getting in some early-morning outdoor recreation.
Smith is a serious athlete and outdoorsman, a fact heavily touted on his website, perhaps as a way to call attention to his youthful vigor and environmental cred. He skis the backcountry, mountain bikes, runs marathons and adventure races. Smith's idea of fun is a 12-hour, 50-mile race that combines swimming, biking, canoeing and map-and-compass orienteering. According to his former boss, Frank Cioffi, president of the Greater Burlington Industrial Corporation, Smith's nickname is "The Danimal."
"Dan doesn't have an 'off' switch," Cioffi noted. "I know he sleeps, but not much." No wonder the guy is still single.
Smith's campaign staff, based in the former offices of the Church Street Marketplace Commission, offers a glimpse into the young, 21st-century ethos of his campaign. His campaign manager, Emily Mellencamp Smith, is a 22-year-old fellow at Emily's List, a national PAC dedicated to getting Democratic, pro-choice women elected to office. She took a leave of absence from the organization to help her first cousin get elected.
Smith's field director is Jesse Bragg, also 22. He's tapping away intently on his laptop, responding to a post on the "Smith for Mayor" Facebook page. Though the other major candidates all have websites, none is utilizing social networking sites as aggressively as Smith, who already claims more than 460 "supporters" on his Facebook page. Admittedly some, such as Seven Days political columnist Shay Totten, are probably there to stay informed about the candidate; others live outside Vermont's borders. Still, the Smith team seems to have torn a page from Barack Obama's playbook.
In fact, a bumper sticker on the wall reads, "I voted for Obama" — and he did, Smith confirmed. That may surprise some political junkies, especially those who initially pegged Smith, an economic-development maven and son of a former Republican congressman, as the "pro-business GOP stealth candidate."
But Smith's politics cannot be pigeonholed that easily. His coalition of supporters, volunteers and campaign advisors come from across the political spectrum. They include moderate Democrats such as Sen. Hinda Miller (D-Chittenden); moderate Republicans along the lines of Burlington businessman Yves Bradley; Green Party progressives that include former city council candidate Rene Kaczka-Valliere; and political newcomers such as Ted Adler, founder of Union Street Media.
Smith, an eighth-generation Vermonter, is the grandson of former state senator Frederick Smith and son of the former lieutenant governor and one-term congressman Peter Smith. An "Aiken Republican," the latter lost his congressional seat to Bernie Sanders and hasn't been involved in state politics for 18 years.
Though Dan Smith is new to Queen City politics, he's well known to a couple of statewide candidates. They include 2006 GOP congressional candidate Martha Rainville, whom Smith coached on debate prep, and Gov. Jim Douglas. Smith worked for the governor briefly as a staff attorney shortly after graduating from law school.
"I've known Jim Douglas probably since I was 5 years old," Smith says. "By now, everybody knows Jim Douglas."
Despite family roots that run deep, and red, Smith has made a point of not running on his family name or its political alliances. When asked about his father's involvement in his campaign, Smith said only, "He's supporting me from afar." Asked whether his political leanings differ from his dad's, he asserted, "I'm definitely more liberal than he is."
In fact, since announcing his candidacy last December, Smith has made his independent status the centerpiece of his campaign, touting his willingness to "embrace good ideas, no matter where they come from," and his desire to offer Burlingtonians "a clean slate" in city hall.
"The people who are supporting me, in many cases, are stepping out of partisan history and embracing a new kind of candidate," Smith says. "They want to see a city government committed to a common cause. How you run is how you're going to lead."
"He's a very bright young man," said Miller. "I'm very keen on the green economy, and Dan is the one at GBIC who created the group that studies the green economy and where our city and state can go with green technologies and businesses."
Bradley sees in Smith an opportunity for "something really new" in the city's leadership.
"He's not part of the political process," Bradley said. "It's so refreshing to have someone who can come in and say, 'Explain to me why we can't do this, or why this can't happen.' That's very appealing."
Adler, 32, sees similarities between Smith's candidacy and Obama's — from his youth and nonpartisan approach, to his comfort level with new technologies.
"Dan understands technology and uses it," Adler noted. "My understanding of the other candidates is that they think technology is something you buy."
Thus far, Smith has run an impressive race. As the wild-card candidate in the election, his presence has made this the most exciting and unpredictable city race in years. Smith is the youngest of the candidates, and arguably the most charismatic. Working crowds of all sizes, he comes across as a polished and articulate speaker who displays a depth of understanding of the issues and a facility at converting his shortcomings into strengths.
For instance, Smith lacks the neighborhood support enjoyed by his more established rivals, notably Republican Kurt Wright in the New North End and Democrat Andy Montroll in the Hill Section. But Smith, who has lived in Burlington's South End since October 2003, spins that apparent weakness as an advantage.
"It gives me the opportunity to be the mayor for the entire city, as opposed to someone who comes from one specific area," Smith argued. "I want to be a mayor who rebuilds that sense of common cause."
Dan Smith was born on February 6, 1975, one of three children. He grew up in Middlesex until age 15, when his family moved to Arlington, Virginia. Smith often spent his summers at the family's camp in Colchester. Later, he attended Phillip's Academy at Andover, an elite Massachusetts boarding school whose blueblood alumni include Oliver Wendell Holmes, John F. Kennedy Jr. and both presidents Bush.
Though Smith doesn't dwell on his upbringing in a political household, it's clearly helped shape his public persona.
"I think you develop a real comfort level being in the public eye and having people talk about you," he said. And, like any savvy politician, Smith uses a question about his past to stay on message.
"Watching my parents swap ideas and go back and forth at the dinner table really helped me flesh out my independent vision," Smith said. "Seeing my mom influence my dad, and my dad influence my mom, taught me that no one has a monopoly on good ideas."
Smith graduated from the University of Virginia in 1997, then spent two years as a ski bum in Colorado. There, he got involved in mentoring at-risk youth, an avocation he's kept up ever since. Smith is now president of the board at Mobius, a countywide umbrella organization for youth-mentoring programs.
The University of Virginia School of Law came next and, upon graduation in 2002, Smith took a position clerking for then Vermont Supreme Court Justice Jim Morse. The now-retired judge said he "enjoyed working with Dan very much" and described him as "a Renaissance guy.
"He was very eclectic," Morse added. "Not only was he a gifted lawyer and writer, but he was also a poet. He was a lot more interesting than many young people who come out of law school and only want to talk about the law."
Smith's clerkship was cut short in 2002, however, when Morse was tapped by newly elected Governor Douglas to become commissioner of the Department of Social and Rehabilitation Services (now the Department for Children and Families). With six months left on his clerkship, Smith went to work on the governor's legal team — a credential that's notably absent from both his website and his Facebook page.
When queried about it, Smith downplayed the experience, saying he was "basically doing bill review and analysis of legislative stuff . . . It was not a particularly political position."
Smith went on to work at the Burlington law firm of Downs Rachlin Martin, where he often lobbied state lawmakers on behalf of his clients — notably, the Lake Champlain Regional Chamber of Commerce and his future employer, GBIC.
Smith characterized his time in Montpelier as "working across party lines to build a stormwater program that was . . . environmentally progressive and aggressive."
Representative Tony Klein confirms that assessment. The Democrat from central Vermont, who chairs the House Natural Resources and Energy Committee, credits Smith with helping him on several important pieces of legislation, including permit reform, the development of business "growth centers," and affordable housing.
"Dan's work . . . was invaluable to me. The position of his clients didn't always line up with the positions of the committee," Klein noted. "But he was able to clarify very, very complex issues that gave me a greater understanding of the pluses and minuses of what we were doing."
It's worth noting that Klein is a longtime family friend of Smith's, worked with the candidate's father, and managed his father's campaign for lieutenant governor.
Senator Ginny Lyons (D-Chittenden) got a somewhat different impression of Smith as chair of the Senate Natural Resources and Energy Committee. Although she describes him as "a very personable and likeable guy who's got a lot of energy and enthusiasm," she says she occasionally "bumped heads" with GBIC and the chamber on environmental legislation. For instance, both pro-business groups supported on-the-record review of environmental appeals, a procedural process that Lyons says tends to limit citizen participation.
Furthermore, Lyons disagreed with Smith's efforts to block the limits on the total maximum daily load, or TMDL, of phosphorus going into Lake Champlain from municipal wastewater treatment plants. (Smith has said he was worried about the financial impact on municipalities and prefers addressing the phosphorus issue through better controls on farm runoff.)
"I disagreed with that position, because development has taken place at a time when we've reduced phosphorus going into the lake," Lyons added. "Their position has been very much directed at protecting businesses. That's their job, and Dan worked from that platform."
Chris Kilian of the Conservation Law Foundation's Vermont Advocacy Center claims to have "a fair bit of knowledge" about Smith's lobbying efforts in Montpelier. Not surprisingly, he has little positive to say about the goals Smith pursued on behalf of GBIC and the Lake Champlain Regional Chamber of Commerce.
Those clients, Kilian contended, "fought hard to prevent stricter controls on wastewater-treatment- plant phosphorus discharges into Lake Champlain. And they have fought hard to prevent implementation of Clean Water Act controls on large-scale commercial stormwater polluters in Chittenden County."
"If someone had come to me out of the blue and asked me to list 10 Vermonters who are green and oriented toward sustainability, I can say with certainty that Dan Smith's name wouldn't show up on that list," Kilian said.
"I think that's a stretch," Smith retorted in defense of his environmental record. "We worked hard across party lines and interest groups to find solutions to environmental remediation and stormwater that are going to work for municipalities, residents, property owners and regulators."
Asked if his environmental goals as Burlington's mayor would differ substantively from those of the chamber and GBIC — Smith was vice president of the economic development organization until October, when he resigned to run for mayor — Smith hedged on his answer.
"My personal goals are for us, as a community, to take a regional view toward smart growth, which is encouraging economic development and opportunities to occur in our downtown, so that we can avoid the conversion of open space outside of our communities," he said.
Pressed further, Smith clarified his position: "Are my personal goals consistent with the concept that we can drive our economy while also taking care of the environment? I absolutely believe that," he said, "I'm not going to try to roll back environmental protections . . . I believe we can grow within the rules.
"I spend more time in the open space that surrounds Burlington than anyone else in this race," he added. "My vision balances small business development and environmental integrity . . . Not everything is an adversarial conversation."