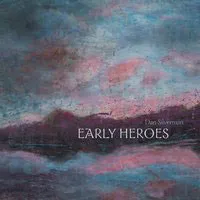 Dan Silverman, Early Heroes
(Self-released, CD, digital)
Is offering an earnest homage to influences as laudable as integrating them into a distinctive personal style? That might be a debate for another time, after hearing what Dan Silverman conceived as a tribute to his jazz roots in Early Heroes.
Scanning the song titles and composer credits on the trombonist's first album since 2007's Silverslide, one might get the impression that he is all over the map. That would be wrong; even a cursory listen reveals that, whatever direction they take, Silverman and his collaborators move with distinct purpose. His various ensembles of stellar Vermont musicians effortlessly navigate trade-offs.
Over eight tracks, Silverman pays obeisance to artists as disparate as Maynard Ferguson and Roswell Rudd, among others, yet forges continuity within diverse arrangements. Lane Gibson lent his technical expertise and the resources of his recording and mastering studio in Charlotte. Silverman's sister Judi Silvano assisted in the mixing. Their combined engineering efforts resulted in a recording with spacious clarity.
Pianist Tom Cleary and trumpeter Ray Vega help set the tone for Early Heroes on opener "Slide's Derangement." Along with Silverman, they are respectful of Ferguson's original but not copycats; they play the material with a subtle measure of abandon.
That attitude becomes more palpable as the tracks progress.
Silverman and his bass-trombone counterpart Tim Foley show more than a little courage in their duo run-throughs of Wayne Shorter's "Infant Eyes" and Thelonious Monk's "Crepuscule With Nellie." They equally challenge the material in Charles Mingus' "Don't Be Afraid, the Clown's Afraid Too." Nearly 10 minutes of brisk interplay here incorporates the novel texture of Paul Asbell's guitar.
"J and K 2017," Silverman's improvised piece with former Gang of Thieves trombonist Nate Reit, is emblematic of the bristling musicianship on this record. And on another Mingus composition, "The Shoes of the Fisherman's Wife Are Some Jiveass Slippers," which closes the album, the rhythm section of bassist Anthony Santor and drummer Jeff Salisbury is especially pleasurable.
It would be splendid to witness all of these exchanges in a live setting — and Silverman has plans in the works. Meantime, this album will stand jazz fans in good stead. Early Heroes is available at CD Baby.