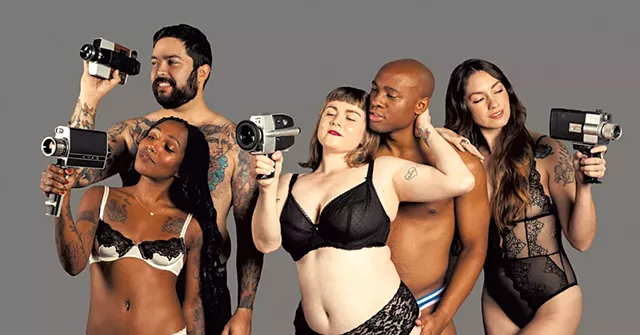 Courtesy Of Lauren Max
Hump! Film Festival
Dan Savage has a favorite story he likes to tell about Hump! Film Festival, the amateur-porn film festival he cofounded 15 years ago. Following a showing in Seattle, where the fest was born, a woman approached him and relayed that she hated porn. She added that she found it dehumanizing and had been cajoled into attending the fest by her friends.
"But then she told me how much she loved it," Savage recalls. "She could see what we were doing was different, that it was so joyful, and the audience was respectful."
Savage, the author and host of the nationally syndicated sex-advice column and podcast "Savage Love" and editorial director of Seattle's alt-biweekly the Stranger, was delighted and surprised — though not nearly as surprised as he would be the following year.
"The next year she submitted a film," Savage says of that fest attendee. "So she went, in one year, from hating pornography, not wanting to come to the porn festival, to loving the porn festival, making pornography and being in the porn festival."
Vermonters who check out Hump! when the festival comes to Merrill's Roxy Cinemas on Friday and Saturday, September 6 and 7, may or may not be inspired to make their own dirty flicks. But they will definitely bear witness to a smorgasbord of smut unlike almost anything they'd find elsewhere.
The fuck fest is composed of five-minute shorts submitted by horny folks of all shapes, sizes, ages, gender identities and sexual orientations. The clips are by turns funny, beautiful, artsy, strange and, of course, seriously porn-tastic. This year's hourlong compilation features, among other subjects, a luminescent body-paint party; a kinky couple enjoying an unusual afternoon delight; a, ahem, gripping take on "Wheel of Fortune"; and a zany encounter in, of all places, a milking room.
"The films that really hit our sweet spot are the films that have actual sex, are funny and feel short, like you're left wanting more but feel satisfied," Savage says. "Each film is kind of a quickie that way."
Indeed.
Seven Days spoke with Savage about Hump! by phone. Read the full, much more explicit interview on Seven Days' arts blog, Live Culture.
SEVEN DAYS: Facebook deactivated the Hump! business page and won't run your ads. What happened?
DAN SAVAGE: Facebook and Instagram, which is owned by Facebook, are shutting down sexually explicit — not even explicit, sexually existent content. And the ridiculousness of it is that there's porn on the internet.
SD: I've heard that, yes.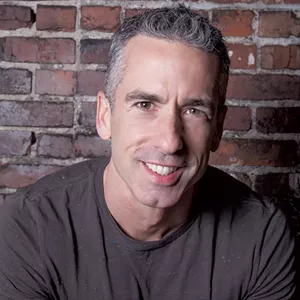 Courtesy Of Dan Savage
Dan Savage
DS: There's no porn on Hump!'s page, no porn in Hump!'s advertising. It's a film festival in a movie theater where a different type of porn is screened. And we're not allowed to acknowledge its existence on Instagram and Facebook. Which is really problematic, because Instagram and Facebook ate the media and ate advertising. And now they're deciding that certain things can't advertise there because they're for adults. In a way, that's a threat to the existence of those events, because of the monopoly of Facebook and Instagram.
It's a real problem. And what's galling for me is the hypocrisy of it. There's plenty of terrible porn on the internet. We're bringing people together to show them a vision of a different kind of porn — porn that's more humorous, more humanistic, more compassionate. Porn that you know is people who are having fun with their friends and lovers, so you don't have to worry about the conditions under which it was produced. And that we can't have. That we can't advertise on the internet, while the worst kinds of pornography continue to circulate on the internet.
SD: What do you look for in a Hump! submission?
DS: When we started 15 years ago, we thought, A full-length porn feature is about an hour. So we set a 12-minute limit, thinking nothing could get tedious in 12 minutes. And, oh my God, we watched 12-minute films that felt like they were Citizen Kane. Then we reduced it to eight, and it was still a problem, then five. And it's still sometimes a problem. Sometimes people think they have to hit five minutes when they don't. Brevity is the soul of, um, wit. [Laughs]
SD: Even in porn, huh?
DS: [Laughs] Brevity can be the thing that makes a porn clip enjoyable and fun. But beyond that, everything is welcome [at Hump!]. We're just looking for interesting, compelling films that show us a slice of humanity that we haven't seen before, or a take on gender or sexuality that we haven't seen before that's fun and edifying.
There was a film a couple of years ago that was a guy standing in what looked like a pretty average living room playing his accordion in his underpants and singing about his kinda sad love life. He wrote this funny, sexually explicit song, and that went right in. We have an animated short that's on the tour right now about BDSM, where it's a voice-over of a woman getting into the kink and BDSM scenes and how good and centering it's been for her, how cathartic. And it's very impressionistic and beautiful and moving, but it's not necessarily sexually explicit. And those go right in.
SD: Are you surprised by some of the things people submit?
DS: It's hard to surprise me. I've been at [my column] for 30 years, and Hump! 15 years. But every once in a while, there's something that gets me, often in a good way — though sometimes in a bad way.
SD: What are some common mistakes people make in submissions?
DS: The most common mistake is that it goes on too long. We've had 10-second films that were perfect. It doesn't need to go on and on.
The other thing we get tons of is what we call SFMs: solo female masturbation. It's usually just some guy who talked his girlfriend into letting him film her masturbating. Maybe one in seven makes it in every other year, but it's easily 20 percent of the films we get.
SD: The communal aspect of Hump! is interesting. In the 1970s, the "golden age of porn," people would go to porn theaters...
DS: Sitting in a movie theater in the dark next to strangers watching pornography.
SD: Right. Then VHS and, later, the internet came along, and people could skip the creepy theater and watch privately. So why restore porn to more of a communal experience?
DS: When you watch porn alone, you only click on what you wanna see. At Hump!, we're clicking, you're not. So you're gonna see things that, if you were sitting at home alone in front of your computer masturbating, you would not click on.
You've got straight guys watching gay dudes fucking. You've got cisgendered people watching porn made by trans people. You've got vanilla people watching hard-core kink. You've got gay guys watching cunnilingus. And at first, a lot of people are kind of thrown back in their seats. And then there's this moment when the audience flips. And suddenly, even if they're seeing something crazy that isn't for them, everyone is cheering for every film, and it becomes kind of a celebration.
I have watched audiences hit that point, and this is what happens: At first, people are sitting there and all they see are the differences, what's not theirs. But a moment comes where people see what's the same, what is theirs in every film. Because under that thin veneer of difference around sexual orientation and gender identity and sexual preference, everything else is the same — passion, vulnerability, humor, lust, the idea of foolishness that's often attached to sex. We're all implicated in that, and we all have that in common, however different we are.