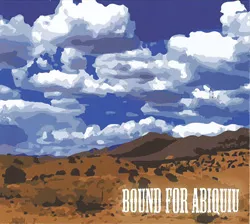 (Self-released, CD, digital download)
Vermont was hardly suffering a shortage of talented Americana artists. Still, our collective treasure trove of twang was recently made a little richer when Dan Johnson moved to Jericho from Albany, N.Y. By way of introduction to his new Green Mountain neighbors, Johnson and his band, the Expert Sidemen, earlier this year released their latest record, Bound for Abiquiu — which, incidentally, was mastered by Vermont expat Dan Archer. Sparse and dusty, much like its namesake New Mexico town, the album should prove a welcome addition to the collections of local Americana fans.
Johnson sings in a straightforward, unadorned fashion that recalls the earliest works of Uncle Tupelo-era Jay Farrar. Johnson's directness, combined with his tone-flattening, nasally grit, sometimes masks the depth and artistry of his songwriting. On "The Garden Below" — which could really be a Still Feel Gone outtake — Johnson sings with weary desperation. "Sometimes I feel like an angel, dancing on a needle. / Sometimes I feel like a devil, burning in the shadow," he sings. Then, "Do angels dream of going home? / Do they dance when they get stoned?" / Do they dangle at the end of a string? / Do they pray or do they just sing?"
Things get marginally lighter later in the album. "Come on in My Kitchen" is an inviting little romp. "Off on the Tide" is a sinewy hothouse number with a mild gumbo flavor beneath the surface. On the Hank Williams-esque "Another Good Thing Is Come and Gone," Roger Noyes' pedal steel glides effortlessly over a gently chugging groove as Johnson laments the infirmity of love.
Here and throughout the record, Noyes' contributions are impeccably tasteful. The same could be said of each of the Expert Sidemen, who are well named. Brian Elsenbeck's lilting banjo plinks and plucks with just the right tone and attack, and he's equally effective on accordion. Peter Murphy's acoustic bass provides a fertile foundation from start to finish. Both offer lively, well-blended vocal harmonies.
Sadly, Johnson's backing band didn't make the move to Vermont — but we doubt he'll have any trouble finding new experts closer to his newly adopted home. In the meantime, as a singer and songwriter, Johnson should find willing audiences in the Green Mountain. He plays both roles, as well as that of bandleader, exceedingly well on Bound for Abiquiu.
Bound for Abiquiu by Dan Johnson and the Expert Sidemen is available at danjohnsonandtheexpertsidemen.bandcamp.com. Johnson plays at On the Rise Bakery in Richmond this Friday, August 23.