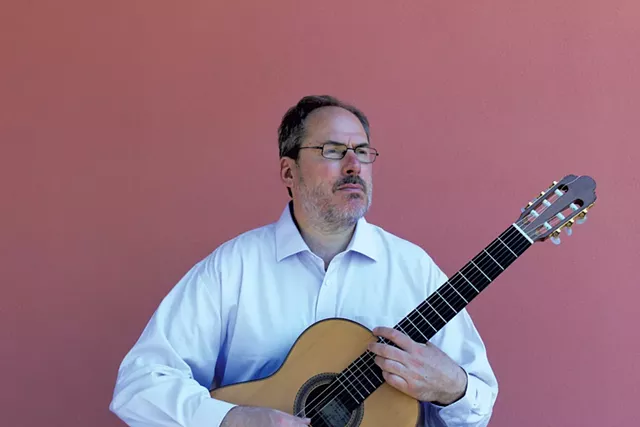 Courtesy of Damon Ferrante
William Anderson
Vermont composer Damon Ferrante often finds inspiration for his music in instances of visual movement: the interplay of rhythms between his windshield wipers and a blinking red traffic light, or the serially flashing letters of a pretzel-cart sign in New York City. So, when he came upon a room of gently moving, dramatically lit Alexander Calder mobiles at the National Gallery of Art in Washington, D.C., his first thought was How can this become music?
Courtesy of Damon Ferrante
Damon Ferrante
After thinking it over for more than a year, Ferrante, who is also a guitar player, wrote The Footbridge, a half-hour-long piece for two guitars. Audiences will have a chance to ponder the relationship between Calder's creations and the work when the New York City-based Anderson/Fader Guitar Duo performs it in five concerts around the state this week. The program's second half includes works by Bach, Haydn and Enrique Granados arranged for guitar.
Some of The Footbridge's seven movements — Ferrante likes to say six and a half, because the seventh is brief and fused with the sixth — are available for a listen on YouTube and on guitarist William Anderson's website. This is recommended, but it won't convey the structure of the piece. Ferrante built it, like a mobile, around the central axis of the fourth movement, with repeated themes in the surrounding pairs of movements: first and seventh, second and sixth, third and fifth.
With its rapidly changing time signatures, the piece evokes the shifting shadow patterns the composer observed on the gallery's curved walls. Pings and plucks, summoning gallery stillness, dissolve rapidly into briefly captured melodies, sometimes more than one at once.
As a whole, says Ferrante, the work has a "mobile-like movement," a circularity, rather than the traditional structure of theme, development and recapitulation used by, say, Bach. Ferrante, who studied composition at Columbia University and the Peabody Conservatory in Baltimore, explains, "Even though [beginning-middle-end] happen literally, because the piece begins and ends, the ideas of the music flow against that current."
Courtesy of Damon Ferrante
Oren Fader
That makes for a very difficult piece to play. "He has us playing two melodies at once," notes Anderson, who teaches guitar at Sarah Lawrence and Queens colleges and is a composer himself. "And he includes heavy-metal guitar techniques. He's a shredder; he plays a wicked electric guitar."
Anderson and his duo partner, Manhattan School of Music professor Oren Fader, have been working on refining their shredder — that is, fast-playing — techniques for classical guitar over the past four years' worth of performances of The Footbridge. "[The work] is difficult, but it's getting easier," Anderson says. "And it's really worth it. There's just a great depth to his harmonic language and melodic ideas. Damon has a real gift."
Ferrante, 44, moved to Vermont in 2014 from Milan, Italy, when his wife, an Italian neuroscientist, took a teaching job at Champlain College. He brought with him the music production and publishing company he founded in 2003 as a master's student, Steeplechase Arts and Productions.
The company has allowed him to pursue his love of collaboration with other artists and publish the results. These include Ferrante's two operas, a piano sonata and music for modern dance. ("He's a force," comments Anderson, who typically composes only for guitar.) In addition to producing events in venues such as Carnegie Hall and Symphony Space in New York City, Steeplechase publishes a series of music instruction books, including Guitar Adventures for Kids.
In his still-new Vermont life, Ferrante continues to look for musical inspiration in natural formations, such as the structure of a tree's branches. As he puts it, "Part of my job as a composer is to push myself to be as creative as possible."