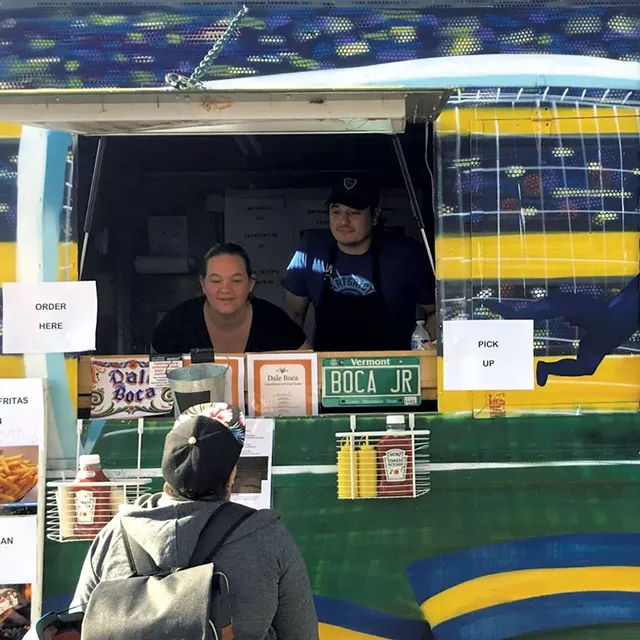 Courtesy Of Dale Boca
Lorena Neironi and Leandro Bustos
In Chittenden County, many locals head to Winooski for globe-trotting food diversity. Later this fall, the Onion City will add South American food to its international bill of fare when Leandro Bustos and Lorena Neironi open Dale Boca Argentinean Grill at 215 Main Street.
The little beige building became vacant earlier this year when Pho Dang Vietnamese Café moved a quarter mile northeast to 348 Main Street. Lately, the splashy blue-and-gold food truck parked out front has given a hint of what's to come.
Many locals will recognize the truck — and its married owners — from food events around town. Bustos and Neironi have been regulars on the northern Vermont food truck circuit since hitting the road in 2015.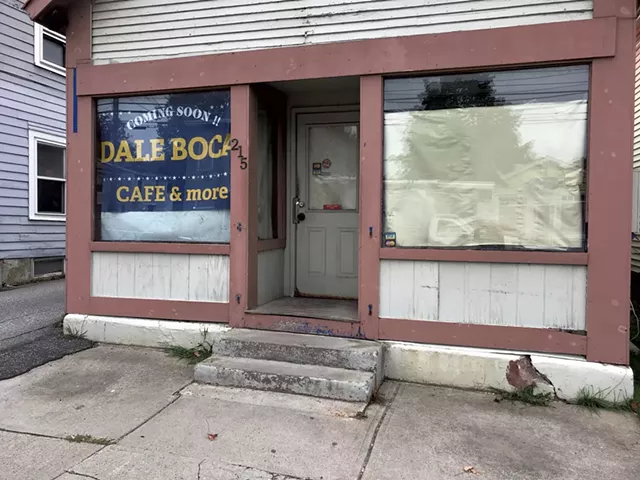 Sally Pollack
The storefront of the future Dale Boca Argentinean Grill
While the two plan to keep their wheels on the road, the brick-and-mortar restaurant's menu will build on their mobile offerings. It will include handmade empanadas stuffed with savory meats or spinach and cheese; and sandwiches such as the Milanesa, which cradles thin-sliced beef, breaded and fried, and a dribble of tangy, herb-laced chimichurri. Beef kidneys, salted and splashed with hearty red wine and cooked until tender, will appear over rice, while cheesy grits will come smothered with rich, dark beef stew.
Bustos said he plans to serve Argentinean asado — wood-grilled meats and veggies served with salads, potatoes and sauces — two or three nights a week. Barbecue was a natural choice, the owner added, since "pretty much everybody knows that, in Argentina, we are famous for beef."
To drink, Dale Boca will stock South American wines and beers, along with sodas and fresh juices. For dessert? Flan, of course, with dulce de leche.
If all goes according to plan, the restaurant will serve lunch and dinner daily once it opens in late October or early November.