Derek Brouwer
Watt Alexander
The photos are voyeuristic, capturing the scene frame by frame like a private investigator in the movies: Hartford police confront a transient man in White River Junction; the man and his female friend plead with the cop; she kisses her companion on the lips once he's cuffed; a black-gloved officer ushers the man away.
Most newspapers would have ignored such a story, as the local daily Valley News did last month. But the arrest appeared in the feed of the Upper Valley online news platform HereCast under the headline "Transient sex offender charged for living under a bridge in downtown White River Junction." The July 29 post explained that the perp faced a felony charge for failing to notify authorities of his current address.
In exchange for his journalism, the author, Eric Francis, collects more than half of the advertising revenue it generates on the site, formerly known as DailyUV. To date, his crime-focused reportage in the Upper Valley has generated more than 2.5 million cumulative page views.
Attracting "crime and mayhem" coverage, as HereCast founder Watt Alexander calls it, was never the goal of his online publishing project, but rather a natural consequence of its business model.
"As you would expect with any sort of news organization, if it bleeds, it leads," he said, referring to the adage that captures the truth about media coverage: Lurid news attracts attention.
Vermonters may start seeing more such stories. HereCast launched in 2015 as DailyUV to host user-generated content in the Upper Valley. In July, Alexander's team completed a redesign of the platform and expanded it to cover all towns in Vermont and New Hampshire.
"If you wanted to be a crime-and-mayhem person, you could do this full time ... in Burlington tomorrow," he said, as if advertising the job.
Alexander is on a mission to prove that newspapers, at least in their current form, are not the "be-all and end-all" of local news. A longtime music copyright attorney, he faults media organizations for failing to make the transition to the digital age, where content is increasingly consumed on platforms — Spotify for music, Netflix for television and social media for information. DailyUV was his "prototype" of a digital public square for local communities.
HereCast blends the freewheeling spirit of social media with the hyper-local focus of a small-town paper. Anyone can post pretty much anything and get paid based on the number of eyeballs they attract. More than 80,000 people visited DailyUV each month, according to the company, and 150-plus users posted on it regularly.
From the beginning, Alexander envisioned his platform as a place where professional news outlets would publish their work alongside citizen journalists, bloggers, public relations specialists, gadflies and anyone else with a local message to spread. But he has struggled to convince newspapers to migrate to the free site. Instead, it has attracted some solo reporters, like Francis, who publish under newspaper-like monikers such as Vermont News and Norwich Observer. Some of these entities have professional experience; others don't. Francis is a longtime freelance reporter and photojournalist whose bylines have appeared in local newspapers, as well as the New York Times, the Boston Globe and People magazine, according to his online biography. He has also authored several true-crime books.
In its redesigned incarnation, HereCast combines elements of more familiar social media platforms. Content is presented in a centralized feed, like Facebook or Twitter, but readers can view only one community's feed at a time, similar to Craigslist. The business earns revenue from local advertising, then shares it with the users who submitted the posts, sort of like YouTube's partner publisher program. Authors of posts with more page views get a larger share of the revenue.
The content can be eclectic and Vermonty. On a recent Monday morning, the feed for White River Junction, where HereCast is headquartered, featured a dresser for sale in Lebanon, N.H., a post about wellness by a "certified hypnotist" and a listing for a jazz concert by the Town of Hartford. Older posts are returned to the top of the feed whenever they receive a new reader comment. Francis' post about the transient sex offender was a week old but still featured prominently because a reader had recently weighed in to say the man should "rot for the rest of his natural life in jail."
With unedited content and anonymous commenters, it is easy to imagine how HereCast could become an informational cesspool, like Twitter or Facebook, amplifying gossip, half-truths and clickbait.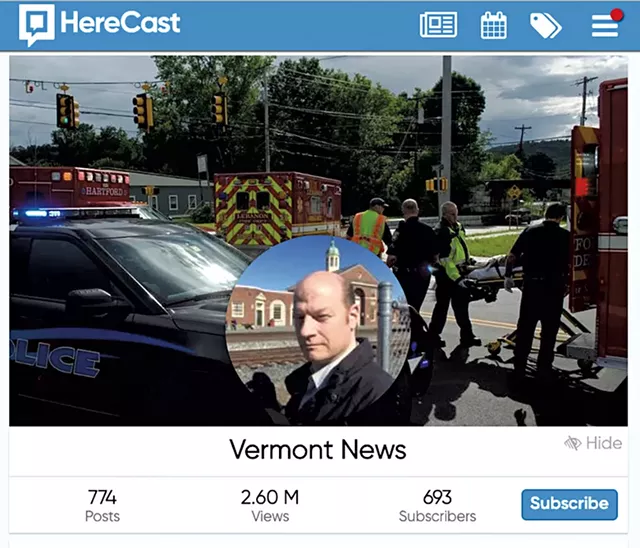 But to date, "self-policing" has worked, according to Alexander. He attributes that to a connection between local focus and accountability. The HereCast founder predicts more geography-based news feeds will attract place-specific readers and advertisers who can flag posts as inappropriate or chastise the publisher in the comments. Company employees have spent just a few hours each week responding to requests for moderation on DailyUV, Alexander said.
The company's first big test came in 2017, when one of Francis' stories became the subject of a viral critique. Francis had penned a controversial headline about an alleged sexual assault, which read, "Chester Honor Role [sic] Student Faces Potential Life Sentence." A Huffington Post columnist pilloried the site for publishing a headline that focused on the accused's good grades but failed to mention the alleged assault.
Alexander characterized the uproar as a messaging problem. The Huffington Post's columnist didn't acknowledge — or, perhaps, care — that Francis did not work for DailyUV, and that DailyUV does not fact-check or edit his content. Alexander decided to remove Francis' post in order to halt the public relations "vortex," then gave the author a chance to republish the story the following day, after Alexander had posted an apology for the headline and an explanation of the company's role. Francis chose to republish the story, with the headline unchanged but for the "Roll" spelling correction. It has been viewed 17,000 times — a high figure for the site — according to the counter published at the top of each post. Francis declined to speak with Seven Days about his work.
The HuffPo controversy wasn't the only time Alexander's company has tripped over the sometimes-blurry line between media platform and news organization. Alexander's team approached Norwich town officials late last year about a contract to report and publish stories about the town government. Valley News columnist Jim Kenyon lambasted the partnership as pay-to-publish propaganda, and the effort was abandoned after the first batch of posts.
Selectboard member Mary Layton said some Norwich residents were confused by the partnership with DailyUV.
"It just rubbed people the wrong way," she recalled. "It's like they didn't want to hear the positive stuff. Maybe it's not that interesting, but I think it's important."
Alexander said HereCast has stopped its "experiment" in creating paid content and is instead focused on helping the platform gain traction in new communities. Meanwhile, some Vermont news outlets, including Seven Days and VTDigger.org, have started accepting "native advertising" campaigns and branded content on their websites and labeled them as "paid posts."
HereCast has the advantage of deep pockets as it hones its role. Alexander described the entity as a closely held company funded predominately by proceeds from a family business transaction. It has employed as many as 20 staffers, though Alexander said he's cut the staff to nine since completing the website's technical build-out.
The company is not profitable, but Alexander believes it can be. He has not yet aggressively pursued advertisers, but DailyUV did get some local ones. HereCast has paid its content creators $71,000 in the last 12 months, which accounts for more than half of its advertising revenue, according to Alexander. The goal is for those overall revenues to grow, so an even 50-50 split with writers generates a decent paycheck.
HereCast's founder said that as the platform expands, feeds for other Vermont and New Hampshire communities might look different than those in the Upper Valley. Users will shape each one, he hopes, into something "authentically local."
DailyUV's biggest scoop came in 2017, when a Sharon librarian realized a developer was slowly buying up property in Vermont's Orange County to build a utopian community called NewVistas. The plan was based on one drawn up by Joseph Smith, who founded the Mormon church.
The writer, Nicole Antal, had joined DailyUV to blog about homesteading. As her stories about NewVistas brought in thousands of page views, she began making as much as $500 per post. News outlets across the region followed her reporting, and local opposition to the project grew. Ultimately, the planner behind NewVistas gave up on the project.
Antal, too, has largely abandoned her job as a citizen journalist.
The author told Seven Days she has mixed feelings about publishing on the site. When authorities found the body of a missing teenager near her house, Antal decided to cover the scene. "I still don't know how I feel about that," she said.
She said it's been "kind of depressing" to see crime stories rack up page views, and it's hard to decide what to cover without any editorial guidance. In hindsight, she wishes she'd just given the NewVistas scoop to a local newspaper instead of trying to cover it on her own.
"I feel like newspapers and journalism are threatened right now, and I feel like their job is not taken seriously," Antal said. "I feel like we should give them back their voice."