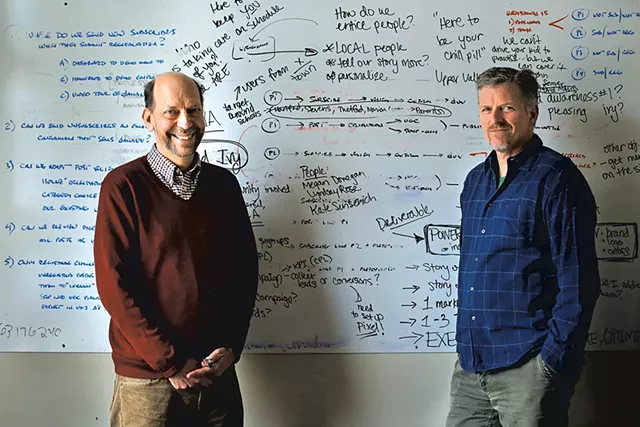 Sarah Priestap
Mark Travis and Watt Alexander of Subtext Media
Watt Alexander is first to admit he's an unlikely character to try to revolutionize Vermont's local news scene. For one, he's never held a job at a newspaper. The Illinois native is an attorney by trade.
But Alexander, 50, doesn't worry about his lack of journalistic experience. In fact, he prides himself on it. He says fresh perspective is exactly what's needed to rejuvenate a largely stagnant industry.
When Alexander built DailyUV.com, a website for local news in the Upper Valley, he designed it to be many of the things that newspapers are not. The White River Junction-based company operates a site produced by its readers, featuring user-generated content and self-published blogs.
Alexander eschews editorial control. There are no proofreaders or editors. Because it's more of a platform for community engagement than a news source, he expects, even embraces, imperfection. Eleven of the company's staff members today are web developers; only one is a full-time writer.
DailyUV is an evolving repository of blog posts and event listings, where a reader would be just as likely to find an article on a car crash or a movie review as artsy photos of ice-encrusted branches and snow-topped mountains. It features old ski boots for sale and local choral events. One recent post discussed the pitfalls of shopping for bras.
Alexander likes the hodgepodge.
"We're making something no one's ever done before," he said. Of long-term plans, he added, "We have no idea what it's going to look like."
The Norwich resident launched Subtext Media and its product, DailyUV, in March 2014. The company rented a basement room in the Main Street Museum, down the street from its current digs, and the six original employees squeezed in. They launched a simple WordPress blog and published content from local listservs.
DailyUV was based on an experimental model for tech start-ups, said Mark Travis, a longtime editor and reporter who has been with the company from the start: "Take the minimum viable product you can, the smallest step you can, and then put it in front of users."
Sometimes, that brought disastrous results. Early on, the site crashed frequently. The bloggers published inconsistently, so users didn't always find fresh content to read.
Three years later, however, the effort is more robust. Subtext Media has grown to include 20 staff members, with developers working from as far afield as Utah and Toronto. They update content daily, post on social media and email newsletters. Fifty-three bloggers self-publish on the site. They start as volunteers and work their way up to earning five cents a page view.
In January, the site tallied 292,704 page views by 54,116 users. That's nearly triple the traffic it had a year ago.
Becca White, a 22-year-old Hartford selectboard member, checks the site daily.
On Fridays, she plans her weekend using Mitzi Cunningham's regular "5 Upper Valley Weekend Events" post. "I'm like, thank God there's something like that," she said.
The site is more useful than Facebook, she added. "It's nice when I see articles written by people in town for people in town," she said. "I'm more likely to feel like I'm reading something that pertains to me."
Occasionally, White also contributes. She blogs for the site as part of her job at SunCommon, and the company pays DailyUV for her posts to appear. They are credited to "SunCommon: Becca White," and, at the end, they read: "This blog is written and sponsored by Suncommon.com."
The site has no formal conflict-of-interest policy but has turned down some potential bloggers, Travis said. Some "mission-driven" ones, such as a fitness trainer blogging about wellness, are allowed to blog but aren't paid. Generally, that's a no-no in the newspaper business. "Our approach to that, in keeping with everything else, is fundamentally experimental," Travis said.
During an interview in mid-March, Alexander sat in a bright meeting room with views of the Connecticut River. He's loquacious, and he gesticulated as he launched into his pitch with the enthusiasm of a salesman and the fervor of an evangelist.
Alexander spent more than a decade working as a copyright attorney in the music industry. He stopped taking new clients in 2006, after witnessing massive record companies crumble under the pressure of the internet. "I saw a lot of well-funded and smart and interested people completely fail," he said.
Believing the print media industry was approaching the same precipice, Alexander figured his experience could prove helpful.
In 2012, he treated Travis, then the publisher of the Valley News, to lunch at a White River Junction café. He asked about Travis' work and the challenges posed by the internet, and he proposed a possible collaboration with the Valley News.
Alexander envisioned a platform, he said, that would partner with local media outlets to reflect the life of the community and serve as "a digital analog to their physical lives." Digital outlets had "failed the small-scale mom-and-pop world," Alexander asserted.
"Within 10 minutes, Mark got the idea," Alexander said.
The two met off and on for the next 18 months. Then Travis left the Valley News to spend a year at its sister publication, the Concord Monitor, but said he was frustrated by "economic realities."
"I reached the point where I was better suited to imagine and create a new kind of future," he said.
Alexander spent much of 2013 attending newspaper conferences around the country, asking questions. He reached out to potential partners, including newspapers.
"I saw it as a complementary platform to what's done in print," he said. "I still do."
From the beginning, he encountered resistance.
"We listened, but ... the business model that Subtext has is not aligned with our journalistic standards," said Dan McClory, publisher of the Valley News and chief financial officer for Newspapers of New England, its owner. Unlike DailyUV, for example, traditional media outlets vet reporters and check facts, spelling and grammar.
In the end, Newspapers of New England walked away. "We feel like the Valley News is the dominant news source," McClory said. Partnering with DailyUV would mean "scrapping everything we've done," he added. "We didn't see how we could complement each other."
Alexander believed such responses spelled doom for print journalism. "I've been surprised how small they've made their world," he said. "A lot of that is the stress of the economic reality they're dealing with."
Travis, the former newspaperman, understood McClory's perspective. "If I were sitting at the Valley News, I would still see this as too high a risk," he said.
Alexander found investors more receptive. He raised enough capital — he wouldn't say how much — from family, friends, and professional contacts to incorporate and launch in March 2014.
Investors still keep the company afloat. Revenues from ads and digital marketing services cover the cost of the content, but not the company's operating costs or salaries.
Alexander wouldn't disclose DailyUV's annual budget or investor returns. But he said he's raised "millions of dollars. Our access to capital is substantial."
Most Vermonters had never heard of the company until March 2016, when blogger Nicole Antal caught wind of a Utah man's proposed development project during her day job as a librarian. Antal used DailyUV to break the news of the utopian NewVistas development, a story that state and national publications quickly picked up. At the time, the 15,011 views it got "blew out the doors as far as traffic expectations," Alexander said.
It's kept growing. When the Valley News published its top 10 most-read posts in 2016, its No. 1 story was "First Baptist Church in Lebanon Consumed by Fire," which had 21,160 reads. Travis was surprised to find that DailyUV's top story, "West Leb woman dragged beneath tractor trailer in WRJ," got more views — 22,766.
"We've got a pretty plausible model," Alexander said. "At what point can it make money? We really have no idea."
Several local print papers have come around to Alexander's way of thinking. Tim Calabro, editor and publisher of the Herald of Randolph, agreed to let DailyUV post archived feature stories on the site, in exchange for the exposure and the blogger pay rate.
He views his participation as support for an experimental approach to local news. "I don't think anyone really understands the way for news media to make money on the internet," he said. "They have a novel approach to all this stuff, and that's where our future is. This is the time to try it."
As part of that approach, DailyUV staff has adopted a work culture that is more Silicon Valley than Spotlight. Their company Bible is The Lean Startup by Eric Ries, a required read for every new employee. Workers have embraced the handbook on entrepreneurism, judging from how often they use "lean" as an adjective for anything working efficiently.
Inside Subtext Media's roomy offices are lots of whiteboards covered with scribbled ideas and sticky notes. Climbing plants and 1950s theater posters from Alexander's mother's attic decorate the open space.
Every day at 9 a.m., the employees gather for a "stand up" to share what they want to accomplish. When challenges arise, they appoint a "lean UX team" — aka user-experience team — made up of members with diverse skillsets to brainstorm solutions.
Teams are named after beers. Travis' team, Sierra Nevada, has been tasked with improving the markets page. It's the equivalent of a newspaper's classified section, where users can buy or sell items or post help wanted ads.
Jennifer Sensenich, the company's social media manager, is also on that team. The 23-year-old was impressed with DailyUV's experimental approach when she took the position last August. For example: While testing her Facebook marketing assumptions, Sensenich discovered that Upper Valley readers were checking their social media feeds as early as 5 a.m.
She's adjusted her posting schedule accordingly. "The demographics in the Upper Valley are so different than anywhere else," she said. "I guess this is an early town."
DailyUV is hoping to double its page views in the next few months, Travis said.
But for Sensenich, success is about more than metrics on a spreadsheet. She wants people to discuss DailyUV with their friends, to see it as integral to small town life in the Upper Valley.
"It's more like a feeling in the community," she said. "Our success is more proving that people value us."
Disclosure: Katie Jickling is a former employee of the Herald of Randolph, and is also a former intern and freelancer for the Valley News.