When I think about sharing a recipe in honor of Father's Day, I can't help but think of my own father. He took charge whenever a special holiday came around, poring through his cookbooks and favorite recipes looking for something fun to try. He loved cooking Indian food, and one of his specialties was tandoori chicken, introduced to him by a friend, Dr. Shaw, who owned the now-closed The Spices restaurant in Ferrisburgh.
Traditionally, tandoori chicken is prepared by marinating chicken pieces in yogurt, onion, citrus and spices, then cooking them on a skewer in a tandoor, which is a traditional coal or wood-fired clay oven that gets super hot — we're talking 900 degrees Fahrenheit! My father didn't have a tandoor, so his recipe calls for bone-in chicken drumsticks, thighs or leg quarters, cooked on a grill. That's how he preferred to make this dish, weather permitting. He'd use the oven if he had to, but grilling is more like using a tandoor. Though I have asked, my husband has yet to build me a tandoor, so we make do with a grill.
This is not a spicy chicken recipe, but it is bursting with flavor. Sometimes, in a restaurant, it is a shocking red color. This is often the result of food coloring or chili powder. We just leave it the natural orange-brown color, which is still lovely.
Tandoori chicken is one of my family's favorite dishes — especially when accompanied by fluffy basmati rice, naan bread, and Indian chutney and pickles. Ethnic markets like Gagan Indian Grocery on Williston Road offer a good selection of chutney and pickles, which come in a variety of flavors, from sweet and flavorful to spicy. Some are extremely spicy, like the lemon pickle Dad once got that was so acidic it ate through the jar's metal lid.
Spice or no, this recipe will add international flair to your Father's Day celebration, and might be just the thing if you're looking for something fun to try on the grill.
Ingredients:
3 pounds bone-in chicken thighs, drumsticks or leg quarters
½-inch fresh gingerroot
2 cloves (around 1 tablespoon) chopped garlic
1 small onion
1 cup yogurt (don't use Greek yogurt; a European style works well in this marinade)
1 teaspoon cumin seeds
2 teaspoons chili powder
1 teaspoon salt
½ teaspoon black pepper
1 teaspoon powdered cinnamon
½ teaspoon ground cardamom or 3 pods (You can find green cardamom pods for a great price at an Indian or Himalayan grocery store.)
1 lemon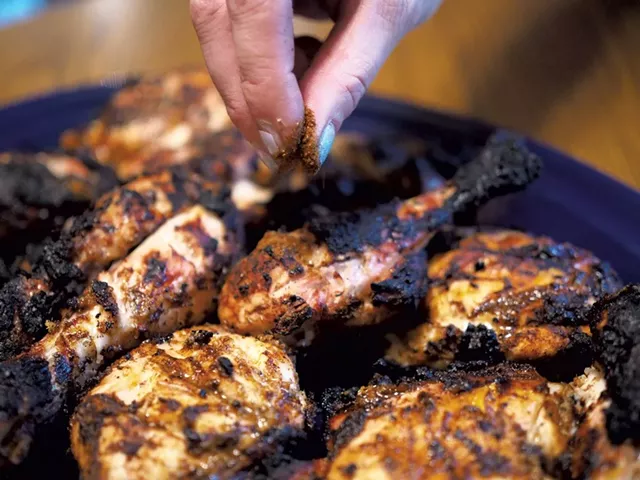 Directions:
Marinate the chicken at least 4-5 hours before you want to serve this dish. You can also let it marinate overnight. Begin by removing the skin from the chicken, then cut deep slashes into the meat against the grain. This allows the marinade to permeate the chicken well; the yogurt in the marinade keeps the meat moist without its skin.
Combine the ginger, garlic, onion and yogurt in a food processor or blender until fairly smooth. Rub evenly over the chicken and place in a covered glass dish in the fridge. Be sure to give it plenty of time to marinate.
When the chicken is finished marinating, prepare the cumin seeds, chili powder, salt, pepper, cinnamon and cardamom spice mixture. Grind the spices together with a mortar and pestle. Alternatively, you can use a coffee grinder; it makes these types of spice mixtures a cinch.
Remove the chicken from the marinade and wipe off the majority of the yogurt mixture. Rub the chicken with the juice of one lemon and most of the spice mixture, reserving about one tablespoon. Allow the chicken to sit for at least an hour at room temperature. You don't want to grill it when it's too cold, as it could burn on the outside before the inside is completely cooked.
Heat your grill to about 500 degrees. Place the chicken pieces on the grill grates, a few inches apart. Grill, covered, until the chicken is cooked through, turning a few times so that it doesn't burn. The internal temperature should be 165 degrees. This could take up to 45 minutes, but it depends on how hot your grill is and what cuts of chicken you use — so watch the meat carefully.
Before serving, sprinkle each piece with the reserved spice mixture. Enjoy!