Courtesy Of Lamoille Valley Bike Tours
For nearly a century, a railroad line ran across Vermont's Northeast Kingdom, zigzagging the Lamoille River and passing through woods, farmlands and villages. Constructed in 1877 by the St. Johnsbury & Lake Champlain Railroad Company, it carried passenger trains and freight cars hauling timber, limestone, talc and asbestos from the state's northern forests and quarries.
Today, visitors won't hear the persistent chugging or faraway whistle of an approaching train, but they can travel the same picturesque route.
The railroad's passenger service ceased in 1956, and the state acquired the right of way in 1973. In 1997, the Vermont Association of Snow Travelers began using it as a snowmobile trail, and in 2006 the state pulled up the tracks and began converting it into a four-season, multiuse trail.
A recently completed 17-mile segment of bike path between Morrisville and Cambridge has made the Lamoille Valley Rail Trail a new tourist destination. When the trail is finally completed, it will be a contiguous, 93-mile recreational corridor spanning the width of Vermont — the longest rail trail in New England. Visitors to Burlington need drive only 45 minutes to "climb aboard" the rail trail.
Taking the Scenic Route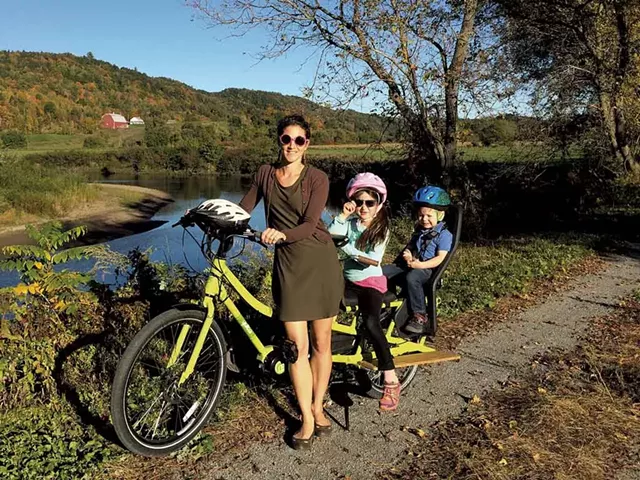 Courtesy Of Lamoille Valley Bike Tours
Shortly before noon, I mounted my bike in Oxbow Park in Morrisville, a mere 15-minute drive from downtown Stowe, and headed toward the Lamoille Valley Rail Trail. Nearly all my previous visits to this town had been rest stops en route to somewhere else. Now, for me and countless others, it's the starting point for two-wheeled adventures.
Before heading out, I had stopped at Chuck's Bikes, one of two bicycle shops in Morrisville — the other is Power Play Sports — to get intel on the trip. Owner Hank Glowiak had directed me to the trailhead on Portland Street.
One advantage of biking the rail trail is its minimal number of road crossings. Pedaling west, the trail crosses an old train trestle, then a modern bike-and-pedestrian bridge spanning Route 100. Abutting the trail in Morrisville is Lost Nation Brewing, which features an outdoor beer garden and indoor restaurant and tasting room. Much of its business comes from trail users.
West of Morrisville, I spotted a signpost directing travelers to gas (for snowmobiles), food, lodging and bike repairs. VAST, which manages the trail, has installed historic and directional markers along its route, including one in Jeffersonville where three Vermont railroad workers were killed in 1949.
Such reminders of the rail trail's industrial past enhance rather than mar the experience. Entering Hyde Park, the trail follows a gentle bend in the Lamoille River, with stunning views of the mountains. Looking down the steep embankment, one can still make out the rusting remains of a decades-old train derailment.
From Hyde Park, the trail wends through woods and gradually descends to the valley floor, crossing several long, flat stretches of farmland where it's common to encounter steady winds. Emerging from the flatlands, the trail climbs back into the trees and crosses a scenic trestle bridge over the Lamoille River.
About half a mile beyond, riders can look for a short path just north of the trail leading to Dog's Head Falls in Johnson. I'd been forewarned about the alluring but treacherous currents, which have claimed the lives of several swimmers over the years. Nevertheless, the river's edge offers plenty of shady spots suitable for picnicking.
In Johnson, Jim and Yva Rose operate Lamoille Valley Bike Tours, which rents and sells electric bicycles at trailheads. For tourists, e-bikes make sense, Jim noted: Serious cyclists can extend their range, while less-able-bodied riders can tackle the otherwise daunting 17 miles between Morrisville and Cambridge. The electric two-wheelers, state-approved on this trail, can reach top speeds of 20 miles per hour or be ridden like conventional bikes.
The tour company offers guided and self-guided trips, including the Bike & Brew Tour, which stops at Rock Art Brewery, Ten Bends Beer and Lost Nation Brewing; the Teahouse Tour, which visits the European-style Fledermaus Teahouse overlooking Johnson; and the Pedal Paddle Tour, which partners with Vermont Canoe & Kayak to take cyclists on a paddling detour on the Lamoille River.
Continuing west toward Jeffersonville, I savored the full-sensory experience of riding the rail trail — not just its sights and sounds but also its smells: the earthy, metallic odor of gravel mining; the fecund pungency of freshly fertilized fields. The trail is less a trip into Vermont's industrial past than a tour of its still-working landscape.
In Jeffersonville, I visited Bootlegger Bikes, which sells and services bikes and hybrids less than a mile from the trailhead. Named for the area's colonial-era history of smuggling — as is the award-winning Smugglers' Notch Distillery just down the street — the biz also staffs a trailside bike rental and repair station daily through October.
Next, I refueled at the Farm Store, a local green grocer offering free Wi-Fi and refreshments such as Queen City Kombucha, salads from Vermont Fresh Pasta and breads from Slowfire Bakery. The store has become a de facto meeting spot for riders going to the Jeffersonville Farmers and Artisan Market, held Wednesday evenings through the fall at the end of Old Main Street.
The rail trail will continue to grow in the coming years with completion of a planned connector to Sheldon Junction, where two now-defunct railroad lines once converged. There, cyclists will be able to pick up the 26.4-mile Missisquoi Valley Rail Trail running between St. Albans and Richford. That connection will open huge cross-border cycling opportunities, including routes to and from Montréal.
"There's a ton of rail trail in Québec," said Matt Niklaus, owner of Bootlegger Bikes. "And it'd be great to see people able to cross the border on rail trails someday."
---
Courtesy Of Lamoille Valley Bike Tours
Pendant près d'un siècle, le Northeast Kingdom vermontois était traversé par un chemin de fer qui zigzaguait à travers forêts, villages et terres agricoles, le long de la rivière Lamoille. Construit en 1877 par la St. Johnsbury & Lake Champlain Railroad Company, il était emprunté par des trains de voyageurs et de marchandises, qui transportaient le bois d'œuvre, le calcaire, le talc et l'amiante provenant des forêts et des carrières du nord de l'État.
Aujourd'hui, le ronronnement constant des locomotives et le sifflement lointain d'un train en approche se sont tus, mais les visiteurs peuvent emprunter le même chemin pittoresque.
Les trains de voyageurs ont été mis hors service en 1956, puis l'État a acquis l'emprise ferroviaire en 1973. En 1997, la Vermont Association of Snow Travelers a commencé à utiliser le chemin de fer comme sentier de motoneige, puis en 2006, l'État a entrepris de retirer les rails et de transformer le chemin en un sentier multifonctionnel quatre saisons.
Un tronçon de 27 kilomètres entre Morrisville et Cambridge a récemment été converti en piste cyclable, faisant du Lamoille Valley Rail Trail une nouvelle destination touristique. Une fois terminé, le sentier formera un corridor récréatif continu de 150 kilomètres traversant le Vermont d'est en ouest, soit le plus long sentier ferroviaire de Nouvelle-Angleterre, situé à seulement 45 minutes en voiture de Burlington. Montez à bord!
Au fil de la route panoramique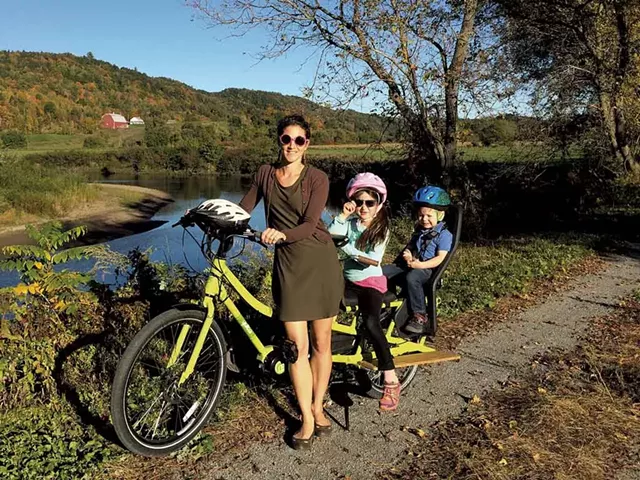 Courtesy Of Lamoille Valley Bike Tours
Peu avant midi, j'ai enfourché mon vélo à Oxbow Park dans la municipalité de Morrisville, située à 15 minutes de route du centre-ville de Stowe, en direction du Lamoille Valley Rail Trail. Jusqu'ici, presque toutes mes visites dans cette ville avaient été une simple halte en route vers une autre ville. Désormais, pour moi comme pour bien d'autres, c'est le point de départ de belles aventures à vélo.
Avant de partir, je me suis arrêté chez Chuck's Bikes – l'une des deux boutiques de vélo à Morrisville avec Power Play Sports – pour me renseigner sur l'itinéraire. Le propriétaire, Hank Glowiak, m'a indiqué le point de départ du sentier situé sur Portland Street.
L'un des avantages de parcourir cet ancien chemin de fer à vélo est que l'on croise très peu de routes. Vers l'ouest, le sentier passe par un ancien pont ferroviaire, puis par un pont plus moderne pour cyclistes et piétons qui enjambe la route 100. Toujours à Morrisville, la microbrasserie Lost Nation Brewing, adjacente au sentier, propose une terrasse inspirée des biergarten allemands, un restaurant et une salle de dégustation. La clientèle est formée en grande partie d'utilisateurs du sentier.
À l'ouest de Morrisville, j'ai aperçu un panneau indiquant aux visiteurs où trouver de l'essence (pour les motoneigistes), manger, se loger et faire réparer son vélo. La Vermont Association of Snow Travelers, responsable du sentier, a installé des repères historiques et directionnels le long du parcours, notamment à Jeffersonville où trois cheminots vermontois ont perdu la vie en 1949.
Loin d'assombrir la journée, ces bribes du passé industriel du chemin de fer enrichissent l'expérience. À la hauteur de Hyde Park, le sentier suit un méandre de la rivière Lamoille et offre une vue imprenable sur les montagnes. En contrebas du remblai escarpé, on devine encore les restes rouillés d'un train ayant déraillé à cet endroit il y a plusieurs décennies.
Après Hyde Park, le sentier serpente à travers les bois et descend progressivement jusqu'au fond de la vallée, traversant plusieurs longues étendues de terres agricoles souvent balayées par les vents. Au bout de ces plaines, le sentier remonte vers la forêt et traverse un magnifique pont sur chevalets qui enjambe la rivière Lamoille.
Environ 800 mètres plus loin, du côté nord du chemin de fer, on trouve un court sentier menant aux chutes Dog's Head Falls, à Johnson. La prudence y est de mise, car ces eaux, aussi attrayantes que traîtresses, ont coûté la vie à plusieurs baigneurs au fil des ans. Néanmoins, le bord de la rivière offre de nombreux endroits ombragés pour pique-niquer.
À Johnson, Jim et Yva Rose, propriétaires de Lamoille Valley Bike Tours, offrent la location et l'achat de vélos électriques aux points d'entrée du sentier. Jim m'a d'ailleurs expliqué que les vélos électriques sont un choix idéal pour les touristes : les cyclistes d'expérience peuvent parcourir plus de kilomètres, tandis que les personnes moins en forme peuvent couvrir plus facilement les 27 kilomètres entre Morrisville et Cambridge. Autorisés par l'État sur le sentier, ces montures électriques peuvent atteindre une vitesse de 32 km/h, ou être utilisées comme un vélo ordinaire.
L'entreprise offre également des tours guidés et autonomes, dont le Bike & Brew Tour, qui comprend des arrêts aux microbrasseries Rock Art Brewery, Ten Bends Beer et Lost Nation Brewing, le Teahouse Tour, qui vous fait découvrir la maison de thé de style européen Fledermaus avec vue sur Johnson, et le Pedal Paddle Tour, qui allie vélo et canot sur la rivière Lamoille, en collaboration avec Vermont Canoe & Kayak.
En continuant vers l'ouest en direction de Jeffersonville, tous mes sens se sont retrouvés en éveil devant les paysages, les sons, mais aussi les odeurs du parcours, comme l'odeur terreuse et métallique des carrières de gravier ou l'âcreté des champs fraîchement fertilisés. Le sentier se veut davantage une fenêtre sur les paysages agricoles vermontois qu'un voyage dans le passé industriel de l'État.
À Jeffersonville, je me suis arrêté chez Bootlegger Bikes, qui vend et répare des vélos, hybrides et autres, à un peu plus d'un kilomètre de l'entrée du sentier. Tout comme Smugglers' Notch Distillery, distillerie primée située à deux pas, l'entreprise doit son nom aux contrebandiers de l'époque de la prohibition. Elle exploite aussi un atelier de location et de réparation de vélos aux abords du sentier qui est ouvert chaque jour jusqu'en octobre.
Ensuite, j'ai refait le plein d'énergie au Farm Store, épicerie écologique locale qui offre le Wi-Fi gratuit, des rafraîchissements comme le kombucha Queen City, des salades de Vermont Fresh Pasta et des pains de la boulangerie Slowfire. L'endroit est devenu un lieu de rencontre incontournable en chemin vers le Jeffersonville Farmers and Artisan Market, qui se tient les mercredis soirs jusqu'en automne, au bout de Old Main Street.
De nouveaux tronçons du sentier ouvriront dans les prochaines années, notamment avec l'ajout d'une jonction à Sheldon Junction, où deux lignes de chemin de fer convergeaient jadis. Cela permettra aux cyclistes d'emprunter le Missisquoi Valley Rail Trail, autre sentier ferroviaire de 42,5 kilomètres qui relie St. Albans et Richford. Cette liaison favorisera grandement le cyclisme transfrontalier, y compris à destination et en provenance de Montréal.
« Il y a une tonne de sentiers ferroviaires au Québec, m'a dit Matt Niklaus, propriétaire de Bootlegger Bikes. Ce serait formidable que les cyclistes puissent traverser la frontière par ces sentiers un jour. »
Pour obtenir des cartes, de l'information et toute l'actualité, visitez vtvast.org, lvrt.org et friendslvrt.org.