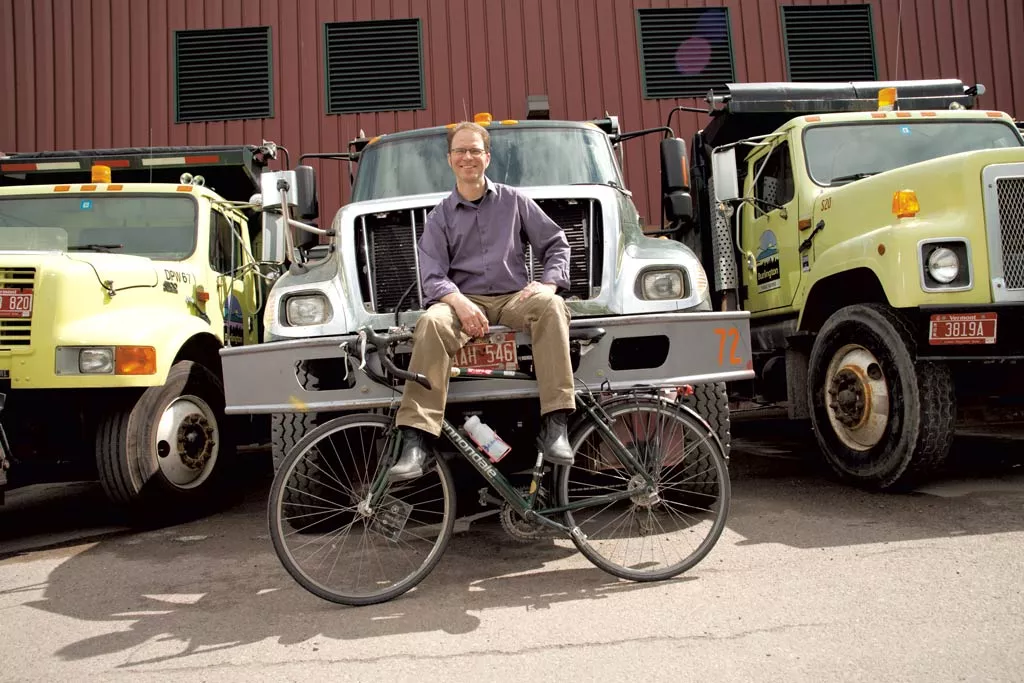 Matthew Thorsen
Chapin Spencer
Chapin Spencer, Burlington's director of the Department of Public Works, holds a coil of plastic tubing and gushes about upgrades to the city's water lines — some of which, he says, date back to the Civil War. Earlier, standing in the DPW garage on Pine Street, he proudly recounted how DPW mechanics discovered a faulty air filter on a fire truck.
During moments like these one could forget that less than a year ago Spencer was a prominent cycling and pedestrian advocate heading up Local Motion, an organization he founded.
Spencer's predecessor, Steve Goodkind, said he was surprised that when he retired, he was replaced with a cycling advocate, not an engineer.
Burlington city councilor Kurt Wright, who's also a state representative, said he "had concerns" about Mayor Miro Weinberger's nontraditional choice. "Would he tilt too far toward the biking community?" Wright recalled wondering.
The easygoing, 44-year-old Spencer needed to show the city that he could address ailing parking garages and deal with stormwater drainage. That he could get just as jazzed up about installing new parking meters as he'd been about building new bike paths.
In fact, the city is gearing up to make major changes to downtown parking, and Spencer is an important cog in the wheel. Sitting last Friday in his modest office, spare but for several ceremonial hard hats and a plastic light saber on the windowsill, he spoke passionately about plans to automate parking-garage kiosks and install parking meters that can be paid with cellphones and credit cards. "We've been managing parking in much the same way for the last couple of decades," he said. Now, there's an opportunity to leap forward, he said.
Of his own leap from a small nonprofit to what Weinberger called the "most complicated" public department, Spencer said, "It's been a smooth transition."
But Wright's question still stands. Asked if he felt he'd successfully shed any bias he might have arrived with, Spencer responded, "We've sat here and talked for an hour, and I don't know how many times we've talked about walking and biking." (Zero times.)
Not everyone is convinced.
The DPW is studying how to improve North Avenue — a process that some worry will pit drivers against bikers. At a recent public hearing, Local Motion advocates showed up in full force, promoting a plan to add a bike lane to the street "sooner rather than later." The proposal stoked concern among New North End residents who are worried they'll lose car lanes to make room for cyclists.
Local Motion advocacy and education director Jason Van Driesche insists that isn't the case, and he says his organization is committed to finding fixes that work for everyone. Still, the appearance that evening — Spencer in the same room with his old cycling cronies — wasn't great, according to Wright. "There has been some grumbling," he said.
Spencer acknowledges that he still has to fight the perception of bias. "I feel like it's a work in a progress. Things like the North Avenue Corridor Study indicate that I haven't gotten there yet."
Any major makeover for North Ave won't happen for a while, he said, and he's intent on reaching a consensus before it does.
With his distinctive sideburns and soul patch, purple shirt and small hoop earring, Spencer doesn't blend in with his staff, but his rapport with them seems solid. One of his foremen, a man named Richard "Dicky" Hammond who sports a crew cut and a deep tan, gives him points for not meddling with his work. Pat Buteau, assistant director of maintenance and parking services, said he's "appreciative of the fact that he isn't walking in here figuring he knows all the answers."
It's probably a wise move, given that Spencer was still in grade school when Hammond and Buteau started working at the DPW. According to Spencer's calculations, his four assistant directors have a cumulative 100 years of experience.
People who've worked alongside Spencer say he's skilled at accommodating competing interests. "Being inclusive and deliberate and thoughtful in general about how he does his work is in Chapin's bones, and honestly I can't think of anyone better to be in that job right now," Van Driesche said.
Michele Boomhower of the Chittenden County Regional Planning Commission, which is also working on both the North Avenue project and the city's parking initiative, describes him as a "very refined negotiator."
When he took the job, there were questions about whether the director of a 12-person nonprofit with a $1 million budget had the chops to manage 110 employees and a $30 million budget. Not to mention 96 miles of streets, 127 miles of sidewalks, three water-treatment plants and three parking garages.
Spencer said he's focused on finding new funding and figuring out better ways to deliver services. He created a DPW mission statement: "We steward Burlington's infrastructure and environment by delivering efficient, effective and equitable public services." He set three department-wide goals: operational excellence, exemplary customer service and a culture of innovation.
That might sound like nonprofit mumbo jumbo to the crews patching up potholes, but Spencer said the department has embraced his vision for change. "People are hungry for it," he said, adding, "This is not Chapin's idea of how public works should run. This is me listening to people."
Spencer doesn't spend all his time in the office, dreaming grand visions and playing with a plastic light saber. At 2 a.m. on a recent workday, he delivered muffins to Hammond's crew, which was taking advantage of the quiet hours to mend a section of Main Street.
"Chapin is personally trying to get out there and make sure there are partnerships and relationships," said Jim Barr, University of Vermont's director for transportation and parking services.
Beyond mission statements and muffins, Spencer can point to more concrete accomplishments during his nine months on the job — sidewalk repairs, new crosswalks and flashing beacons on Pine Street, a simplified budgeting process, and a new text-alert system that's reduced the number of towed cars during street cleanings.
Also worth noting: Despite a brutal winter, the department is on pace to spend within its budget.
Richard Hillyard, a citizen watchdog who's known Spencer since he represented Ward 1 as a (Progressive) city councilor, said progress at the DPW can be glacial, but he described its new director as "approachable and very willing to engage."
Even Wright says Spencer deserves "high marks" in many areas, such as expediting several badly needed repaving projects in the New North End.
Not that he's pleasing everyone. Ironically, one of his critics is a bicycle advocate. "We've been going around in circles for years," said City Councilor Max Tracy (P-Ward 2)*, who wore a bike helmet to drive his message home at Spencer's first appearance before the council. One of the projects on Spencer's plate is the city's "Go for Gold" initiative. Its goal is to earn Burlington gold-level designation from the national Walk Friendly Communities program as a bike- and pedestrian-friendly city by 2016.
"We've said we're going to go for the gold, and now we need to get going," Tracy said. "I think we need to be much more aggressive than we've been about repairing sidewalks and biking networks."
Spencer knows things aren't proceeding as quickly as some would like, and said he's had some cycling advocates ask why he's so focused on parking.
"Can we do more?" he asks rhetorically. "Yes, but are we moving with deliberate speed with the resources we have." And, he points out, "It's easier being an advocate." At the DPW, "We've got to keep the water running."
The original print version of this article was headlined "Still on a Roll: A Cyclist at Heart, Spencer Tackles Parking and Potholes"
*Correction 06/04/14: An earlier version of this story stated that Burlington City Councilor Max Tracy is from Ward 1. He's actually from Ward 2.