The Warren County Bikeway, heading north to Lake George
Here was my challenge: to scout out a safe and enjoyable family cycling trip in the Adirondacks that my daughter, 9, and son, 7, could handle. That wasn't as simple as it sounds. The Adirondack Park and its environs offer hundreds of miles of designated, on-road cycling routes and off-road mountain bike trails. But while both kids are now competent on two-wheelers — no training wheels or tagalongs required — neither is skilled or confident enough to ride on the shoulder of a state highway or bomb down a mountainous single track.
I discovered a fortuitous solution: the Warren County Bikeway, a 9.4-mile paved, mostly off-road bike path running between Glens Falls and Lake George, N.Y. As a big fan of rail trails — former railroad lines that have been converted into multiuse recreational corridors — I found that the Warren County Bikeway had much in common with Vermont's rail trails, including the Burlington bike path and the Lamoille Valley Rail Trail. It's scenic, easily accessible, not too challenging for young riders and linked to other historic bike paths. The bikeway offers plenty of fun attractions and side excursions along the way, while also providing glimpses into the region's rich industrial past.
I began my ride at 1:30 p.m. south of the bikeway itself, in Hudson Falls, about 13 miles from Lake George. (My kids aren't ready to pedal that distance, but I wanted to explore the entire trail before choosing our route.) There, I picked up the Feeder Canal Heritage Trail, an unpaved, packed-gravel bike path that runs along what was once the Feeder Canal towpath. A downloadable map indicated that this trail connects to the bikeway in Glens Falls to the north and the Old Champlain Canal towpath in Fort Edward to the south.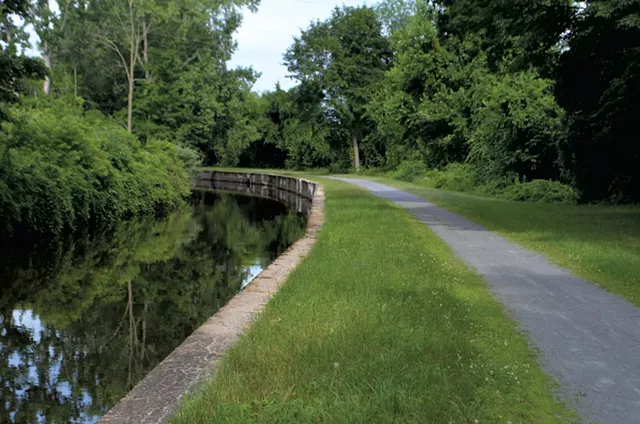 Photos Ken Picard
The Feeder Canal Heritage Trail in Glens Falls
A shallow, concrete-walled waterway, the Feeder Canal was first dug in 1822 and operated for about a century to supply water from the Hudson River to the highest points on the Champlain Canal. According to Jeanne Williams, executive director of the nonprofit Feeder Canal Alliance, which maintains the trail, the Feeder Canal once had 14 locks, some of which are still in place though no longer operational.
The Feeder Canal Heritage Trail passes through a mix of woods, residential neighborhoods, and industrial sites both historic and contemporary. The first historic structure I encountered was the Griffin Lumber coal silos, which straddle the canal at Maple Street in Hudson Falls. Built in 1906, the five concrete silos once held different grades of coal, according to a historic marker at the site.
Traveling north, the trail passes Lehigh Northeast Cement, a massive, modern industrial complex. Beyond it, a historical plaque notes that this was once the site of Sherman Lime, which began operations in 1832. Black marble mined in this region is still considered among the purest carbonates of lime in the world, which is used for refining sugar, bleaching flour and other agricultural purposes. At one time, more than 80 such lime kilns dotted the Feeder Canal; some of those ruins are still visible.
After a few confusing zigzags on residential streets in Glens Falls — the city's directional signage was paltry at best — I picked up the Warren County Bikeway itself, a wide asphalt trail begun in the 1970s and finally completed in 2000.
Unsure of the distance or difficulty of the route to Lake George, I struck up a conversation with one of the few other cyclists on the bikeway that afternoon: Chuck Welch, an 81-year-old retired computer professional who now divides his time between Albany and Lake George. Pedaling a bike with an electric-assist motor, Welch told me that he regularly makes the bike trip between Glens Falls and Lake George, which convinced me that this was doable in an afternoon.
Because the bikeway was virtually empty on this particular weekday — according to Welch, it gets busy only on major holiday weekends — we rode together, two abreast, for a few miles. That is, until a twentysomething cyclist passed us in the opposite direction and barked, "Single file would be nice!" Yep, I was in New York.
We pedaled past a couple of ice cream stands along the bikeway, including one where I stopped on my return trip: Cooper's Cave Ale, a microbrewery, brewpub and ice cream stand named for nearby Cooper's Cave on the Hudson River, a site made famous in James Fenimore Cooper's 19th-century novel, The Last of the Mohicans.
Continuing north, Welch and I crossed a 242-foot steel-truss pedestrian and bicycle bridge that spans the busy, four-lane Quaker Road in Glens Falls. As Welch noted, the bridge was named in honor of Queensbury native Gerald Solomon, a longtime U.S. representative from the area who retired in 1999.
After about two miles together, Welch and I parted ways. The bikeway then left the commercial and industrial zones and entered a pine forest with plenty of shade and songbirds. But just as I marveled at the minimal number of road crossings, the trail abruptly dumped onto Country Club Road in Queensbury, which skirts a golf course. It's unfortunate that the country club didn't allow the bikeway to cut a route through it, as it would have all but eliminated the 1.2-mile on-road portion of the trip. And though this wasn't a high-speed highway, I wouldn't feel comfortable riding this stretch with the kids.
Cyclists on the Warren County Bikeway near Glen Lake
However, the on-road route soon turned off the highway and ascended a steep dead-end street that at its terminus reconnected with the paved, off-road path. Here, the bikeway passes Glen Lake, a popular spot for anglers, and enters some of its prettiest stretches. These include a freshwater marsh where cyclists can spot hooded mergansers, dragonflies, muskrats and green frogs floating around the duckweeds and water lilies. Farther north, I realized why Welch had electric power assist on his bike: Some of the inclines here were steeper than any found on the Burlington bike path or the Lamoille Valley Rail Trail.
At 2:45 p.m. I crossed the Sgt. Kristie A. Roberts Memorial Bridge, which spans Route 149 near its intersection with Route 9 near the Queensbury factory outlets. I've driven beneath this pedestrian bridge dozens of times en route to the Northway, never realizing it was a bike path.
On the opposite side of the bridge I also discovered why the Warren County Bikeway is peppered with suicide prevention signs. The pedestrian bridge was dedicated to Roberts, a medic in the New York State Army National Guard and EMS paramedic in the Queensbury and Clifton Park areas, who took her own life in 2012 at age 27. On the north side of the bridge, travelers have left various items, such as lapel pins honoring U.S. Army veterans and New York City police and firefighters who died in 9/11, on a wooden memorial plaque.
Continuing north, the trail follows a centuries-old transportation corridor that was variously used as a footpath during the French and Indian War, a plank toll road for stagecoaches, and an electric trolley line. The last, the Hudson Valley Railway, operated as an interurban passenger train line from 1901 to 1928.
From there, the bikeway follows what was once a branch of the Delaware & Hudson Railway, built in 1882 to carry passengers to and from Albany and New York City. This railroad line was heavily traveled in the first few decades of the 20th century until the rise of the automobile after World War II, when rail traffic declined. The last passenger train on this line ceased operations in 1957, according to a historical marker.
Although this stretch of the bikeway parallels the stores and strip malls along Route 9, the trail itself is heavily wooded and follows a babbling brook. Aside from the occasional rumble of 18-wheelers, I wasn't aware of how close I was to civilization until the trail emerged onto Route 9 itself, near the Wild West Ranch & Western Town, which resembles a 19th-century Western movie set and advertises "barn weddings" on its marquee.
Here, the bikeway briefly sidles up to Route 9 near a strip of vintage motels, though a steel guardrail separates the highway from the bike path itself. Thankfully, the bikeway quickly returns to a hardwood forest and traverses a long, scenic downhill run to Lake George.
At 3:10 p.m. I emerged from the forest at the Lake George Battlefield Park near Million Dollar Beach. This boardwalk-like stretch of waterfront, at the southern tip of Lake George, was awash in sunbathers, blaring radios, motorboats and parasailers.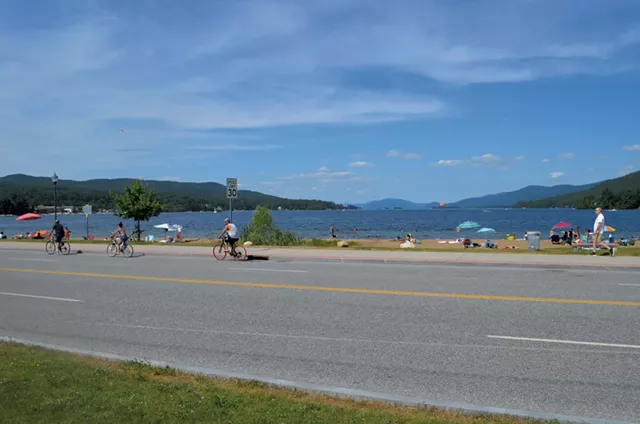 Million Dollar Beach at the south end of Lake George
This portion of Lake George has plenty of family-friendly activities, including a miniature golf course, creemee — sorry, soft-serve — stands, and an abundance of burger joints and pizza counters. Lake George Steamboat, headquartered in the historic Delaware & Hudson Railway Station, offers scenic tours of Lake George aboard its three steamboats. Despite the abundance of places to grab a late lunch, I figured that eating a New York-style pizza slice as big as a hubcap would significantly impede my progress on the largely uphill return trip.
As I made the slow, steady climb up the bikeway back to Hudson Falls — I finally returned to my car at 5:40 p.m. after the 26-mile ride — I could already envision how my family's trip would unfold: Upon arriving in Lake George, the kids would get to play on the beach and eat ice cream with their mother, while Daddy would bike back alone to pick up the car.