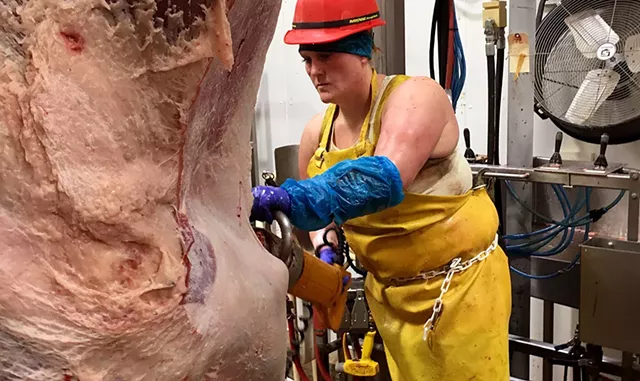 Melissa Pasanen
Kacey Knight working at Vermont Packinghouse in North Springfield
Taped in the window of a truck parked at the Royal Butcher in Braintree, a hand-lettered sign reads: "Experienced meat cutter needed. Starting pay $15/hr."
Inside the building, owner Royal Larocque and longtime employee Teresa Mallette explained that they are always looking for good people. Since Larocque opened his slaughterhouse in 2003, he's struggled to find enough qualified, reliable workers. The bar is not unreasonably high. "We need people who are willing to show up every day and want to work," Larocque said.
"And are not on drugs," Mallette qualified.
Slaughterhouses have often been the employer of last resort for those with checkered personal histories. "How many people say, 'When I grow up, I want to kill animals?'" Mallette asked rhetorically. "It's not a pretty industry, although everybody loves that steak."
Royal Butcher serves about 300 Vermont and New Hampshire farms. Some bring just one animal a year; others drop off half a dozen per week. The business currently has eight full-time and two part-time employees, down from a high of 15 during previous peak seasons.
On the kill floor, animals are slaughtered, skinned or scalded, gutted, trimmed, and washed under U.S. Department of Agriculture inspection. In the cutting room, meat is divided into retail cuts or ground; then it's packaged. A second kill floor that was specifically designed for sheep, goats and small swine is currently idle.
"We've had to cut back," Larocque explained. "We don't have enough help."
"We have to turn business away," Mallette added.
Vermont's slaughter and meat-cutting facilities are critical links in the supply chain for local meat, but they generally suffer from a labor shortage. Vermont's Farm to Plate initiative identified a need for skilled meat cutters in 2010, and again in 2013, which led to training programs partially funded by the state.
"Since then, the industry has continued to expand, so the demand has only grown," said Ellen Kahler, executive director of the Vermont Sustainable Jobs Fund, which coordinates Farm to Plate.
The need for kill-floor labor has not been quantified but is perhaps more critical, according to some in the industry.
"You can't start meat cutting without dead animals," Mallette said bluntly. "There is no training for slaughter. We cannot get trained help."
Slaughterhouses also have a serious public relations problem. That was the primary reason Larocque, a former electrician who had always raised beef, decided to take over a long-closed slaughter facility.
He knew that the relationship between producer and processor was often strained by limited peak-season slaughter capacity, as well as distrust regarding humane animal handling and accurate tracking of each farm's meat. In addition to these issues, the public prefers not to think about how animals become food on their plates.
"The industry had kind of a bad rap," Larocque said. "I thought I could try to change it."
The problems that face slaughterhouses are not unique to Vermont; it's widely recognized that both slaughter access for small farmers and the culture of the meat-processing sector could use improvement.
"The nature of the work is rough, hot, dirty, arguably disgusting," said Jules Guillemette. The co-owner and butcher at Beau Butchery + Bar in Montpelier formerly worked at Royal Butcher and in several other meat businesses. "Many people who are willing to do that work, they can be a little rough, like the work," Guillemette said.
A Woman's Place?
While there is no single solution to the challenges facing the meat-processing industry, some believe it could benefit from the involvement of more women. At the very least, the trade could be more supportive of the women who do choose to work in it.
"Nationally, the industry is notorious for being run by grumpy old men," said Arion Thiboumery, co-owner and general manager of Vermont Packinghouse. That slaughterhouse in North Springfield counts five women among the 45 employees who work on the processing and kill floors. "We'd hire more if they applied," he said.
"We need more good workers," agreed Mary Lake of Tunbridge. She's an itinerant shearer and slaughterer, as well as a shepherd, who worked at Royal Butcher for four years. "There is such a stigma on slaughterhouses," she continued. "If women can help bridge the gap between producers and processors, we should try it."
People often suggest that the physicality of the work is a deterrent to women. And it's true that some — though not all — slaughterhouse jobs can be extremely physically demanding: controlling 900 pounds of beef on a hook and hefting 60- to 80-pound sides of pork.
As a shearer, Lake had learned how to handle animals, and she is strong. "If you have really good technique, you don't have to be as strong," she said. "You do have to have endurance."
But the bottom line is that meat processing is intense physical labor in a setting that involves blood, guts and death. While it can pay a decent hourly rate for experienced workers, entry-level positions usually start just above minimum wage.
"Not too many people want to work this hard in this kind of place, women or men," said Larocque.
At Royal Butcher, a female employee recently left a kill-floor position; another woman remains in the cutting room. Larocque and Mallette do think that more women could help the industry.
"I think women make people feel more trust, give a different feeling," Mallette said. "Women should get in the industry if that's their passion, but they have to know they're entering a man's world, and it's not an easy task."
Doing It for Themselves
Courtesy Of Jillian Curran Photography
Kari Underly (left) teaching former Vermont farmer, Fiona Harrar
The Women in Meat Northeast conference held in Petersham, Mass., in late October was conceived specifically to support and connect women working in the industry. Among the 40 gathered were farmers, chefs, butchers, a local slaughterhouse owner and three women involved with a new slaughterhouse being planned by a nonprofit in southeastern Massachusetts. The participants' reasons for attending were as varied as their backgrounds, but several mentioned isolation and other challenges of being a minority.
"It's kind of lonely out there when you're dealing with men all the time," admitted Shirley Richardson of Danville. In her efforts to build infrastructure and markets for Vermont-raised goat meat, the founder of Vermont Chevon spends a lot of time with those running slaughter facilities and restaurant kitchens.
"I wanted to connect with women working in meat," Richardson said of the conference. "I think women are more able to surround you with care and empathy. They're better listeners."
The chance to learn from master butcher and teacher Kari Underly of Chicago was a big draw for most attendees. She led a pair of all-day, hands-on meat-cutting workshops at two slaughterhouses. Underly comes from a family of butchers, including her grandmothers, and said she feels she owes it to future generations of women to show them that it can be done.
"A lot of young women are discouraged," she said. "You cannot be what you cannot see."
During the first day of the conference, Underly said she was struck by the sight of several women working collaboratively on a side of beef. "To see these women so excited about the knives, the equipment, the animals, I really had to step back a moment and just watch," Underly said. "It's very important to me that I'm helping these women."
On the second day, the women broke down a pig at Stillman Quality Meats in Hardwick, Mass. The slaughterhouse's owner, Kate Stillman, employs a peak-season crew of 25, of which 10 are full-time and 80 percent are female. "Rural areas are tough places to live these days," she noted. "I try hard to create good economic opportunity for all women who work here."
Stillman, a 36-year-old mother of two, grew up working on her family's vegetable farm and returned home after college to start her own small farm. She never intended to open a slaughterhouse — until she had trouble finding processing options for her animals. When she applied for a business loan, Stillman recalled, "One guy at the bank said, 'Wouldn't you rather just go bake some cookies?'"
Less Money, More Abuse
As in the general workforce, but particularly in traditionally male-dominated professions, women who pursue meat-processing careers say they must perform better than men for the same recognition and compensation.
"People ask, 'What's it like to be a female butcher?'" Underly said at the Women in Meat conference. "I had to work harder, smarter. Would you ask a man what it's like to be a male butcher?"
In addition, the slaughter industry, in particular, has long tolerated a testosterone-driven, locker-room atmosphere that is, at best, uncomfortable for women and, at worst, untenable.
While that kind of workplace atmosphere should, of course, be unacceptable anywhere, the reality is different.
Megan Davern, 29, worked in farming and shadowed an itinerant slaughterer before working for a total of two years at two slaughter and meat-cutting facilities in the Northeast Kingdom. She has since moved to Arizona, where she is starting her own slaughter business and butcher shop.
Davern's experience in Vermont was colored by "this very ingrained, deep-seated cultural sexism," she said. "I wanted to learn. They laughed at me."
At the first slaughterhouse in particular, there were constant sexual comments, including rape jokes, Davern recalled. She told her boss that the rape jokes were affecting her job performance, but he did nothing, saying he was nervous about the repercussions of raising the issue with male employees.
After six months, Davern left that company when she was slapped in the face while buttering toast during a break. The assault came out of nowhere, she said, from a man employed by the slaughterhouse owner, although not a regular crew member. Davern believes "he was trying to show he was one of the guys."
In 2010, when Guillemette, 38, a trained chef, went to work at Royal Butcher, they were no stranger to intense, male-dominated workplaces. (Guillemette now identifies as nonbinary and uses they/them pronouns but presented as female when working for Larocque.) Guillemette was invested in learning the craft of meat cutting and gives credit to several male mentors, but the daily barrage of crude jokes and gender-related harassment was exhausting.
"I just put my head down and worked," they said. "Even in [restaurant] kitchens these days, it's not that bad."
Echoing others, Guillemette said it was a constant internal debate about whether to speak up, knowing that a skilled employee, even one arguably crossing the line of acceptable workplace behavior, would likely be given wide latitude. Slaughterhouse culture, they added, is not conducive to calmly resolving differences.
"When do you take a stand when you know it's going to be a fight and everybody has knives?" Guillemette said.
After less than a year, Guillemette left Royal Butcher after a coworker physically pinned them against a wall in a threatening sexual manner. (Larocque and Mallette said that they do not recall being told about the incident but that the employee in question was later fired.)
Dealing With It
Even those who do not share stories of blatant harassment agree that the slaughterhouse environment can be tough. On her noon break at Royal Butcher, Julie Leonard, 50, of Braintree sat on the stairs and ate lunch. She had taken off the hunting cap with earflaps she wears to stay warm in the refrigerated cutting room. Leonard previously worked at Vermont Castings in Randolph making cast-iron parts for woodstoves.
"I'm used to working with guys," she said. "I enjoy this job."
Leonard started on the kill floor two years ago, then moved to the cutting room. "I was raised killing my own meat. It don't bother me to play in blood and guts," she said.
Regarding workplace dynamics, Leonard conceded that "some stuff does get a little weird in there sometimes. It takes a woman who's not afraid to get dirty and can give it right back at 'em."
At Vermont Packinghouse in North Springfield, Thiboumery is working to improve slaughterhouse culture. The 40,000-square-foot facility opened in July 2014 with viewing windows onto all the rooms, including the kill floor. It is the largest slaughterhouse in the state, processing 50 cows on a recent Friday — though on a national scale, he pointed out, "that's like being the tallest kindergartner."
Hiring has not been a huge problem, Thiboumery said, but "definitely, finding people for the kill floor is a little harder."
The average age of his workforce is 30, younger than the industry average. There's usually a woman in every department, although not always around the cutting table or on the kill floor. Those areas "probably do have a little more of a macho, tough-guy vibe," Thiboumery said. "We're a part of a larger culture that reinforces that."
One of the 10 people currently working the kill floor is three-year employee Kacey Knight, 31, of Chester. Wrapped in a rubber apron and wearing a red hard hat, she stood out only up-close, when her thickly mascaraed lashes came into view.
Knight landed at the slaughterhouse out of pragmatism. "It was not on the list of things I wanted to do, but there are no other jobs around town," she said. "I like to work hard. You're feeding a lot of people, and you're learning."
Initially, Knight worked in processing and cutting. "I never thought I'd end up on the kill floor," she said. "I hated hunting. My grandfather took me deer hunting. I had a deer in my sights, but I couldn't pull the trigger."
Knight has done all the jobs, from using the captive bolt gun to stun the animals before their throats are cut, to gutting.
For her, the workplace atmosphere is a trade-off for a steady job she likes. "I get along with just about anyone, but there's always one or two," Knight said. "I don't dwell on it a lot. If you do, you won't make it."
She gestured at an older employee through the window from the locker room where she was taking a break. "He'll ride your ass and say some dirty things, but he has my back more than some," she said matter-of-factly.
Knight's focus is more on compensation and recognition for work well done. "I work very hard," she said, "and it's hard to see another guy come in and get raises, and I'm doing the same work for less pay."
Bigger Mission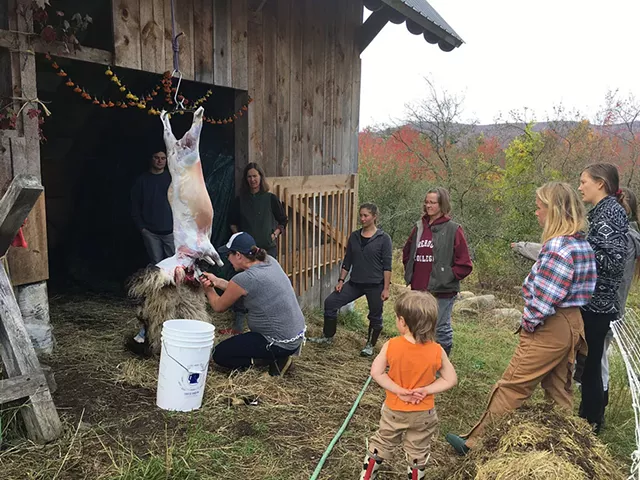 Melissa Pasanen
Mary Lake working on a farm in Lincoln
Some women stick with it in the meat business to meet their own personal goals. "People say, 'Why did you put up with it?'" said Davern, the former Northeast Kingdom slaughterhouse employee who's now in Arizona. "I wanted to follow my dreams. I put up with all that shit, and now I own my own business."
When Lake, 33, started at Royal Butcher in 2010, she had been working on a sheep farm. She dropped off lambs at a slaughterhouse the day it was later shut down for inhumane handling.
"I was mad at myself. I had seen some things that didn't look right," Lake said. "I should have known."
She decided to work in the industry to learn and help improve it. By Lake's own admission, she was not an obvious hire: "I'd never killed anything. I'd never held a sharp knife."
Her first job was in the cutting room in the position of boner, removing any meat left on bones for the grinding bucket. It was Lake's introduction to meat cutting and to slaughterhouse culture.
"They called me a boner all day long," she recalled ruefully.
Lake was soon able to move to the kill floor and gradually built her skills. It was hard convincing the men to teach her, she said, partly because training slows down workflow. But, she added, "Once they saw that I was serious and really focused, they saw it was beneficial to teach me."
Even as Lake was able to learn, the name-calling and other inappropriate comments wore her down. "I don't like talking about it," Lake admitted. "It's so complicated. It seems weird to say, but, even with all that, I did really like them and respect them. They taught me everything I know."
She tried to stay focused on her broader goal. "There were times I knew someone could teach me something if I just went along with the jokes and kept things light and happy," she said. "In the end, I was given all the opportunities I wanted."
Lake stayed at the slaughterhouse for a little more than four years, up until the birth of her first son, Hugo. When she left Royal Butcher, Lake also left the new second kill floor that she had championed to provide better, more humane slaughter for smaller animals. She's disappointed that it's not being used now, but she understands the labor issue.
Her decision to leave was a personal one, she said. "With on-farm shearing and slaughter, I could make a living and be the kind of mom I want to be," Lake said.
Early in October, Lake brought her son along to a slaughter job at Metta Earth Institute, an educational retreat and farm in Lincoln that raises much of its own food. She was 39 weeks pregnant with her second child. While Lake ably and calmly killed, skinned and gutted five lambs, assisted by the institute's owners and apprentices, 2-year-old Hugo played on a blanket nearby.*
Wearing his rubber cow-print boots — on the wrong feet — he occasionally wandered over to see what his mother was doing or to help put out clean straw over the blood. At one point, Hugo got a little needy, as toddlers do, and Lake paused to give him a hug and kiss. Because daycare is expensive, she explained later, "I have to bring him with me, but I pick the jobs that are right, and I feel totally OK with it."
Although some might have found it jarring, it was a hopeful sign to see Hugo watching his mother work. He will grow up accepting as completely normal two important things at the heart of changing both slaughter culture and the larger culture within which it exists.
First, the more open and visible humane animal slaughter is, the more the public will understand what it entails and, ideally, value those who are willing to do the job.
Second, Hugo will see his mother successfully pursuing a career she cares deeply about and making it work on her own terms.
As another former slaughterhouse worker, Kelsey Crelin of West Glover, put it: "Women really need to get out there and do the things they're passionate about, and little boys and girls will see their moms doing that. That's how we're going to change things."
While the responsibility for change should not rest on women alone, cultural shifts take time — and trailblazers. In the meat industry, as in the greater world, it's never easy to be out front.
*Correction, December 18, 2017: An earlier version of this story misstated the age of Mary Lake's son.