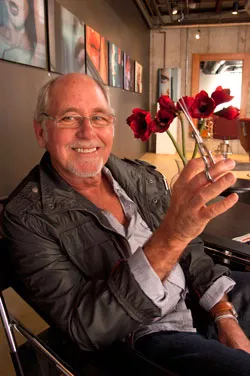 Matthew Thorsen
Glenn Sautter
Tom Cullins' sexy photos of photos of women may be an especially appropriate choice for display in a venue called the Men's Room. But other kinds of art — landscapes, abstractions, figure studies — have also looked good on the walls of the Main Street salon in Burlington.
It's primarily a love of art that inspires owner Glenn Sautter to give local artists a place to show their stuff, he says. He himself draws and paints, but has shown his own work only once, a couple of years ago in a group exhibit featuring Warren artist Bill Brauer and 45 of his students at Montpelier's T.W. Wood Gallery.
"I understand the process, the vulnerability, that an artist goes through," says Sautter, 66. "And I do have an eye for what sort of placement works, what will look best on one of the walls and alongside something else."
Besides, he adds, gesturing toward the salon's four chairs, "I consider what I do here to be an art."
The gallery — officially called Artspace 106 at the Men's Room — is good for business as well as aesthetics. When a friend or fan of an artist stops by to see a new exhibit, he or she might decide to get a haircut; some have become regular clients. Sautter particularly appreciated that concurrence during the 10 years the Men's Room occupied a second-floor space on the Church Street Marketplace. "People won't walk upstairs to check you out unless you give them an incentive," he explains.
In addition to hanging shows, Sautter pays for publicity postcards and reception refreshments out of his own pocket. He also doesn't charge a commission for any art sales that may occur. And they do: Sautter says he sells at least one or two pieces from almost every show. Six of Cullins' 20 photos of distorted advertising signs have found buyers, with a month still to go in the show's run.
No wonder artists regularly approach Sautter in hopes of exhibiting in his space. In addition to the efforts he makes for them, artists are guaranteed exposure to a generally affluent audience that might not otherwise see, much less buy, their work. "A setting like this gives more people the chance to see art than is the case with an actual gallery," Sautter suggests.
Men — and women — who get coiffed in the stylishly industrial space have plenty of time to study whatever is on display, notes Lance Richbourg, a prominent local artist who's had a couple of shows at the Men's Room. "It's a nice, informal space for art in a moderate price range," he says.
Sautter shares credit with Bren Alvarez and Dave Farrington for the success of his art venture. The couple has bought and refurbished several buildings around town, including 208 Flynn, which houses the Flynndog gallery. When they purchased this glass-fronted edifice, set behind a courtyard garden on Main Street, they outfitted a street-level space for Sautter's salon. "They completely got what I wanted to do here," he says. The pipes and wiring visible in the ceiling — along with the concrete floor, metallic light fixtures and retro-modernist furniture — give the place a handsomely utilitarian appearance that doesn't compete with the artwork for attention.
"Moving here was the best thing that could have happened," Sautter says. The Men's Room relocated in 2007 after a decade on Church Street because the landlord raised the rent to a level Sautter says he couldn't afford. What was dictated by circumstance has turned out to be a blessing.
Likewise, he got his start as a curator through a combination of necessity and serendipity. After two decades in the hair business in Philadelphia and another decade in Stowe (he still owns and works at Salon Salon), Sautter signed the lease for the Marketplace space on the assumption it would be shared with an architect. But that arrangement fell through.
"It left me with a lot of room that needed to be filled up somehow," Sautter recalls. "So putting art in the space seemed like a good idea. And it's worked out well all around."