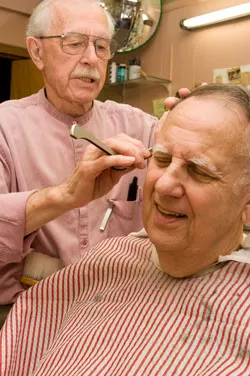 Barber shops used to be quintessentially male domains — neighborhood places, sort of like clubhouses, where men gabbed about sports and politics, and where they took their sons and grandsons, not just to get a haircut but to experience a rite of passage.
There aren't many barber shops like that left anywhere, and Vermont is no exception. "We're a dying breed," laments Dick Chagnon, 69, who's been cutting hair in a strip mall on Williston Road for 30 years.
Barbering chains, such as the Haircuts Plus just 100 yards from Dick's, have supplanted many of the old-time shops, just as big-box discounters have killed off independently owned variety stores. The revolving red-and-white barber pole is becoming a curio. Metrosexual salon décor is replacing quirky, male-branded mementos such as the collection of police and army badges displayed at Dick's, or the yellowing newspaper clippings that cover the walls of Web Williams' 70-year-old barber shop on College Street.
These days, men are more likely to have their hair cut by women. Vermont doesn't compile statistics on barbers by gender, but Christopher Winters, director of the Secretary of State's Office of Professional Regulation, says women probably account for a majority of the 147 licensed barbers in Vermont today. And he estimates that about 95 percent of the state's nearly 3000 cosmetologists are female.
Women become barbers partly because the job offers flexible hours, suggests Teresa Sheehan, co-owner of 5-year-old Main Street Barbers in Burlington. She notes that, of the 16 students in her class at the Vermont College of Cosmetology in Williston, 15 were women. "There's also the whole aspect of wanting to make somebody look good and feel good," Sheehan says.
A significant number of Vermont's remaining male barbers — as opposed to male hair stylists — are well past the traditional retirement age. Williams, for example, is 84, although the former marathon runner looks at least 10 years younger. A couple of blocks down from Williams' inconspicuous College Barber Shop, Ron Corey, 76, still works most days (when he's not in Florida) at Associates in Haircutting. David Larrow, 68, has been barbering in Vergennes since 1971, and Joe DeGray, 76, works two hours every weekday morning at the shop in Middlebury that he owned from 1968 until 2007 — when he sold it to a woman.
A few younger men still complete the 1000 hours of training required to become a licensed barber in Vermont. Jeff Wetmore, the only other male at Corey's shop on College Street, took up the tonsorial trade last October because he was "sick of the corporate thing" and wanted to own a business that he could one day pass on to his 6-year-old son. Wetmore also finds old-school barbering culturally and aesthetically appealing. Most days he wears a bow tie and starched white shirt while cutting hair, although on a recent day he was outfitted in one of the T-shirts he collects from barber shops around the country.
Corey, Wetmore's boss, enrolled in a Montréal barber school in 1950, when he was 16 years old. The Burlington native opened his first shop on Bank Street — near the State Theater and the Black Cat Café, he recalls. He later started "Vermont's first and only barber school" in the same location, but it burned down, along with the rest of the block, in the early 1970s. Corey tried to re-establish the school in the College Street space his shop now occupies. But his effort was successfully opposed by the owners of most of the 18 other downtown barber shops that were then competing for customers.
"They said I was flooding the town with barbers," Corey remembers. "They were also charging $1.25 for a haircut, and I was charging 90 cents. It was a school, after all."
But the real source of his colleagues' problems wasn't so much the price differential — it was those damn hippies, Corey says, with one of the gleaming smiles that his darkly tanned skin accentuates.
The long-hair fashion for men put plenty of barbers out of business, agrees Web Williams. But for him, it actually proved to be a source of extra revenue. "I made a lot of money in the '60s selling hair pieces, false mustaches and Elvis sideburns to guys who couldn't look that way at work," Williams says. "After I fixed them up, they could go out and disco all night."
A decade earlier, Williams had been ringing up regular sales from students at the University of Vermont and St. Michael's College who were enrolled in the Reserve Officers Training Corps. "The commanders used to come down here with those ROTC kids and line them up outside the shop. The training was tough, and if one of them started falling asleep in the barber's chair, an officer would tap him awake with a walking stick," Williams recalls.
His shop was also a frequent stop for reporters and editors from the Burlington Free Press, situated directly across the street. "I had many good friends from the paper," Williams says. "Now, hardly anyone from there comes in here."
College Barber Shop continues to attract long-time customers, but they're sure to stop by before noon, when Williams closes his shop for the day. Bob Melillo, who's been getting his hair cut there since 1981, keeps coming back because "Web does a pretty good job — at least I walk out with my ears still on." Melillo often brings both his kids to Williams' shop, as well.
David Larrow, who sold his City Barber Shop in Vergennes to his stepdaughter a couple of years ago, notes that a few of his regulars go back to 1971, when the place opened on South Maple Street. "Some others have died," Larrow adds, "but I still get some of their children — who aren't children anymore."
One of Joe DeGray's regular customers in Middlebury was none other than Robert Frost. In the summers, the white-haired poet would come down from Bread Loaf, where DeGray, who once worked in the kitchen of the School of English, used to play softball with him.
Corey has had a few famous customers, too. In the 1950s, Frank Gifford, a star running back for the New York Giants and later a TV announcer, would come in for a haircut when the Giants had a day off from their training camp at St. Michael's College. John F. Kennedy once thumbed through magazines in Corey's shop while waiting for Fred Fayette, a Democratic U.S. Senate candidate from Vermont, to finish his turn in the barber's chair. Kennedy was in town to speak at a fundraiser for Fayette that Saturday night in 1957, Corey recalls.
DeGray began working as a barber on Middlebury's Main Street that same year, soon after earning his license from a school in Schenectady, N.Y. He'd attended it on the GI Bill and decided to become a barber because "there was a recession going on at that time, and I figured that if things got really tough, I'd at least be able to swap a haircut for a chicken."
With the country now shuddering through another recession, business is picking up at Corey's Associates in Haircutting. The $11.50 Corey charges for a haircut is luring men who don't want to pay $25 or more at one of Burlington's unisex salons. Short hair is also back in fashion, Corey notes: "A lot of guys are getting buzz cuts, and you have to get those regularly."
Men have to pay another $25 at a place like Clip in Burlington to get a straight-razor shave. Shaving used to be a central function of barber shops, but none of Vermont's old-time barbers still perform it. AIDS changed everything, explains Corey. "Barbers were being sued in the '80s if they cut their customers while giving them a shave," he says. "My insurance company told me they'd raise my premium $700 a year if I kept giving shaves."
For old time's sake, Corey keeps leather strops attached to some of the barber chairs that face the mirrors with their century-old, hand-carved Obeechi wood frames. Salvaged from the former court house on Main Street, those frames lend a traditional touch to a shop that otherwise looks like a swank salon.
Many of the men who still entrust their hair only to Medicare-eligible Vermonters with scissors probably don't care much about the ambiance. They come mainly to carry on conversations that started decades ago. "You've got to like to talk to be in this business," says Larrow in Vergennes. "You've got to like people. That's really the whole thing."