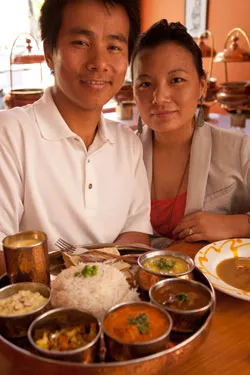 Matthew Thorsen
Lakpa Lama and Doma Sherpa
"Have you been to Jazz Fest yet?" Lakpa Lama asked as he poured me a cup of milky chai. I was waiting to pick up my lunch order at Sherpa Kitchen, Burlington's first Himalayan restaurant, and co-owner Lama had welcomed me to the counter to sit down and make conversation over a cup of spiced tea with brown sugar. It was on the house because my order was a little later than expected, but I didn't mind waiting in the company of such a gracious host.
When I brought my lunch back to the office and examined the take-out containers, I saw that someone in the kitchen had carefully labeled each one in delicate cursive and added a smiley face. Those small touches define the experience of eating at Sherpa Kitchen. The owners, Lama and Doma Sherpa, care about you as if you were in their home. But, much like eating at a friend's house, dining at the new restaurant has its culinary high and low points.
My Sherpa Kitchen experience started somewhat less than auspiciously with the Sunday buffet. The small buffet setup offered a pile of cucumbers and carrots, with chopsticks for serving, and raita and tomato dressing on the side; bland, yellowish lentil stew called dal; rice; stewed, curried cabbage; and fried chunks of chicken. The last was pleasantly spiced but bone dry.
Fried pakoras — gram-flour fritters filled with onions and carrots — were flavored with an aromatic mix of spices, but I found the nearly raw vegetables inside unpalatable. My favorite dish on the buffet was steamed bread called ti momo, or Sherpa bread, which is unique to Sherpa Kitchen; Sherpa says the shape is her own invention. Composed of upward-facing petals, it looks like a cross between a lotus flower and a sea urchin. It's a fun eat not just for the texture but for the mild flavor that recalls the crust of a Chinese pork bun.
Our server's English was limited, but she apologized for the fewer-than-normal buffet offerings and offered everyone in my party free dessert, though we had made no complaints. It was a surprising and greatly appreciated gesture.
Half my gang of friends ordered the kulfi, which serves as an ice cream equivalent on the Indian subcontinent and beyond. The dessert is always densely creamy, almost resembling cheese; in my experience, it's usually flavored with pistachio or mango. Sherpa Kitchen's version was perhaps even sturdier than usual, like a frozen brick that seemed almost impervious to melting, and its flavoring was limited to a topping of crumbled pistachios. Though not the best version of the dessert I've had, it was pleasant enough for everyone to finish.
By contrast, the bhatsa makhu was one of the best desserts I'd eaten all year. A bubbling broth of creamy caramel sauce was topped with a liberal shower of cardamom. That on its own was delicious, but quartered pieces of cheese dumplings made the hot dish truly memorable. The chewy dough was filled with equally bouncy cheese that I'm guessing was paneer, and the cream-on-cream combination of sauce and cheese was a startling success. Once I was done, I was ready for another bowl.
Luckily, it wasn't long before I was back at Sherpa Kitchen for the aforementioned lunch takeout. I passed up the $8.99 special, which offered a somewhat limiting choice of drink, appetizer and entrée, in favor of filling my three smile-bedecked cartons with a variety of dishes that showcased both Sherpa's specialties and the fusion that is Himalayan cuisine.
The most disarming dish was a salad of baby spinach and equal numbers of beautifully roasted red beets and fresh mozzarella balls, all tossed in salty, herbaceous parsley vinaigrette. The salad is Sherpa's own quirky invention — with, she admits, no basis in her homeland's cuisine — but it's delicious.
While the salad transported me closer to the Italian Alps than to Mount Everest, the chicken "chili" was a side trip to China. The lustily seasoned cubes of chicken that I'd first encountered dried out on the buffet were now fried so they were crisped on the outside and juicy within. A slightly gooey red sauce dressed them, along with peppers and onions, in a sweet fire that blended well with the cinnamon in the chicken's coating.
The Sherpa lo mein was my first chance to try the restaurant's homemade noodles. They were extremely uniform, lacking the chew and uneven sizes and shapes I expect from Himalayan hand-pulled noodles. Still, I enjoyed the dish, with its mix of carrots, cabbage, caramelized onions and fresh cilantro. The vegetables would have been the perfect vessel to soak up the soy and ginger sauce had it been evenly distributed; as it was, I could go several bites without tasting any sauce. Things improved when I reheated the leftovers a day later. Perhaps Sherpa lo mein is like soup — better the next day.
When I headed to Sherpa Kitchen for dinner, momos were on my mind. Our server warned me that the wait for the dumplings would be at least 15 minutes, so I told her to bring food out as it was ready. The momos emerged in about 15 minutes, as advertised, but it would be another half hour before we saw our other dishes. Plenty of seats were occupied, but not enough to qualify the hour as a rush, so inexperience and understaffing seemed the likeliest reasons for the slow service.
The momos, however, justified the wait. The thick, slippery dough held coarsely ground beef and soft chunks of onion. Unlike the ginger-, garlic- and cilantro-flavored dumplings I've had in the past, these momos had a kick. Perhaps because Sherpa Kitchen's owners are Nepalese, not Tibetan, their momos feature cumin and chile, making them taste like an Indian fusion take on the dish. A small, square cup of tomato sauce at the center of the plate was attractive, but its subtle flavors disappeared in the wake of the dumplings' seasoned filling.
Each plate holds 12 medium-size dumplings — which is good, because you won't want to stop eating them. However, it would be nice to be able to order them in smaller portions so as to leave more room for dinner.
An appetite is especially handy when you order the $19 nonvegetarian thali, as I did. The presentation resembled a feast at a fine Indian restaurant: A large silver tray held a cavalcade of stews, pickles and sauces, all presented in delicate, hammered-metal bowls.
A mound of rice topped with fresh green peas was large enough to share and to spoon onto individual plates as a base for the stews. The seemingly unseasoned dal was back — inoffensive, but disappointing compared with versions of the dish I've had at Indian eateries and from other Himalayan cooks. On the flip side, I preferred Sherpa Kitchen's crispy, comparatively mild chickpea crackers to the sometimes too aggressively seasoned Indian ones.
Mild lamb curry was slow cooked in dark gravy. The lamb could have used another hour in the pot — a couple of pieces remained too tough to chew easily.
The chicken tikka masala was far more impressive. The crispy chunks of chicken I had encountered at two previous meals were as delicious as ever and at their most moist. The masala sauce tasted like masala sauce. The creamy tomato purée was every bit as bright, creamy and redolent of ginger and garam masala as one could hope. This time, there was no call for excuses or national comparisons: Sherpa Kitchen's Nepali owners had reproduced the tastes I remember from a childhood obsessed with Indian food. Their tikka masala may well be the best Indian dish served in Burlington.
Spicy, mustard-laden pickled carrots and daikon filled out the thali, along with a bowl of kheer, or rice pudding, which was thick with strong notes of cardamom and lemon.
To finish off my Sherpa experience, I had a bowl of thukpa, a noodle soup I first tried at Himalaya Restaurant in Plattsburgh. This one was filled with the same noodles I'd enjoyed in the lo mein. In fact, the dishes were almost identical, except that instead of the soy-ginger sauce, this vegetable-noodle mixture sat in a deep bowl of stock. Our server told us that a third dish, the Sherpa Stew, is the same as the thukpa, sans noodles.
Despite experiencing a few early bumps in the road, I look forward to returning to Sherpa Kitchen, especially at lunchtime for Indian-inflected foods such as the tikka masala. Sherpa tells me that in the coming months, she'll be updating her menu to include even more authentic Nepalese dishes. One will be her homeland's own blue cheese, called churu, served in a curry.
If she and Lama keep up the good work and creativity, they're sure to clear their opening hurdles and feed Burlington for years to come. Diners may try the Sherpa Kitchen for an adventure in little-seen cuisine, but it's the homestyle hospitality that will bring them back for many a cup of chai at the bar.
Sherpa Kitchen, 119 College Street, Burlington, 881-0550