© 1989 Eiko Kadono | Studio Ghibli
Kiki's Delivery Service
1. Kiki's Delivery Service
(recommended for ages 4 and up)
Directed by legendary filmmaker Hayao Miyazaki, this feel-good film was released in 1989 by Studio Ghibli, a Japanese animation studio famous for its fantastical anime films. Viewers will be blown away by Kiki's impressive animation and charming storytelling. While purists can watch the film in Japanese with subtitles, there is also a fantastic English language version, starring Kirsten Dunst and Phil Hartman, which makes it more universally accessible.
The story: Kiki is a witch — a young girl who possesses the ability to fly. At age 13, witches leave their families' homes for a year to find a town that requires their skills — which range from fortune-telling to potion-making. When Kiki comes upon an unoccupied town, she establishes a delivery service, transporting packages via broomstick. Kiki struggles with the hardships of moving to a new town, including self-doubt, ostracism and homesickness. Her situation becomes even more complicated when she loses her ability to fly.
Why it's a good family movie: Kiki's Delivery Service offers a realistic depiction of life's true antagonist: the self-doubt within ourselves. In one instance, Kiki believes the other kids who invite her to hang out with them are looking at her funny. In another, she questions why one girl in town would want to paint her if she is "ugly." The movie may help kids dealing with similar issues realize that many of their worries are not as serious as they perceive them.
The film also conveys the importance of doing things that inspire you. Kiki begins to feel she's failing at her delivery service and, because of this, loses her ability to fly. Upon realizing that flying makes her happy, her abilities are restored.
2. The Iron Giant
(recommended for ages 7 and up)
Filmmaker and animator Brad Bird has been lauded for many of his high-profile movies over the years, including The Incredibles, Ratatouille and Mission Impossible: Ghost Protocol. His films have a sense of fun that pays homage to 1950s B movies, while maintaining strong attention to visual detail and incorporating a sense of heart that is missing in many contemporary animated films. Bird's first animated feature, The Iron Giant, is one of his best.
The story: In the 1950s, at the height of the Cold War, a 9-year-old boy named Hogarth Hughes lives with his widowed mother. Hogarth is an intellectually advanced kid with an overzealous imagination. On a night that will change everything, he discovers a robotic alien that has crash-landed in the woods and appears to be designed as a killing machine. However, through his interactions with Hogarth, the Iron Giant learns peace and friendliness, and the two become friends. When everything seems to be looking up for Hogarth, he and the Iron Giant must contend with a government agent who is set on the giant's destruction.
Why it's a good family movie: When making this film, Bird asked the question, "What if a gun had a soul and didn't want to be a gun?" At one point, the giant even wonders whether he can ever have a soul, as he was a machine built for the purpose of killing. Hogarth tells him, "You're made of metal, but you have feelings, and you think about things, and that means you have a soul." The film conveys the important message that you can become the type of person you want to be, rather than what society dictates.
On the technical side, the film combines the hand-drawn animation of old with the computer animation of new. This works well, as the computer-animated giant looks more technologically advanced and imposing in comparison to everything else that is hand-drawn. The film's animation feels nostalgic, with a small-town New England vibe and autumnal colors. It almost seems as if the story is set in our own Green Mountain State.
3. Chicken Run
(recommended for ages 8 and up)
Released in 2000, this stop-motion film was created by British animation studio Aardman Animations, most notable for its droll Wallace and Gromit films. While the hens in Chicken Run are not as well known as that duo, this is a well-written film brimming with British humor, exceptional clay models, action-packed animation and imaginative sets.
The story: In rural England, a farm of chickens produces eggs for the malevolent Mrs. Tweedy. Chickens are expected to fill a daily quota, and those who fail are executed and turned into food. One chicken, Ginger, often devises escape plans that are met with fruitless results. As business on the farm suffers, Mrs. Tweedy decides to manufacture a line of frozen food and begins working on a machine that will turn chickens into pot pies. A rooster named Rocky, who seemingly possesses the ability to fly, shows up — and brings with him the last-ditch possibility of escape.
Why it's a good family movie: While film cameras can capture motion effortlessly, that's not the case with Claymation. Each frame is individually shot as a photo, with many photos making up just one second of the film. Furthermore, each frame needs to be meticulously planned so character movement appears natural. Chicken Run was shot at 20 frames per second. At a running time of 1 hour and 35 minutes, that's roughly 114,000 photos taken to make the film! Viewers may be inspired to make their own short films after seeing how clay and photography can come together to create a compelling story.
This film also serves as a family-friendly introduction to adult prisoner-of-war-themed films. In fact, it's a spoof of sorts of the 1963 World War II POW movie The Great Escape, directed by John Sturges. Shot from the chickens' point of view, Chicken Run is a hellscape with chicken coops, watchtowers and barbed wire overexaggerated to look like a prison camp. From artistic direction alone, you can immediately sympathize with the chickens' plight. Following a motif of many POW films, the hens band together to overtake a common threat, offering a positive message about teamwork and collaboration.
4. Scooby-Doo on Zombie Island
(recommended for ages 8 and up)
This 1998 animated film is a hidden gem in the lucrative and well-established Scooby-Doo franchise, which is composed of 12 different television series and a staggering 47 movies. It perfectly blends mystery, comedy and friendship, while sustaining an underlying horror vibe that isn't gratuitous or cliché.
The story: The members of Mystery Inc. have gone their separate ways due to the monotony of solving too many mysteries where the monster is invariably some guy in a mask. As their current careers start to flounder, Fred, Daphne, Velma, Shaggy and his anthropomorphic dog Scooby-Doo reunite for one last shot at finding a real ghost. However, the gang is in for more danger than it bargained for when it is called on to inspect paranormal happenings on Moonscar Island in the Louisiana bayou.
Why it's a good family movie: This film subverts the classic Scooby-Doo formula to create a mystery that is original and exciting. This time, the monsters are real, and the stakes are higher. Just as fans may be fatigued by the repetitive narrative of earlier Scooby-Doo stories, the characters in Zombie Island have also become tired of the same old routine. The narrative draws Mystery Inc. back in with a new mystery, just as it brings viewers back to the classic Scooby world with something fresh and different.
The darker horror elements of the movie are softened by its offbeat sense of humor, which is often quite metacontextual. For example, Shaggy's suitcase, filled with multiple pairs of the same exact clothing, is a reference to the fact that cartoon characters always dress in the same outfit.
5. The NeverEnding Story
(recommended for ages 8 and up)
Released in 1984, this live-action film was directed by Wolfgang Petersen, with whom film buffs may be familiar from his classic German film Das Boot. The NeverEnding Story is a fantasy film that not only features unrivaled practical effects (a precursor to the computer-generated effects in contemporary films) but also expounds on the importance of imagination, reading and self-confidence.
The story: Bastian Balthazar Bux is an introverted 10-year-old coping with the death of his mother. He is frequently bullied by other children and mistreated by his unsympathetic father. To escape this harsh reality, Bastian finds refuge in books. One of them is The NeverEnding Story, which chronicles the plight of a boy named Atreyu trying to save Fantasia from an apocalyptic entity known simply as "the Nothing." As Bastian gets further into the book, he discovers that he has entered the story, and that the choices he makes will be pivotal to how it ends.
Why it's a good family movie: While there are important life lessons in this movie, families are also in for a magical time due to the impressive creature effects. Because this film was released when computer-generated imagery was in its most primitive state, many of the characters were created through puppetry, animatronics and stop-motion animation. While this may alienate some children due to the perceived notion that "old = boring," the effects are so impressive that young viewers will likely get drawn into this fantastical adventure.
In the film, the idea that books help us find ourselves is taken to a literal level. By the end, Bastian is able to overcome trauma and accept himself for who he is, then use his restored confidence to save Fantasia. He rides a dragon through the sky and stands up to his bullies. It never really matters if Bastian actually became a character in the book or if it was just in his mind. What matters is that, through reading and imagination, he learns to accept himself.
6. Beetlejuice
(recommended for ages 12 and up)
Tim Burton's 1988 horror-comedy film Beetlejuice takes place in Connecticut, but its exterior shots were filmed in rural East Corinth, Vt., about an hour-and-15-minute drive from Burlington. Though the premise of the film suggests horror, instead it's a goofy family movie that lampoons the haunted-house scenario, with stellar performances from a cast of talented actors.
The story: Young couple Barbara and Adam Maitland are horrified to discover that they have died in an automobile accident. Doomed to haunt their countryside house, they soon learn that an insufferable family, the Deetzes, has moved into their beloved dwelling. With help from the Deetzes' alienated teenage daughter, Lydia, the Maitlands scheme ways to drive the Deetzes from the house so they can rest in peace. When their scaring tactics fail, the Maitlands decide to enlist the help of a mischievous ghoul known as Betelgeuse, whose ulterior motives prove to be more sinister than the couple initially perceived.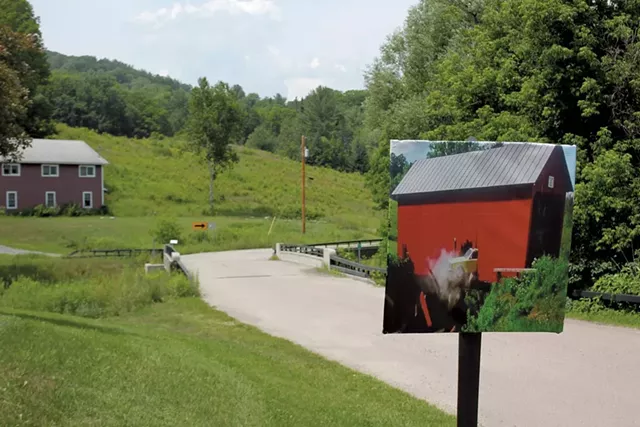 Matt KillKelley
The East Corinth site of the bridge in Beetlejuice
Why it's a good family movie: The film features cast of well-established actors still working today, including Winona Ryder, Alec Baldwin and Geena Davis. However, the standout performance is clearly by Michael Keaton, whose zany energy and intense commitment make for an absurd and entertaining experience.
While his character's misogynistic humor feels outdated, there's no denying Keaton's brilliance, as displayed by the sheer uniqueness and over-the-top psychosis he brings to Betelgeuse. His overacting is an homage to German expressionism, an art movement of the early 20th century notable for its idiosyncratic and abstract staging, makeup and cinematography. Much of Burton's directorial work is influenced by this artistic style.