Dr. Andrea Green has a pop quiz for her patients.
"Aloo," she says, using the Nepali word for potato. "Good or bad?"
"Good" is the simultaneous response from two teenagers who are sitting hunched over, elbows on knees, with their feet resting on the chair rungs. It's their second visit to the doctor since their arrival in the United States.
"How about if it's a potato chip?" Green continues.
"Bad," says Ravi, 13, and his 16-year-old sister, Sonali, nods in agreement.
"Do you know why?" Green asks rhetorically, then answers the question herself. "They have a lot of fat in them, and very few vitamins and healthy things."
Green is director of the Pediatric Immigrant Clinic at Fletcher Allen Health Care and an assistant professor at the UVM College of Medicine. Along with a team of interpreters, she and her colleagues Stanley Weinberger and Nilgun Zimakas care for some of the country's youngest New Americans. Many know little English or U.S. customs, but all come from complex cultures outside the U.S. Some have received medical care abroad but may not be able to recount their medical histories. Others arrive with scars that could either be from trauma or traditional remedies. How does a doctor navigate all those unknowns?
"You ask a lot of questions," says Green. And not just the pop-quiz kind. Green's brightly painted pediatric exam room is also a classroom. As she chats via translator with these Nepali-speaking Bhutanese teenagers and their father, the doctor imparts knowledge that will help them acclimate to a radically new environment.
The learning works both ways. Green often finds herself researching the various cultures of the patients she's treating. "Then I can say, 'I read about this. Does that sound right to you?'... You just make it really clear that you need them to teach you a lot."
Along those lines, Green has more questions for the Bhutanese family.
"Do you want me to start with my piece of business," she asks, "or do you want to tell me about life? School?"
As they gradually open up, the two kids answer Green's gentle questions about friends, learning English and how the school experience is different in Burlington: They say the math classes are easier, and the punishment much less severe, than in schools in Nepal, where they lived before coming to the U.S. Green walks the children through a questionnaire, marking their answers with a tulip-shaped pen, to pick up on early signs of PTSD or depression, afflictions she says are thought to affect five to 10 percent of refugee children.
Sonali and Ravi seem to be doing well in that regard, despite having been born and raised in a refugee camp in Nepal's Jhapa district. Their father, who worked as a brickmaker in the camp, doesn't hesitate to report how long he was there. "Nineteen years and nine months."
Vermont is home to immigrants from many troubled or once-troubled countries, including Vietnam, Bosnia, Sudan, Somalia, Turkey, Democratic Republic of the Congo and Burundi; more recent arrivals hail from Iraq, Bhutan and Burma. After being approved by the Department of Homeland Security, they are guided into American life via the U.S. Committee for Refugees and Immigrants and its local field office, the Vermont Refugee Resettlement Program. One of the VRRP's jobs is to refer patients for medical care, and soon after they arrive in Vermont, children visit the Pediatric Immigrant Clinic. There they are screened for parasitic diseases and tuberculosis exposure, while their parents get an introduction to some of the challenges they'll face.
The basics of American life are new to many of them: There are no parasites in tap water. Children must be supervised around stairs and windows. Teeth should be brushed before bed, not just in the morning. And it's important to eat breakfast as well as lunch and dinner — many immigrants are accustomed to eating only twice a day.
Nutrition, in fact, is a major challenge. Sonali and Ravi tell Green they eat a breakfast of fruit every morning, but both are small for their ages: Sonali is well below the fifth percentile for height, though she's jumped up the charts in the month since her first appointment, while her brother has edged from the seventh to the 10th. Though immigrant children eventually become as prone to over-nourishment as native-born children are, when they first arrive "we often see a lot of catch-up growth," says Green.
She may see signs of traditional medicine, too. Somali Bantu children sometimes undergo "cupping," which leaves scars on their foreheads and chests; this treatment is used for spinal deformities and in children who are late walkers. For diarrhea, the Bantu may extract the lower canine teeth, while the uvula may be amputated for cough. It's important to know about these things, says Green, so as not to mistake them for child abuse.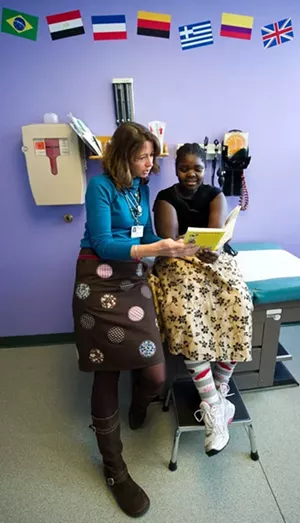 Dr. Andrea Green with Kamikazi Odreille, 12, of Burlington, reading Ramona Quimby, Age 8
Indeed, knowing a few key facts about patients' culture can be crucial to their treatment. The coordinator of Vermont Refugee Resettlement Program's interpreter program, Jacqueline Rose, cites an example: In many cultures, it is considered unwise to give sick children anything cold to eat. This caused problems for one Bhutanese child with a high fever who was given a frozen, medicated popsicle by a medical provider. Once the provider left the room, the parents took the pop from the child's hand and threw it in the garbage.
"The parents ... didn't want to go against doctor's orders, but they didn't feel like they could give it to their child because in their culture that's not an acceptable thing to give a sick child," says Rose. The interpreter could not tell the provider what had happened, as that would have broken confidentiality. Though the child recovered well, the incident led VRRP to suggest to its interpreters that they ask parents' permission to explain such cultural conflicts to providers who don't know about them.
More typically, though, refugees willingly partake of Western medicine. As Green reviews Sonali and Ravi's tattered vaccine records from the refugee camp, she explains that the boosters they will need are optional. The family is all too familiar with some of the diseases she names — measles, polio, diphtheria and tetanus — and they agree to the shots without hesitation.
"Nobody ever refuses a vaccine, because they've seen people die of these diseases," says Green.
There's another reason for the compliance. "Most people who are not American-born have such a deep respect for providers that they'll give the answer they know the provider wants," Rose notes. But that politeness can complicate the interview process. She says Green, like the interpreters, has learned from experience "what questions to ask, what cultural cues to look for. "
The refugees say interesting things, Green has noticed, and not just about the physical health of their children. They say, "'This is a very lonely place. Americans go to work, they work all day, they go home, and they sit by themselves in their houses and watch television ... We may have been very poor and hungry, but we had each other. We'd sit and tell stories to each other.'"
That community orientation is also reflected in their approach to parenting. In the U.S., Green says, we tend to raise children to be independent, putting them into cribs and strollers by themselves.
But in many cultures, inclusion is the rule from earliest childhood, when babies and small children ride on mom's back and see what she sees. "They're right in there, engaged in that conversation," she says, "safe and secure and participating. So their development is as part of everything."
Those ties are extremely important. Some of the refugee children Green sees have witnessed people being shot or executed; others have endured sexual assault. But, while children's mental health ultimately depends on that of their parents, she says, their richly social home cultures are "an incredibly protective thing ... I've learned an awful lot from [immigrants] about how we probably could do a lot to improve mental health if we did a better job about having this sense of belonging and community."
Green herself was once an outsider to life in the U.S.; she is an Ontario native and spent part of her childhood in the Canadian Arctic. Her father, an immigrant to Canada from Scotland, spoke Inuktitut and had many friends among the Inuit people.
"In the '50s there was a huge immigrant move into Canada, and so pretty much all my friends' parents were immigrants," she says. "We learned that, unlike the United States, we were not a melting pot, we were a multicultural tapestry ... a beautiful carpet that was woven of many people from many places, and that this was something to be very proud of." She took the message to heart.
As a med school professor, she urges pediatricians-in-training to be mindful of their own assumptions, as many of the things doctors do are based more in culture than in evidence. "The thing that's really important is that they get this idea of relating to people in a way where they can be effective in what they do because they understand that person better," Green explains. And that understanding between doctors and patients — and neighbors — comes from talking to each other.
Green practices what she preaches. "What I hear from interpreters across the board," Rose says, "is that she is willing to put in the time, the thought and the energy for all those little issues that most providers would just treat by the book. She doesn't treat by the book." Green's approach recently earned her a Local Heroes Award from the American Academy of Pediatrics.
When it comes to confusing cultural messages, the doctor may have to be an interpreter herself, helping immigrants decipher what native-born Americans tend to tune out. Green has had to reassure parents that, despite sexualized imagery in the media, guidance counselors won't urge teenagers to have sex. Likewise, she advises them to protect their children from violent movies. "I'll say, 'I don't know why Americans think this is entertainment, because it's not good for your kids' brains, so don't watch it.'"
The response? "They'll say, 'But it's in the grocery store. If it's in the grocery store, it must be good.'"
To which Green says she replies, "'No! It's called capitalism. They're trying to sell you things.'" Like soda. "I'll tell them, 'It was a treat before. It was expensive. Now it's cheap, so you want to drink it all the time," says Green, noting the end result can be that burgeoning Western affliction: obesity.
"These guys assume all things American are good. If only it were true."