You probably know about the usual suspects: You've strolled the lush grounds of the Shelburne Museum, gazed up at the planetarium at the Fairbanks Museum and boned up on state history at the Vermont History Museum.
What you may not realize is that Vermont is home to any number of smaller roadside museums — some rather odd — that are as much testaments to their curators as they are to their collections. For your road-tripping pleasure, we present a field guide to some of the state's most curious off-the-beaten-path exhibitions.
A Northeast Kingdom Adventure
The Destination: The Museum of Everyday Life, Route 16, about five miles south of the village of Glover, museumofeverydaylife.org
You'll enjoy this if … you're attracted to the wild romance of the Northeast Kingdom — and aren't afraid to let yourself into a spooky barn.
You'll find … the museum in a ramshackle barn off the side of a lonesome stretch of Route 16. Set beside a shimmering pond, the place is home to a donkey, a goat and a rooster. Soon it will also accommodate curator and "chief operating philosopher" Clare Dolan.
Dolan's house, once adjacent to the barn, burned down last January. All that remains is the crater of its foundation, which could pass for part of the collection in this museum — "a heroic, slow-motion cataloguing of life," as Dolan calls it.
Despite the fire, which spared the museum, Dolan is planning a brand-new summer exhibit to open June 17. "Our exhibit last year was on the matchstick," she says, smirking at the irony. "So I thought I'd go for something with better karma this time: the safety pin."
Not surprisingly, Dolan has ties to nearby Bread and Puppet Theater. A Chicago native, she came to Glover in 1990 to join the troupe. These days she works part time as a nurse when she's not performing on the puppetry circuit.
Though Dolan opened the museum in the barn last year, "It's theoretically been in existence for many years," she says. "I've always had a bunch of weird collections."
Some of them are on display in what Dolan calls the museum's Grand Hall: a menacing stuffed bear, which stands at least 15 feet; a Dr. Seuss-like megaphone created by a North Carolina artist; and various snakeskins and turtle shells in drawers.
But this isn't just a cabinet of curiosities. Dolan's match exhibit — a portion of which is still on display on Seven Days' visit but will soon end — is thoughtfully curated and oddly revelatory. It includes a local phillumenist's collection of antique Vermont matchbooks; erotic matchboxes printed with lenticular images (busty broads peek from behind shower curtains with each tilt of the box); and matchboxes transformed into tiny stages populated with matchstick puppets. Dolan even exhibits the matchstick violins of bluegrass musician Dale Brown, who so longed to make music while serving jail time that he meticulously broke the heads off matches and fashioned them into fiddles.
"Everything in this museum is utterly worthless," says Dolan. "Yet the objects are priceless because we use them every day."
After your visit … stuff your face with Doug and Cheri Safford's homemade doughnuts at downtown Glover's Red Sky Trading (2894 Glover Street, redskytrading.com). The self-service market offers everything from jars of the couple's own jam and corn relish to magazines and books to Adirondack chairs and vintage dishes. The doughnuts are legendary: enormous, perfectly crisp on the outside, melt-in-your-mouth moist on the inside. Leave your money in a box on the counter and relax for a spell by the adjacent babbling brook.
— M.J.
A Southern Vermont Sculpture Stroll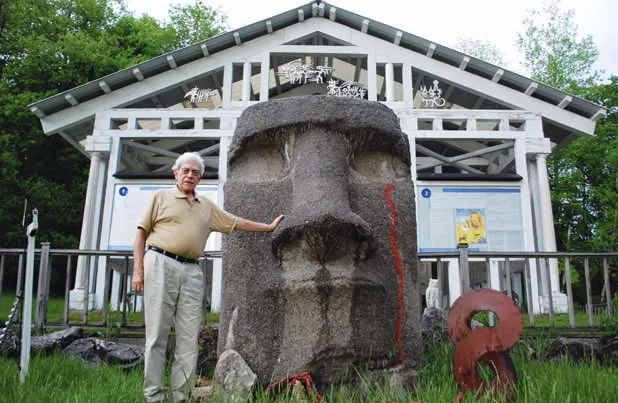 The Destination: The Museum of the Creative Process, Wilburton Drive, Manchester Village, 379-6350, museumofcreativeprocess.com
You'll enjoy this if … you're tolerant of the peculiar, game for adventure and curious about psychological theory.
You'll find … the museum tucked away on the 30-acre estate of the Wilburton Inn. It isn't well marked, so jot down directions from Google Maps before you go — and brace yourself. Looming sculptures line the long, tree-lined drive to the inn, where a gothic-inspired 1902 mansion dominates the hilltop. Spooky? Majestic? Take your pick.
Expect a long conversation with museum founder — and resident psychiatrist — Albert Levis, 75. Something of an eccentric, Levis was born in Greece, studied in Switzerland and completed his psychiatric residency at Yale. Twenty-five years ago, he and his wife, Georgette Wasserstein Levis, purchased the mansion — now a hotel — that was once home to a Chicago philanthropist and millionaire.
Seven Days arrived late in the day, just minutes before a torrential thunderstorm, so the mood falls on the spooky end of the spectrum. Still, Levis makes an enthusiastic host. Sprawling sculpture gardens — arranged in a very particular order — comprise the bulk of his museum, though Levis also keeps a collection of Henry Gorski paintings that are worth a look.
The sculpture series includes everything from an enormous carving of an Easter Island head to an image of Shiva to a sphinx atop a hulking rock. According to Levis, they outline his complicated "formal theory" of psychological behavior. It's part art therapy, part critique of world religions, with a heavy dose of psychoanalytic thinking.
Levis promises visitors will achieve enlightenment within an hour of a walk through the gardens — a claim we can't verify based on one visit. Expect to hear phrases such as "relational modality" and "metaphor of power management" if Levis narrates your visit: His theories are dauntingly complex. More intriguing than the sculptures is the host himself. Levis grew up Jewish in Europe during World War II, and says his sculptures — some of which he created himself; others he curated to illustrate his theories — came in part from "the need to understand why the world is so crazy."
Go in with an open mind, and a valid excuse to cut and run after an hour or two; Levis is loquacious.
After your visit … skip the Manchester outlets and stop by Depot 62 (515 Depot Street), an all-in-one furniture shop, rug dealer and Mediterranean café.
—K.F.
The Engineer's Delight
The Destination: The American Precision Museum, 196 Main Street, Windsor, 674-5781, americanprecision.org
You'll enjoy this if … you're mechanically minded, a Civil War buff or fondly tolerant of someone who fits either description.
You'll find… the museum housed in a 19th-century armory where Vermonters pioneered the field of precision manufacturing.
Expect to be impressed. Who knew little Windsor — host to an outpost of Harpoon Brewery, but otherwise well off the tourist-trodden path — was home to the largest collection of historically significant machine tools in the nation?
The Robbins and Lawrence Armory and Machine Shop is perched above a tributary of the Connecticut River, and the roar of the water below hints at the source that powered this once-thriving hub of early industrial manufacturing. During the Civil War, gaslights ran all night in the armory, while Vermonters churned out many of the rifles that armed the Union. The armory's legacy reaches far beyond rifles, however. It was here that early innovators perfected what would come to be known as the American System: a new type of manufacturing using precision metal and wood-cutting machines that made mass production possible.
"When it was operational, it was just rows and rows of machines," says Nancy Hoggson, the development and communications manager. When we visit, the museum is decidedly sleepier — though volunteers and staff are busy putting the final touches on new exhibits set to open on May 26. The machines are all in impeccable shape, and polished diagrams and displays explain their context and purpose. Better still is the working machine shop, staffed during the summer by interns from the River Valley Technical Center.
After your visit … dash around the corner to the Vittles Stop BBQ (19 1/2 Union Street). You can't miss the hand-painted signs and bright pink-and-blue picnic tables. Even if you do, your nose will lead you to the outdoor smoker. And you're not likely to be disappointed by the sweet and smoky pile of meat. If you're looking for a little more kick, add a hearty splash of the housemade "hell" sauce. It's heavenly.
— K.F.
Hoarders: A History
The Destination: Henry Sheldon Museum of Vermont History, 1 Park Street, Middlebury, 388-2117, henrysheldonmuseum.org
You'll enjoy this if … you're into antiques, little enough to fit in the dress-up clothing on hand for children or keen on Vermont ephemera.
You'll find … Henry Sheldon — or, at least, a bearded, solemn-looking cutout of the collector — on hand to greet you at the downtown Middlebury museum, situated in the lovely 1829 Judd-Harris House. In 1880, museum founder Sheldon snapped up this former boardinghouse, where he'd once resided, to house his growing collection of … well, everything.
The spirit of its founder looms large at this quaint but well-appointed little museum — which, thanks to Sheldon's ambitions, is the oldest chartered community-history museum in the United States.
"I hate to think of Henry and eBay coinciding," says staff member Suzanne Douglas — by which she means that Sheldon was already enough of a hoarder without the added temptation of internet shopping. The founder was particularly fond of ephemera — maps, old newspapers, photographs, autographs of Vergennes mayors. He even requisitioned his brother's business ledgers from Middlebury's general store.
Sheldon also collected his share of strange items, such as the mummified child he purchased when an Egyptology craze swept the nation. "Henry decided he had to have a mummy for his little museum, too," Douglas says, and so he bought one, sight unseen, from a New York antiques dealer. Sheldon never displayed the mummy, and it eventually landed in the museum's attic … until, several decades later, a board member is rumored to have cremated it in a neighbor's furnace and buried the ashes in Middlebury's West Cemetery. Why cremation? The board member rationalized that a mummy buried in a graveyard would tempt a prank exhumation in the college town, says Douglas.
Most of Sheldon's stranger collections are packed away. The tidy permanent displays focus on everyday life in 19th-century Vermont. In addition, the museum is running a summer exhibit of lively photographs from the Addison County Fair and Field Days, past and present.
But, if you're not faint of heart, pull back the curtain to view the so-called "petrified Indian boy" — a hoax that toured the country in the 19th century before landing, once and for all, in Sheldon's permanent collection.
After your visit… amble over to Costello's Market (2 Maple Street), a deli in the Marble Works complex. The fish taco is a local favorite, but you won't go wrong with anything on the menu. There isn't much in the way of seating at the tiny seafood market and Italian deli, so grab your sub to go, and munch overlooking the Middlebury Falls.
— K.F.